Zwycięstwem Mathieu van der Poela (Corendon-Circus) zakończył się 8., ostatni etap Tour of Britain. Holender triumfował w klasyfikacji generalnej.
Ostatni etap prowadził z Altrincham do Manchesteru, gdzie zakończył się wyścig Tour of Britain. Do pokonania było 166 kilometrów po pagórkowatej trasie.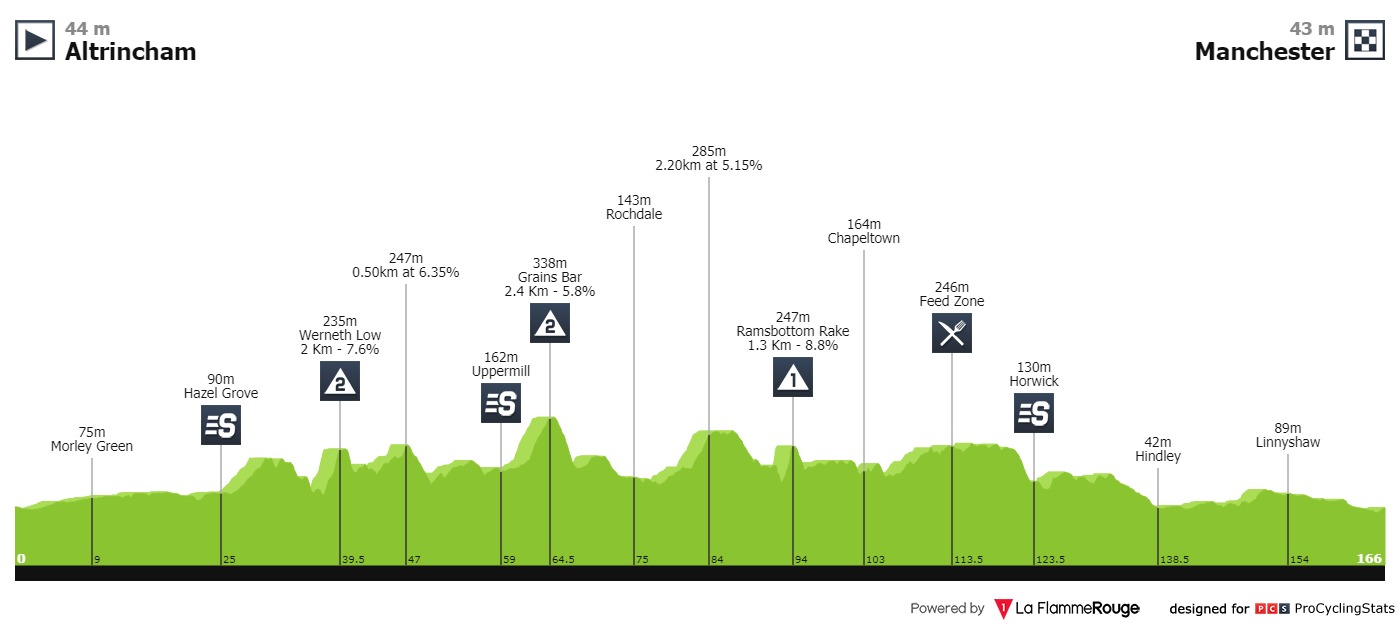 Ucieczkę dnia stworzyli: Gabriel Cullaigh (Team Wiggins Le Col), Matt Holmes (Madison Genesis) i Emil Vinjebo (Riwal Readynez Cycling Team). Holmes miał w klasyfikacji generalnej tylko półtorej minuty straty do Mathieu van der Poela. Przez to przewaga czołówki była kontrolowana.
Peleton zaczął się dzielić na wiatrach i przy okazji doścignął uciekinierów. Potem na atak zdecydował się Andrey Amador. Kolarz Movistaru miał niecałą minutę straty do van der Poela. Jego akcja została szybko zlikwidowana.
Na 25 kilometrów przed metą na zaatakowali: Michał Gołaś (Team Ineos), Larry Warbasse (AG2R La Mondiale) i Mark Christian (Team Wiggins Le Col). Zredukowany peleton dogonił uciekinierów na ponad 10 kilometrów przed metą.
Zaatakował Matteo Trentin, ale Mathieu van der Poel jechał czujnie za wiceliderem. Ostatecznie doszło do finiszu ze zredukowanego peletonu. Wygrał Mathieu van der Poel przed Ceesem Bolem i Matteo Trentinem. Van der Poel został zwycięzcą całego wyścigu.
Wyniki 8. etapu:
1 VAN DER POEL Mathieu Corendon – Circus 20 30 3:49:26
2 BOL Cees Team Sunweb 10 18 ,,
3 TRENTIN Matteo Mitchelton-Scott 5 12 ,,
4 TEUNISSEN Mike Team Jumbo-Visma 7 ,,
5 CIMOLAI Davide Israel Cycling Academy 4 ,,
6 MODOLO Sacha EF Education First 3 ,,
7 EEKHOFF Nils Team Sunweb 2 ,,
8 DE BUYST Jasper Lotto Soudal 1 ,,
9 MEURISSE Xandro Wanty – Gobert Cycling Team ,,
10 WYSS Danilo Team Dimension Data ,,
11 SWIFT Connor Great Britain ,,
12 POLITT Nils Team Katusha Alpecin ,,
13 BARBERO Carlos Movistar Team ,,
14 STEWART Jake Great Britain ,,
15 BENOOT Tiesj Lotto Soudal ,,
16 SWIFT Ben Team INEOS ,,
17 CLARKE Simon EF Education First ,,
18 SIVAKOV Pavel Team INEOS ,,
19 MOSCON Gianni Team INEOS ,,
20 AMADOR Andrey Movistar Team ,,
21 DE BONDT Dries Corendon – Circus ,,
22 SPRENGERS Thomas Sport Vlaanderen – Baloise ,,
23 HAMILTON Chris Team Sunweb ,,
24 KANGERT Tanel EF Education First ,,
25 WARBASSE Larry AG2R La Mondiale ,,
26 CHRISTIAN Mark Team Wiggins Le Col ,,
27 JANSEN Amund Grøndahl Team Jumbo-Visma ,,
28 EDMONDSON Alex Mitchelton-Scott ,,
29 HOLMES Matthew Madison Genesis ,,
30 MEYER Cameron Mitchelton-Scott ,,
31 KAMP Alexander Riwal Readynez Cycling Team ,,
32 GASTAUER Ben AG2R La Mondiale ,,
33 HERMANS Ben Israel Cycling Academy ,,
34 CARRETERO Héctor Movistar Team 0:13
35 VAN MOER Brent Lotto Soudal ,,
36 ERIKSSON Lucas Riwal Readynez Cycling Team ,,
37 WALSLEBEN Philipp Corendon – Circus 0:19
38 BAUER Jack Mitchelton-Scott 0:22
39 DUNBAR Eddie Team INEOS 0:24
40 LANDA Mikel Movistar Team ,,
41 VAN BAARLE Dylan Team INEOS ,,
42 DURBRIDGE Luke Mitchelton-Scott 1:15
43 STORK Florian Team Sunweb 1:30
44 GOŁAŚ Michał Team INEOS 0:00
45 AFFINI Edoardo Mitchelton-Scott 2:29
46 VERWILST Aaron Sport Vlaanderen – Baloise 6:17
47 WILLEMS Thimo Sport Vlaanderen – Baloise ,,
48 BOSTOCK Matthew Canyon dhb p/b Bloor Homes ,,
49 COLMAN Alex Canyon dhb p/b Bloor Homes ,,
50 BROWN Jim Great Britain ,,
51 TRONDSEN Trond Wanty – Gobert Cycling Team ,,
52 VERNON Ethan Great Britain ,,
53 TANFIELD Harry Team Katusha Alpecin ,,
54 TOWNSEND Rory Canyon dhb p/b Bloor Homes ,,
55 VAN ASBROECK Tom Israel Cycling Academy ,,
56 HANSEN Lasse Norman Corendon – Circus ,,
57 VEYHE Torkil Riwal Readynez Cycling Team ,,
58 STOKBRO Andreas Riwal Readynez Cycling Team ,,
59 VAN EMDEN Jos Team Jumbo-Visma ,,
60 GROENEWEGEN Dylan Team Jumbo-Visma ,,
61 WALLS Matthew Great Britain ,,
62 CHRISTENSEN Ryan Canyon dhb p/b Bloor Homes ,,
63 WILLIAMS Peter SwiftCarbon Pro Cycling ,,
64 JENNER Samuel Team Wiggins Le Col ,,
65 SCOTT Jacob SwiftCarbon Pro Cycling ,,
66 SEPÚLVEDA Eduardo Movistar Team ,,
67 WALKER Joey Madison Genesis ,,
68 LANGEVELD Sebastian EF Education First ,,
69 CURVERS Roy Team Sunweb ,,
70 HAGA Chad Team Sunweb ,,
71 DOWSETT Alex Team Katusha Alpecin ,,
72 MCEVOY Jonathan Madison Genesis ,,
73 VERONA Carlos Movistar Team ,,
74 VALLÉE Boris Wanty – Gobert Cycling Team ,,
75 LUNKE Sindre Riwal Readynez Cycling Team ,,
76 CULLAIGH Gabriel Team Wiggins Le Col ,,
77 STEWART Thomas Canyon dhb p/b Bloor Homes ,,
78 VINJEBO Emil Riwal Readynez Cycling Team ,,
79 SCOTT Robert Team Wiggins Le Col ,,
80 SHAW James SwiftCarbon Pro Cycling ,,
81 DONOVAN Mark Team Wiggins Le Col ,,
82 VERMOTE Julien Team Dimension Data ,,
83 FOUCHÉ James Team Wiggins Le Col ,,
84 FRISON Frederik Lotto Soudal ,,
85 VERGAERDE Otto Corendon – Circus ,,
86 DOMONT Axel AG2R La Mondiale ,,
87 BAGDONAS Gediminas AG2R La Mondiale ,,
88 CHEREL Mickaël AG2R La Mondiale ,,
89 GOLDSTEIN Omer Israel Cycling Academy ,,
90 BRITTON Rhys Great Britain ,,
91 DUNNE Conor Israel Cycling Academy ,,
92 KREDER Wesley Wanty – Gobert Cycling Team ,,
93 DIBBEN Jonathan Madison Genesis ,,
94 CUMING Michael Madison Genesis ,,
95 LAVERACK Edward SwiftCarbon Pro Cycling ,,
96 HARDY Ben SwiftCarbon Pro Cycling ,,
97 GALLOPIN Tony AG2R La Mondiale ,,
98 MERTZ Rémy Lotto Soudal ,,
99 DEBUSSCHERE Jens Team Katusha Alpecin ,,
100 JANSSENS Jimmy Corendon – Circus ,,
101 ROWSELL Erick Madison Genesis ,,
102 TENNANT Andrew Canyon dhb p/b Bloor Homes ,,
103 BOUWMAN Koen Team Jumbo-Visma ,,
104 EISEL Bernhard Team Dimension Data 6:30
105 RENSHAW Mark Team Dimension Data ,,
106 CAVENDISH Mark Team Dimension Data ,,
DNF IVERSEN Rasmus Lotto Soudal –
DNF NOPPE Christophe Sport Vlaanderen – Baloise –
DNS PERRY Ben Israel Cycling Academy ,,
Klasyfikacja generalna:
1 VAN DER POEL Mathieu Corendon – Circus 200 150 29:47:41
2 TRENTIN Matteo Mitchelton-Scott 150 110 0:17
3 DE BUYST Jasper Lotto Soudal 125 90 0:50
4 SIVAKOV Pavel Team INEOS 100 80 0:52
5 POLITT Nils Team Katusha Alpecin 85 70 1:01
6 MOSCON Gianni Team INEOS 70 60 ,,
7 TEUNISSEN Mike Team Jumbo-Visma 60 55 1:03
8 AMADOR Andrey Movistar Team 50 50 1:04
9 BENOOT Tiesj Lotto Soudal 40 45 1:07
10 JANSEN Amund Grøndahl Team Jumbo-Visma 35 40 1:08
11 11 – CLARKE Simon EF Education First 30 36 ,,
12 12 – KANGERT Tanel EF Education First 25 32 1:10
13 13 – WARBASSE Larry AG2R La Mondiale 20 28 1:25
14 14 – MEURISSE Xandro Wanty – Gobert Cycling Team 15 24 1:27
15 18 ▲3 HOLMES Matthew Madison Genesis 10 20 1:34
16 15 ▼1 HAMILTON Chris Team Sunweb 5 16 ,,
17 16 ▼1 SWIFT Ben Team INEOS 5 14 1:35
18 17 ▼1 KAMP Alexander Riwal Readynez Cycling Team 5 12 1:38
19 19 – CHRISTIAN Mark Team Wiggins Le Col 5 10 1:44
20 20 – HERMANS Ben Israel Cycling Academy 5 8 1:49
21 21 – WYSS Danilo Team Dimension Data 5 6 1:58
22 23 ▲1 SWIFT Connor Great Britain 5 4 2:19
23 25 ▲2 SPRENGERS Thomas Sport Vlaanderen – Baloise 5 3 2:27
24 26 ▲2 VAN MOER Brent Lotto Soudal 5 2 2:41
25 28 ▲3 EDMONDSON Alex Mitchelton-Scott 5 1 2:51
26 32 ▲6 MEYER Cameron Mitchelton-Scott 5 3:15
27 33 ▲6 GOŁAŚ Michał Team INEOS 5 3:44
28 30 ▲2 DURBRIDGE Luke Mitchelton-Scott 5 4:10
29 34 ▲5 ERIKSSON Lucas Riwal Readynez Cycling Team 5 5:08
30 36 ▲6 STORK Florian Team Sunweb 5 7:53
31 22 ▼9 CHEREL Mickaël AG2R La Mondiale 3 8:25
32 24 ▼8 SHAW James SwiftCarbon Pro Cycling 3 8:41
33 27 ▼6 DONOVAN Mark Team Wiggins Le Col 3 8:56
34 29 ▼5 VAN ASBROECK Tom Israel Cycling Academy 3 9:09
35 31 ▼4 SEPÚLVEDA Eduardo Movistar Team 3 9:14
36 39 ▲3 GASTAUER Ben AG2R La Mondiale 3 9:22
37 35 ▼2 VERMOTE Julien Team Dimension Data 3 11:49
38 45 ▲7 BARBERO Carlos Movistar Team 3 12:04
39 46 ▲7 LANDA Mikel Movistar Team 3 12:54
40 37 ▼3 CHRISTENSEN Ryan Canyon dhb p/b Bloor Homes 3 13:03
41 48 ▲7 VAN BAARLE Dylan Team INEOS 14:30
42 38 ▼4 JANSSENS Jimmy Corendon – Circus 15:15
43 40 ▼3 GALLOPIN Tony AG2R La Mondiale 15:52
44 41 ▼3 WILLEMS Thimo Sport Vlaanderen – Baloise 16:21
45 42 ▼3 LANGEVELD Sebastian EF Education First 16:32
46 43 ▼3 VERWILST Aaron Sport Vlaanderen – Baloise 16:44
47 53 ▲6 CIMOLAI Davide Israel Cycling Academy 17:15
48 44 ▼4 LUNKE Sindre Riwal Readynez Cycling Team 17:19
49 56 ▲7 WALSLEBEN Philipp Corendon – Circus 19:02
50 47 ▼3 VAN EMDEN Jos Team Jumbo-Visma 19:40
51 49 ▼2 VERGAERDE Otto Corendon – Circus 20:42
52 50 ▼2 VERONA Carlos Movistar Team 20:51
53 51 ▼2 VINJEBO Emil Riwal Readynez Cycling Team 20:56
54 52 ▼2 GOLDSTEIN Omer Israel Cycling Academy 21:45
55 57 ▲2 DUNBAR Eddie Team INEOS 21:46
56 59 ▲3 BAUER Jack Mitchelton-Scott 22:33
57 54 ▼3 HAGA Chad Team Sunweb 24:51
58 55 ▼3 DOMONT Axel AG2R La Mondiale 24:54
59 64 ▲5 EEKHOFF Nils Team Sunweb 25:02
60 65 ▲5 MODOLO Sacha EF Education First 25:43
61 70 ▲9 STEWART Jake Great Britain 27:02
62 58 ▼4 WALLS Matthew Great Britain 28:09
63 60 ▼3 VERNON Ethan Great Britain 29:11
64 62 ▼2 COLMAN Alex Canyon dhb p/b Bloor Homes 30:33
65 80 ▲15 CARRETERO Héctor Movistar Team ,,
66 63 ▼3 DEBUSSCHERE Jens Team Katusha Alpecin 30:35
67 66 ▼1 GROENEWEGEN Dylan Team Jumbo-Visma 32:42
68 67 ▼1 DUNNE Conor Israel Cycling Academy 32:46
69 68 ▼1 CULLAIGH Gabriel Team Wiggins Le Col 32:50
70 69 ▼1 LAVERACK Edward SwiftCarbon Pro Cycling 33:08
71 71 – TRONDSEN Trond Wanty – Gobert Cycling Team 33:24
72 73 ▲1 VALLÉE Boris Wanty – Gobert Cycling Team 33:37
73 74 ▲1 KREDER Wesley Wanty – Gobert Cycling Team 34:28
74 90 ▲16 BOL Cees Team Sunweb 34:47
75 76 ▲1 BROWN Jim Great Britain ,,
76 75 ▼1 RENSHAW Mark Team Dimension Data 34:55
77 77 – JENNER Samuel Team Wiggins Le Col 35:00
78 78 – DOWSETT Alex Team Katusha Alpecin 35:54
79 79 – SCOTT Robert Team Wiggins Le Col 36:21
80 81 ▲1 WILLIAMS Peter SwiftCarbon Pro Cycling 37:09
81 89 ▲8 AFFINI Edoardo Mitchelton-Scott 37:12
82 82 – SCOTT Jacob SwiftCarbon Pro Cycling 38:25
83 83 – BRITTON Rhys Great Britain 38:56
84 84 – BAGDONAS Gediminas AG2R La Mondiale 39:36
85 85 – CURVERS Roy Team Sunweb 39:37
86 86 – TANFIELD Harry Team Katusha Alpecin 40:09
87 87 – CAVENDISH Mark Team Dimension Data 40:34
88 88 – WALKER Joey Madison Genesis 40:58
89 91 ▲2 HANSEN Lasse Norman Corendon – Circus 42:55
90 103 ▲13 DE BONDT Dries Corendon – Circus 42:59
91 92 ▲1 MERTZ Rémy Lotto Soudal 43:15
92 93 ▲1 ROWSELL Erick Madison Genesis 43:30
93 94 ▲1 FOUCHÉ James Team Wiggins Le Col 43:41
94 95 ▲1 FRISON Frederik Lotto Soudal 43:59
95 96 ▲1 DIBBEN Jonathan Madison Genesis 44:14
96 97 ▲1 TOWNSEND Rory Canyon dhb p/b Bloor Homes 44:58
97 98 ▲1 BOSTOCK Matthew Canyon dhb p/b Bloor Homes 45:03
98 99 ▲1 STOKBRO Andreas Riwal Readynez Cycling Team 45:26
99 100 ▲1 HARDY Ben SwiftCarbon Pro Cycling 46:36
100 101 ▲1 CUMING Michael Madison Genesis 47:21
101 102 ▲1 BOUWMAN Koen Team Jumbo-Visma 48:45
102 104 ▲2 VEYHE Torkil Riwal Readynez Cycling Team 49:23
103 105 ▲2 EISEL Bernhard Team Dimension Data 50:07
104 106 ▲2 STEWART Thomas Canyon dhb p/b Bloor Homes 52:09
105 107 ▲2 MCEVOY Jonathan Madison Genesis 52:10
106 108 ▲2 TENNANT Andrew Canyon dhb p/b Bloor Homes 59:19