Lorena Wiebes wygrała Omloop Het Hageland. Dla mistrzyni Holandii jest to pierwsze zwycięstwo w tym sezonie.
Choć nazwa dzisiejszego wyścigu mogła przywodzić na myśl zakończonego wczoraj Omloop Het Nieuwsblad, to już jego trasa mocno różniła się od tej, którą wczoraj musieli pokonać kolarze i kolarki. Znalazły się na niej zaledwie dwa sektory bruku, a przejeżdżany dziś czterokrotnie podjazd pod Roselberg nie należał do najtrudniejszych. Liczył sobie zaledwie 700 metrów, a jego średnie nachylenie nie powalało, bo wynosiło niecałe 5%.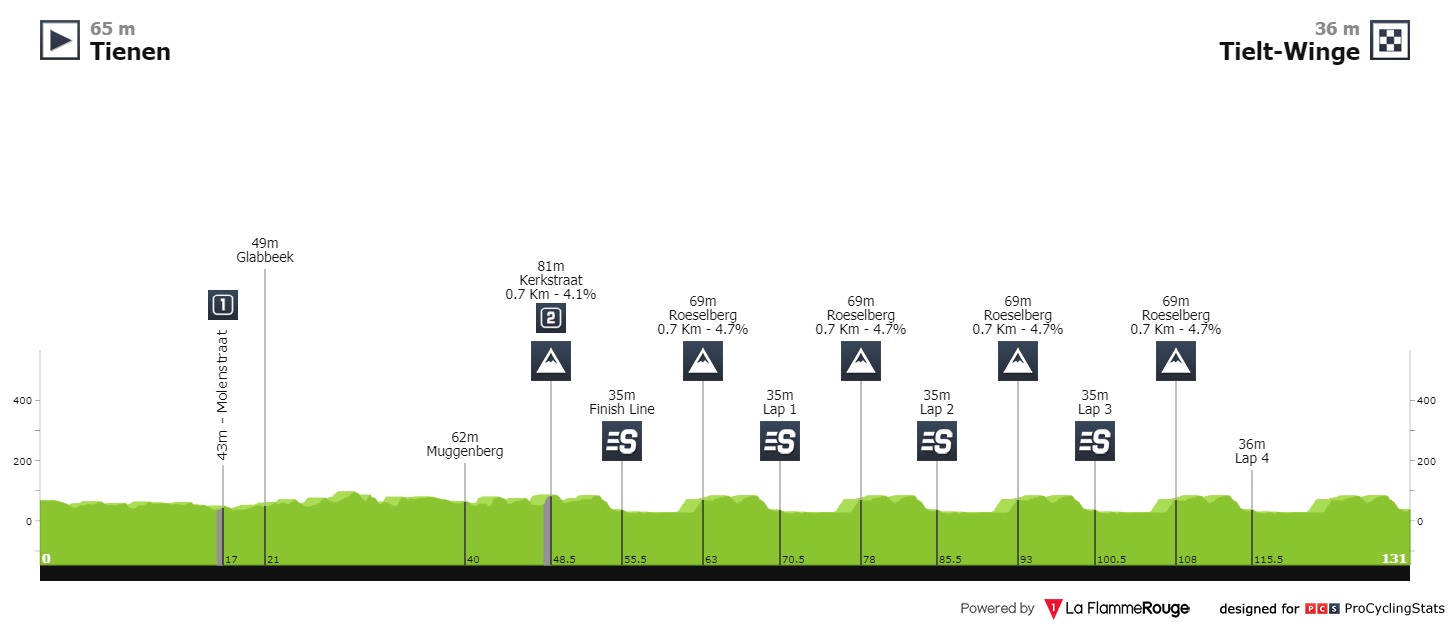 Na trasie wyścigu długo nie działo się zbyt wiele. Żaden odjazd nie był w stanie wywalczyć sobie zbyt dużej przewagi. Taki stan rzeczy utrzymał się aż do 20. kilometra przed metą, kiedy od głównej grupki oderwała się trójka w której znalazły się m.in Lucinda Brand i Grace Brown. Przewaga odjazdu zaczęła szybko rosnąć, w pewnym momencie dochodziła do 30 sekund.
Z racji coraz mniejszego dystansu do mety i mocnego składu odjazdu, szanse na to, że wyścig padnie łupem którejś z jego uczestniczek były całkiem duże. Jednak główna grupa w końcu przyspieszyła i na 5 kilometrów przed metą doścignęła ucieczkę.
Zaczęły się kolejne ataki, jednak każdy z nich był bezlitośnie kasowany przez peleton, więc walka o triumf należała do sprinterek. Zwycięsko wyszła z niej Lorena Wiebes, dla której była to pierwsza wygrana w tym sezonie. Podium uzupełniły Marta Bastianelli i Emma Cecilie Norsgaard.
1 WIEBES Lorena Parkhotel Valkenburg  3:30:05
2 BASTIANELLI Marta Alé BTC Ljubljana ,,
3 NORSGAARD Emma Cecilie Bigla-Katusha ,,
4 FAHLIN Emilia FDJ Nouvelle Aquitaine Futuroscope ,,
5 CAMPBELL Teniel Valcar – Travel & Service ,,
6 KOOL Charlotte NXTG Racing ,,
7 HENTTALA Lotta Trek-Segafredo Women ,,
8 FIDANZA Arianna Lotto Soudal Ladies ,,
9 SANGUINETI Ilaria Valcar – Travel & Service ,,
10 ERIĆ Jelena Movistar Team ,,
11 STEIGENGA Nicole Doltcini – Van Eyck Sport  ,,
12 FOURNIER Roxane Chevalmeire Cycling Team ,,
13 BEEKHUIS Teuntje Lotto Soudal Ladies ,,
14 DUVAL Eugénie FDJ Nouvelle Aquitaine Futuroscope ,,
15 BUJAK Eugenia Alé BTC Ljubljana ,,
16 ROY Sarah Mitchelton-Scott ,,
17 DOM Annelies Lotto Soudal Ladies ,,
18 REUSSER Marlen Bigla-Katusha  ,,
19 RAVNDAL Birgitte Keukens Redant Cycling Team ,,
20 PARKINSON Abby-Mae Lotto Soudal Ladies  ,,
21 KERN Špela Lviv Cycling Team women  ,,
22 KASPER Romy Parkhotel Valkenburg  ,,
23 REIS Daniela Ciclotel ,,
24 BRAND Lucinda Trek-Segafredo Women 0:08
25 VAN GOGH Natalie Chevalmeire Cycling Team  ,,
26 CHURSINA Anastasiia Alé BTC Ljubljana 0:10
27 FABER Claire Illi Bikes CT ,,
28 ENSING Janneke Mitchelton-Scott 0:11
29 YONAMINE Eri Alé BTC Ljubljana ,,
30 MEERTENS Lone Lotto Soudal Ladies ,,
31 VAN DIJK Ellen Trek-Segafredo Women ,,
32 BROWN Grace Mitchelton-Scott ,,
33 HEINE Vita Hitec Products ,,
34 CROOKS Jenelle Team TIBCO – SVB ,,
35 KENNEDY Lucy Mitchelton-Scott ,,
36 JUNIPER Nicola Isorex No-Aqua Ladies Cycling Team ,,
37 WILES Tayler Trek-Segafredo Women ,,
38 VALLIERES Magdeleine WCC Team ,,
39 BEIJER Inez Biehler Krush Pro Cycling 0:20
40 KOPPENBURG Clara Bigla-Katusha 0:36
41 VAN WITZENBURG Marieke Doltcini – Van Eyck Sport 1:13
42 KOLESAVA Anastasiya WCC Team 1:14
43 VAINIONPÄÄ Laura S-Bikes AGU ,,
44 BORGSTRÖM Julia NXTG Racing ,,
45 DIXON Leah Team TIBCO – SVB ,,
46 GIGANTE Sarah Team TIBCO – SVB ,,
47 RICHIOUD Greta Hitec Products ,,
48 SPEROTTO Maria Vittoria Bigla-Katusha ,,
49 VAN DEN STEEN Kelly Chevalmeire Cycling Team ,,
50 BIANNIC Aude Movistar Team 3:27
51 CORDON-RAGOT Audrey Trek-Segafredo Women ,,
52 WIEL Jade FDJ Nouvelle Aquitaine Futuroscope ,,
53 DE SMEDT Marijke Waasland Security – Wase Zon CT ,,
54 GUARISCHI Barbara Movistar Team ,,
55 GONZÁLEZ Alicia Movistar Team ,,
56 CROKET Gilke Illi Bikes CT ,,
57 HARVEY Mikayla Bigla-Katusha ,,
58 VAN DER DUIN Maike Biehler Krush Pro Cycling 3:39
59 VAN DER HULST Amber Parkhotel Valkenburg 3:41
60 KESSLER Nina Team TIBCO – SVB ,,
61 TERUEL Alba Movistar Team ,,
62 MAGRI Silvia Valcar – Travel & Service 3:45
63 AERNOUTS Amber Multum Accountants – LSK Ladies Cycling Team 3:51
64 CHRISTMAS Dani Lotto Soudal Ladies ,,
65 GROSSETÊTE Maëlle FDJ Nouvelle Aquitaine Futuroscope ,,
66 PERSICO Silvia Valcar – Travel & Service ,,
67 MUZIC Évita FDJ Nouvelle Aquitaine Futuroscope ,,
68 WORRACK Trixi Trek-Segafredo Women ,,
69 RATTO Rossella Chevalmeire Cycling Team 4:09
70 GUTIÉRREZ Sheyla Movistar Team ,,
71 LANG Mae Andy Schleck Cycles – Immo Losch 8:37
72 EHRBERG Liisa Isorex No-Aqua Ladies Cycling Team ,,
73 VAN GEYTE Katie Keukens Redant Cycling Team ,,
74 VAN REGENMORTEL Laura Biehler Krush Pro Cycling ,,
75 BONDAR Viktoriya Lviv Cycling Team women ,,
76 SIMMONDS Hayley Ciclotel ,,
77 WRIGHT Sophie Bigla-Katusha ,,
78 GRÖNDAHL Antonia Isorex No-Aqua Ladies Cycling Team ,,
79 CONSONNI Chiara Valcar – Travel & Service ,,
80 TON Quinty Biehler Krush Pro Cycling ,,
81 VAN HOUTUM Céline Multum Accountants – LSK Ladies Cycling Team ,,
82 VAN VEEN Esther Parkhotel Valkenburg ,,
83 GEERIS Femke Waasland Security – Wase Zon CT ,,
84 ROBERTS Jessica Mitchelton-Scott ,,
85 ELVIN Gracie Mitchelton-Scott ,,
86 DE BAAT Kim Ciclotel ,,
87 SLIK Rozanne Chevalmeire Cycling Team ,,
88 JANDOVA Veronika WCC Team ,,
89 MATTHEE Maroesjka Ciclotel ,,
90 NEWSOM Emily Team TIBCO – SVB ,,
91 PEÑUELA Diana Team TIBCO – SVB ,,
92 PILZ Estefania Lviv Cycling Team women ,,
93 LUTRO Amalie Hitec Products 11:26
94 BOOGAARD Maaike Alé BTC Ljubljana ,,
95 LENSECLAES Ditte Illi Bikes CT ,,
96 BÄCKSTEDT Elynor Trek-Segafredo Women ,,
97 FEYTENS Ellen Lviv Cycling Team women ,,
98 VAN DER HAAR Lucy Hitec Products ,,
99 NELSON Emily Isorex No-Aqua Ladies Cycling Team 15:40
100 MARKUS Femke Parkhotel Valkenburg ,,
101 WASMUS Nienke Biehler Krush Pro Cycling ,,
102 VAN DE VEL Sara Ciclotel ,,
103 VAN DIJKE Demi S-Bikes AGU ,,
DNF AMMERLAAN Rozemarijn NXTG Racing –
DNF VERHOEVEN Aurore Multum Accountants – LSK Ladies Cycling Team ,,
DNF MCDERMOTT Ellen Isorex No-Aqua Ladies Cycling Team ,,
DNF SZABÓ Zsófia Doltcini – Van Eyck Sport ,,
DNF BLACK Ainsley Waasland Security – Wase Zon CT ,,
DNF VANDERJEUGT Leonie S-Bikes AGU ,,
DNF RODRÍGUEZ Gloria Movistar Team ,,
DNF TREVISI Anna Alé BTC Ljubljana ,,
DNF SOTO Catalina Anais WCC Team ,,
DNF CHAPMAN Brodie FDJ Nouvelle Aquitaine Futuroscope ,,
DNF MARKUS Kelly Doltcini – Van Eyck Sport ,,
DNF WADSWORTH Emily NXTG Racing ,,
DNF SNORTHEIM Stine Marie Keukens Redant Cycling Team ,,
DNF COMMISSARIS Caren Waasland Security – Wase Zon CT ,,
DNF DRUYTS Jessy Multum Accountants – LSK Ladies Cycling Team ,,
DNF WIGHTMAN Kate Isorex No-Aqua Ladies Cycling Team ,,
DNF LENAERS Jade Doltcini – Van Eyck Sport ,,
DNF ARMEE Nele Illi Bikes CT ,,
DNF BERKANE Sarah Andy Schleck Cycles – Immo Losch ,,
DNF VANDENBROUCKE Saartje S-Bikes AGU ,,
DNF YAROSHENKO Viktoriia Lviv Cycling Team women ,,
DNF SCAVONE Dina Doltcini – Van Eyck Sport ,,
DNF STONE Isabella Illi Bikes CT ,,
DNF COTTER Imogen Keukens Redant Cycling Team ,,
DNF BERG Mia Andy Schleck Cycles – Immo Losch ,,
DNF TURNBULL Fiona Lviv Cycling Team women ,,
DNF JONKERS Eva NXTG Racing ,,
DNF HOOLWERF Cathalijne NXTG Racing ,,
DNF BADEGRUBER Anna Multum Accountants – LSK Ladies Cycling Team ,,
DNF GEBRU Eyeru Tesfoam WCC Team ,,
DNF HERMANOVSKÁ Hana Andy Schleck Cycles – Immo Losch ,,
DNF MIDTSVEEN Natalie Irene Hitec Products ,,
DNF BURI Fabienne Andy Schleck Cycles – Immo Losch ,,
DNF RAAIJMAKERS Marit Parkhotel Valkenburg ,,
DNF EGTOFT JENSEN Mette Illi Bikes CT ,,
DNF ANDERSSON Alice Waasland Security – Wase Zon CT ,,
DNF GRIFFIN Mia Illi Bikes CT ,,
DNF PIRRONE Elena Valcar – Travel & Service ,,
DNF DRUYTS Demmy Chevalmeire Cycling Team ,,
DNF HOFMAN Merel Biehler Krush Pro Cycling ,,
DNF JARY Rachel Keukens Redant Cycling Team ,,
DNF PIERGIOVANNI Federica Damiana Valcar – Travel & Service ,,
DNF JOHANSSON Hanna Multum Accountants – LSK Ladies Cycling Team ,,
DNF GEDRAITYTĖ Akvilė WCC Team ,,
DNF KLEMENT Melanie Biehler Krush Pro Cycling ,,
DNF FELDMANN Pernille Hitec Products ,,
DNF BANKS Elizabeth Bigla-Katusha ,,
DNF SWINKELS Sylvie Parkhotel Valkenburg ,,
DNF BIRYUKOVA Julia Lviv Cycling Team women ,,
DNF BERENDS Aranka Waasland Security – Wase Zon CT ,,
DNF ERIKSEN Malin Keukens Redant Cycling Team ,,
DNF MORGAN Savannah Isorex No-Aqua Ladies Cycling Team ,,
DNF VAN VELZEN Bryony Ciclotel ,,
DNF LACOMPTE Amber Keukens Redant Cycling Team ,,
DNF LIEGEOIS Desiree S-Bikes AGU ,,
DNF EHRLER Desiree Multum Accountants – LSK Ladies Cycling Team ,,
DNF FISHMAN Roni WCC Team ,,
DNF LORVIK Ingrid Hitec Products ,,
DNF KITCHEN Lauren FDJ Nouvelle Aquitaine Futuroscope ,,
DNF VAN HAAFTEN Kirstie Ciclotel ,,
DNF KNAVEN Britt NXTG Racing ,,
DNF BAKKER Minke Doltcini – Van Eyck Sport ,,