Ben Hermans (Israel Cycling Academy) został zwycięzcą tegorocznego Tour of Utah. Ostatni etap z metą w Park City wygrał Joe Dombrowski (EF Edcuation First).
Ostatni etap wyścigu w stanie Utah prowadził dookoła Park City. Trasa liczyła prawie 126 kilometrów. Największą trudnością była wspinaczka na Empire Pass. Był to ostatni podjazd wyścigu.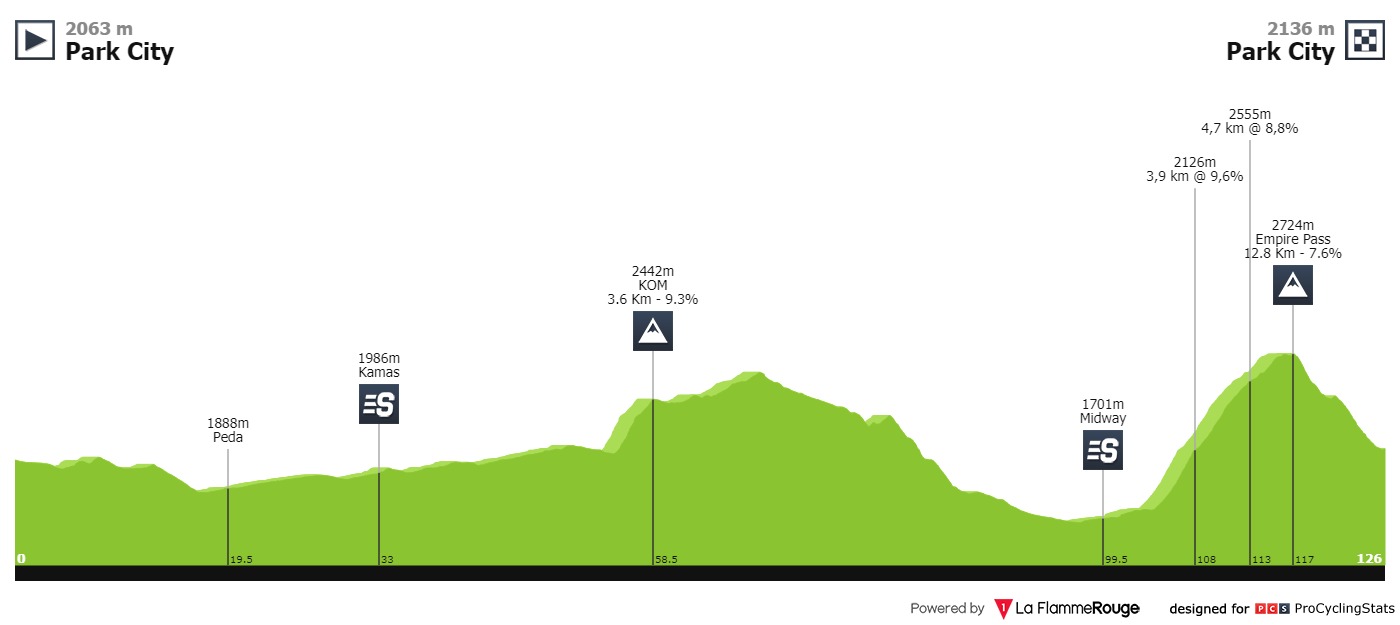 Od peletonu oderwała się ponad 20-osobowa grupa. Jednak ostatecznie o zwycięstwo walczyli kolarze z czołówki klasyfikacji generalnej. Drugi w klasyfikacji James Piccoli atakował pozycję Bena Hermansa. Jednak kolarz Elevate-KHS nie dał rady przyjechać na metę przed zawodnikiem Israel Cycling Academy. Hermans zajął 4. miejsce, meldując się na mecie w Park City 4 sekundy przed Piccolim. Ben Hermans został triumfatorem całego wyścigu.
Na samotny atak na Empire Pass zdecydował się Joe Dombrowski. Amerykanin sięgnął po zwycięstwo etapowe i awansował na 3. pozycję w klasyfikacji generalnej. Drugi na etapie ze stratą 24 sekund był Joao Almeida (Hagens Berman Axeon). Kryzys miał Niklas Eg. Duńczyk z Trek-Segafredo stracił ponad 2 minuty i spadł na 5. miejsce w klasyfikacji wyścigu.
Wyniki 6. etapu:
1 Joseph Lloyd Dombrowski (USA) EF Education First 3:11:09
2 João Almeida (Por) Hagens Berman Axeon 0:00:24
3 Keegan Swirbul (USA) Floyd's Pro Cycling 0:00:26
4 Ben Hermans (Bel) Israel Cycling Academy 0:00:26
5 James Piccoli (Can) Elevate – KHS Pro Cycling 0:00:30
6 Lawson Craddock (USA) EF Education First 0:01:24
7 Matteo Badilatti (SUI) Israel Cycling Academy 0:01:39
8 Kyle Murphy (USA) Rally UHC Cycling 0:01:58
9 Robert Britton (Can) Rally UHC Cycling 0:02:06
10 Lachlan Morton (Aus) EF Education First 0:02:11
11 Niklas Eg (Den) Trek – Segafredo 0:02:13
12 Peter Stetina (USA) Trek – Segafredo 0:03:01
13 Serghei Tvetcov (Rou) Floyd's Pro Cycling 0:03:26
14 Scott Bowden (Aus) Team BridgeLane 0:03:27
15 Nathan Earle (Aus) Israel Cycling Academy 0:03:44
16 Francesco Manuel Bongiorno (Ita) Neri Sottoli – Selle Italia – KTM 0:03:49
17 Alex Hoehn (USA) Aevolo 0:03:52
18 Filippo Fiorelli (Ita) Nippo – Vini Fantini – Faizanè 0:04:22
19 Juan Pedro Lopez Perez (Esp) Trek – Segafredo 0:04:47
20 Kevin Vermaerke (USA) Hagens Berman Axeon 0:05:08
21 Alex Howes (USA) EF Education First 0:05:08
22 Griffin Easter (USA) 303 Project 0:05:15
23 Gregory Daniel (USA) DC Bank Pro Cycling Team 0:05:32
24 Efren Santos Moreno (Mex) Canel's – Specialized 0:05:35
25 Conor Schunk (USA) Aevolo 0:05:53
26 Edward Anderson (USA) Hagens Berman Axeon 0:06:59
27 Simone Velasco (Ita) Neri Sottoli – Selle Italia – KTM 0:07:44
28 Sebastian Schönberger (AUT) Neri Sottoli – Selle Italia – KTM 0:07:44
29 Dayer Uberney Quintana Rojas (Col) Neri Sottoli – Selle Italia – KTM 0:08:00
30 Lorenzo Fortunato (Ita) Neri Sottoli – Selle Italia – KTM 0:08:00
31 Pablo Andrés Alarcon Cares (Chi) Canel's – Specialized 0:08:01
32 Bernat Font Mas (Esp) 303 Project 0:08:01
33 Eder Frayre Moctezuma (Mex) DC Bank Pro Cycling Team 0:08:03
34 Tony Baca (Mex) 303 Project 0:08:09
35 Jacopo Mosca (Ita) Trek – Segafredo 0:08:09
36 Gavin Mannion (USA) Rally UHC Cycling 0:08:26
37 Alexander Cowan (Can) Floyd's Pro Cycling 0:08:28
38 Travis McCabe (USA) Floyd's Pro Cycling 0:08:34
39 Ivan Santaromita (Ita) Nippo – Vini Fantini – Faizanè 0:08:41
40 Gabriel Francisco Rojas Campos (CRc) Aevolo 0:09:07
41 Benjamin Wolfe (USA) Arapahoe|Hincapie p/b BMC 0:09:25
42 Cade Bickmore (USA) Aevolo 0:09:53
43 Edwin Alcibiades Avila Vanegas (Col) Israel Cycling Academy 0:09:53
44 Matthew Zimmer (USA) DC Bank Pro Cycling Team 0:09:53
45 Hayden McCormick (NZl) Team BridgeLane 0:10:11
46 Jordan Cheyne (Can) Elevate – KHS Pro Cycling 0:10:48
47 Ulises Alfredo Castillo Soto (Mex) Elevate – KHS Pro Cycling 0:10:49
48 Andrew Vollmer (USA) Aevolo 0:10:50
49 Dominik Bauer (GER) Team Dauner-AKKON 0:10:52
50 Eric Brunner (USA) Aevolo 0:11:19
51 James Whelan (Aus) EF Education First 0:11:19
52 Tyler Lindorff (Aus) Team BridgeLane 0:11:19
53 Flavio Alejandro De Luna Davila (Mex) 303 Project 0:11:54
54 Guy Niv (Isr) Israel Cycling Academy 0:11:55
55 Edoardo Zardini (Ita) Neri Sottoli – Selle Italia – KTM 0:12:45
56 Sven Thurau (GER) Team Dauner-AKKON 0:12:45
57 Finn Gullickson (USA) Wildlife Generation Pro Cycling p/b Maxxis 0:13:03
58 Nicolas Debeaumarche (Fra) Trek – Segafredo 0:13:23
59 Andzs Flaksis (Lat) Arapahoe|Hincapie p/b BMC 0:13:42
60 Francisco Lara Carbajal (Mex) Canel's – Specialized 0:16:24
61 Marco Canola (Ita) Nippo – Vini Fantini – Faizanè 0:16:24
62 Jean-Denis Thibault (Can) DC Bank Pro Cycling Team 0:16:24
63 Giovanni Lonardi (Ita) Nippo – Vini Fantini – Faizanè 0:16:24
64 Umberto Marengo (Ita) Neri Sottoli – Selle Italia – KTM 0:16:24
65 Filippo Zaccanti (Ita) Nippo – Vini Fantini – Faizanè 0:16:27
66 Sho Hatsuyama (Jpn) Nippo – Vini Fantini – Faizanè 0:16:27
67 Scott McGill (USA) Aevolo 0:16:28
68 Tanner Putt (USA) Arapahoe|Hincapie p/b BMC 0:17:09
69 Dylan Sunderland (Aus) Team BridgeLane 0:17:10
70 Taylor Eisenhart (USA) Arapahoe|Hincapie p/b BMC 0:17:28
71 Isaiah Newkirk (USA) 303 Project 0:17:36
72 Samuel Boardman (USA) Wildlife Generation Pro Cycling p/b Maxxis 0:17:49
73 Stephen Bassett (USA) Wildlife Generation Pro Cycling p/b Maxxis 0:17:53
74 Oscar Eduardo Sanchez Guarin (Col) Canel's – Specialized 0:18:20
75 Guillaume Boivin (Can) Israel Cycling Academy 0:18:35
76 Noah Granigan (USA) Floyd's Pro Cycling 0:18:43
77 Antoine Leplingard (Fra) DC Bank Pro Cycling Team 0:18:43
78 Emerson Oronte (USA) Rally UHC Cycling 0:19:04
79 Emile Jean (Can) Floyd's Pro Cycling 0:19:17
80 Tyler Magner (USA) Rally UHC Cycling 0:19:36
81 Leonel Palma Dajui (Mex) Canel's – Specialized 0:19:38
82 George Simpson (USA) Elevate – KHS Pro Cycling 0:20:05
83 Camden Vodicka (USA) Wildlife Generation Pro Cycling p/b Maxxis 0:20:08
84 Kent Ross (USA) Wildlife Generation Pro Cycling p/b Maxxis 0:20:50
85 Michael Rice (Aus) Hagens Berman Axeon 0:21:19
86 Eric Young (USA) Elevate – KHS Pro Cycling 0:22:31
87 Jose Alfredo Rodriguez Victoria (Mex) Elevate – KHS Pro Cycling 0:22:31
88 Jonathan Clarke (Aus) Floyd's Pro Cycling 0:22:31
89 Ayden Toovey (Aus) Team BridgeLane 0:22:31
90 Philipp Mamos (GER) Team Dauner-AKKON 0:22:31
91 Cole Davis (USA) Hagens Berman Axeon 0:22:51
92 Thomas Revard (USA) Hagens Berman Axeon 0:22:51
93 Maxx Chance (USA) Wildlife Generation Pro Cycling p/b Maxxis 0:22:59
94 Brendan Rhim (USA) Arapahoe|Hincapie p/b BMC 0:23:04
95 Evan Huffman (USA) Rally UHC Cycling 0:23:04
96 Nigel Ellsay (Can) Rally UHC Cycling 0:23:04
97 Cullen Easter (USA) 303 Project 0:23:04
98 Austin Stephens (USA) 303 Project 0:23:04
99 Oliver Flautt (USA) Team Dauner-AKKON 0:23:09
100 Justin Alexander Oien (USA) Arapahoe|Hincapie p/b BMC 0:23:11
101 Hamish Schreurs (NZl) Israel Cycling Academy 0:24:52
Klasyfikacja generalna:
1 Ben Hermans (Bel) Israel Cycling Academy 18:46:09
2 James Piccoli (Can) Elevate – KHS Pro Cycling 0:00:50
3 Joseph Lloyd Dombrowski (USA) EF Education First 0:01:32
4 João Almeida (Por) Hagens Berman Axeon 0:02:26
5 Niklas Eg (Den) Trek – Segafredo 0:02:57
6 Kyle Murphy (USA) Rally UHC Cycling 0:03:20
7 Lawson Craddock (USA) EF Education First 0:04:08
8 Keegan Swirbul (USA) Floyd's Pro Cycling 0:04:40
9 Peter Stetina (USA) Trek – Segafredo 0:05:22
10 Matteo Badilatti (SUI) Israel Cycling Academy 0:05:28
11 Robert Britton (Can) Rally UHC Cycling 0:05:33
12 Scott Bowden (Aus) Team BridgeLane 0:07:51
13 Francesco Manuel Bongiorno (Ita) Neri Sottoli – Selle Italia – KTM 0:09:14
14 Griffin Easter (USA) 303 Project 0:11:44
15 Serghei Tvetcov (Rou) Floyd's Pro Cycling 0:11:50
16 Alex Hoehn (USA) Aevolo 0:12:27
17 Juan Pedro Lopez Perez (Esp) Trek – Segafredo 0:14:18
18 Lachlan Morton (Aus) EF Education First 0:14:22
19 Efren Santos Moreno (Mex) Canel's – Specialized 0:15:26
20 Dayer Uberney Quintana Rojas (Col) Neri Sottoli – Selle Italia – KTM 0:16:06
21 Filippo Fiorelli (Ita) Nippo – Vini Fantini – Faizanè 0:17:37
22 Eder Frayre Moctezuma (Mex) DC Bank Pro Cycling Team 0:18:08
23 Kevin Vermaerke (USA) Hagens Berman Axeon 0:18:18
24 Simone Velasco (Ita) Neri Sottoli – Selle Italia – KTM 0:20:12
25 Sebastian Schönberger (AUT) Neri Sottoli – Selle Italia – KTM 0:20:48
26 Gregory Daniel (USA) DC Bank Pro Cycling Team 0:21:47
27 Hayden McCormick (NZl) Team BridgeLane 0:22:16
28 Gavin Mannion (USA) Rally UHC Cycling 0:22:44
29 Lorenzo Fortunato (Ita) Neri Sottoli – Selle Italia – KTM 0:22:44
30 Bernat Font Mas (Esp) 303 Project 0:23:39
31 Jacopo Mosca (Ita) Trek – Segafredo 0:24:25
32 Edward Anderson (USA) Hagens Berman Axeon 0:25:04
33 Pablo Andrés Alarcon Cares (Chi) Canel's – Specialized 0:25:04
34 Andrew Vollmer (USA) Aevolo 0:25:26
35 Dominik Bauer (GER) Team Dauner-AKKON 0:26:11
36 Nathan Earle (Aus) Israel Cycling Academy 0:27:48
37 Alex Howes (USA) EF Education First 0:27:50
38 Travis McCabe (USA) Floyd's Pro Cycling 0:30:27
39 Conor Schunk (USA) Aevolo 0:31:03
40 Guillaume Boivin (Can) Israel Cycling Academy 0:32:41
41 Flavio Alejandro De Luna Davila (Mex) 303 Project 0:33:05
42 Guy Niv (Isr) Israel Cycling Academy 0:33:21
43 Gabriel Francisco Rojas Campos (CRc) Aevolo 0:33:52
44 Edwin Alcibiades Avila Vanegas (Col) Israel Cycling Academy 0:34:51
45 Jordan Cheyne (Can) Elevate – KHS Pro Cycling 0:37:24
46 Alexander Cowan (Can) Floyd's Pro Cycling 0:38:49
47 Oscar Eduardo Sanchez Guarin (Col) Canel's – Specialized 0:39:11
48 Ivan Santaromita (Ita) Nippo – Vini Fantini – Faizanè 0:40:50
49 Edoardo Zardini (Ita) Neri Sottoli – Selle Italia – KTM 0:41:03
50 Marco Canola (Ita) Nippo – Vini Fantini – Faizanè 0:41:53
51 Umberto Marengo (Ita) Neri Sottoli – Selle Italia – KTM 0:42:44
52 Benjamin Wolfe (USA) Arapahoe|Hincapie p/b BMC 0:43:00
53 Cade Bickmore (USA) Aevolo 0:44:34
54 Matthew Zimmer (USA) DC Bank Pro Cycling Team 0:44:42
55 Tyler Lindorff (Aus) Team BridgeLane 0:45:36
56 Dylan Sunderland (Aus) Team BridgeLane 0:46:14
57 Filippo Zaccanti (Ita) Nippo – Vini Fantini – Faizanè 0:47:16
58 Ulises Alfredo Castillo Soto (Mex) Elevate – KHS Pro Cycling 0:48:51
59 Tony Baca (Mex) 303 Project 0:48:58
60 Taylor Eisenhart (USA) Arapahoe|Hincapie p/b BMC 0:52:35
61 James Whelan (Aus) EF Education First 0:53:13
62 Nicolas Debeaumarche (Fra) Trek – Segafredo 0:55:43
63 Michael Rice (Aus) Hagens Berman Axeon 0:56:49
64 Sho Hatsuyama (Jpn) Nippo – Vini Fantini – Faizanè 0:57:32
65 Giovanni Lonardi (Ita) Nippo – Vini Fantini – Faizanè 0:59:13
66 Cullen Easter (USA) 303 Project 0:59:53
67 Andzs Flaksis (Lat) Arapahoe|Hincapie p/b BMC 1:00:07
68 Sven Thurau (GER) Team Dauner-AKKON 1:00:29
69 Jean-Denis Thibault (Can) DC Bank Pro Cycling Team 1:00:59
70 Tanner Putt (USA) Arapahoe|Hincapie p/b BMC 1:01:36
71 Eric Brunner (USA) Aevolo 1:02:49
72 Samuel Boardman (USA) Wildlife Generation Pro Cycling p/b Maxxis 1:03:00
73 Brendan Rhim (USA) Arapahoe|Hincapie p/b BMC 1:03:01
74 Scott McGill (USA) Aevolo 1:04:15
75 Evan Huffman (USA) Rally UHC Cycling 1:04:26
76 Ayden Toovey (Aus) Team BridgeLane 1:04:40
77 Emerson Oronte (USA) Rally UHC Cycling 1:04:52
78 Isaiah Newkirk (USA) 303 Project 1:05:03
79 Stephen Bassett (USA) Wildlife Generation Pro Cycling p/b Maxxis 1:06:45
80 Noah Granigan (USA) Floyd's Pro Cycling 1:07:15
81 Cole Davis (USA) Hagens Berman Axeon 1:07:54
82 Tyler Magner (USA) Rally UHC Cycling 1:08:26
83 Camden Vodicka (USA) Wildlife Generation Pro Cycling p/b Maxxis 1:08:56
84 George Simpson (USA) Elevate – KHS Pro Cycling 1:08:58
85 Justin Alexander Oien (USA) Arapahoe|Hincapie p/b BMC 1:09:32
86 Antoine Leplingard (Fra) DC Bank Pro Cycling Team 1:09:56
87 Finn Gullickson (USA) Wildlife Generation Pro Cycling p/b Maxxis 1:10:07
88 Francisco Lara Carbajal (Mex) Canel's – Specialized 1:10:51
89 Kent Ross (USA) Wildlife Generation Pro Cycling p/b Maxxis 1:11:01
90 Philipp Mamos (GER) Team Dauner-AKKON 1:13:23
91 Thomas Revard (USA) Hagens Berman Axeon 1:14:10
92 Emile Jean (Can) Floyd's Pro Cycling 1:14:26
93 Jonathan Clarke (Aus) Floyd's Pro Cycling 1:17:58
94 Leonel Palma Dajui (Mex) Canel's – Specialized 1:18:36
95 Hamish Schreurs (NZl) Israel Cycling Academy 1:19:20
96 Oliver Flautt (USA) Team Dauner-AKKON 1:20:19
97 Jose Alfredo Rodriguez Victoria (Mex) Elevate – KHS Pro Cycling 1:22:35
98 Nigel Ellsay (Can) Rally UHC Cycling 1:22:41
99 Austin Stephens (USA) 303 Project 1:23:21
100 Eric Young (USA) Elevate – KHS Pro Cycling 1:24:08
101 Maxx Chance (USA) Wildlife Generation Pro Cycling p/b Maxxis 1:25:31