Zwycięstwem Jamesa Piccoliego zakończył się prolog wyścigu The Larry H.Miller Tour of Utah. Kanadyjczyk z Elevate-KHS Pro Cycling został pierwszym liderem wyścigu.
Prolog rozegrany został po pofałdowanej trasie dookoła Snowbird Resort. W klasyfikacji generalnej miały miejsce pierwsze różnice czasowe.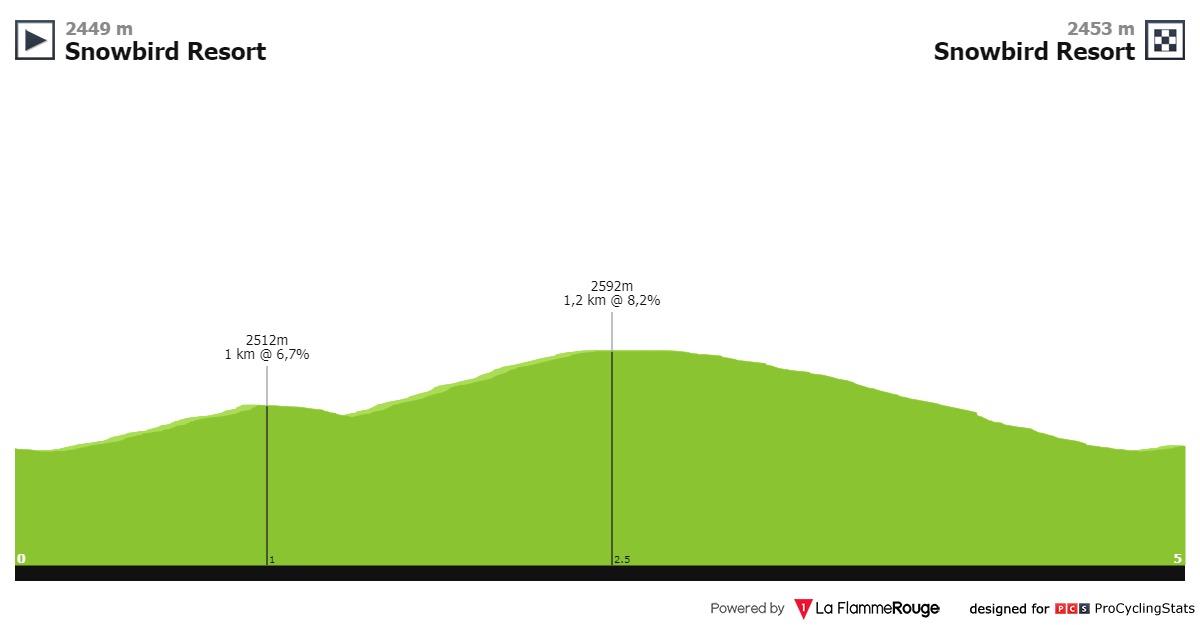 Najszybciej trasę pokonał James Piccoli. Kolarz Elevate-KHS Pro Cycling uzyskał wynik 8:37. Kanadyjczyk jechał ze średnią prędkością 37 km/h. Trzech zawodników straciło 6 sekund do zwycięzcy. Byli to: Lawson Craddock (EF Education First), Sergei Tvetcov (Floyd's Pro Cycling) i Joao Almeida (Hagens Berman Axeon).
Z faworytów do zwycięstwa w całym wyścigu w czołówkę uplasowali się także: Kyle Murphy, Gavin Mannion (obaj Rally Cycling), Joe Dombrowski (EF Education First) i Ben Hermans (Israel Cycling Academy). Na starcie z powodu choroby nie stanął Daniel Felipe Martinez (EF Edcuation First).
Wyniki:
1 PICCOLI James (CAN) ELEVATE – KHS PRO CYCLING 0:08:37,59
2 CRADDOCK Lawson (USA) EF EDUCATION FIRST 0:00:05,55
3 TVETCOV Serghei (ROU) FLOYD'S PRO CYCLING 0:00:06,00
4 ALMEIDA Joao (POR) HAGENS BERMAN AXEON 0:00:06,27
5 MURPHY Kyle (USA) RALLY UHC CYCLING 0:00:11,91
6 MANNION Gavin (USA) RALLY UHC CYCLING 0:00:14,54
7 DOMBROWSKI Joseph Ll (USA) EF EDUCATION FIRST 0:00:14,61
8 BOIVIN Guillaume (CAN) ISRAEL CYCLING ACADEMY 0:00:15,47
9 SWIRBUL Keegan (USA) FLOYD'S PRO CYCLING 0:00:16,67
10 MCCABE Travis (USA) FLOYD'S PRO CYCLING 0:00:17,39
11 HERMANS Ben (BEL) ISRAEL CYCLING ACADEMY 0:00:17,57
12 HOEHN Alex (USA) AEVOLO 0:00:17,75
13 BASSETT Stephen (USA) WILDLIFE GENERATION PRO CYCLING P B MAXXIS 0:00:18,38
14 BRITTON Robert (CAN) RALLY UHC CYCLING 0:00:19,30
15 STETINA Peter (USA) TREK – SEGAFREDO 0:00:20,26
16 MORTON Lachlan (AUS) EF EDUCATION FIRST 0:00:21,38
17 VERMAERKE Kevin (USA) HAGENS BERMAN AXEON 0:00:22,26
18 HOWES Alex (USA) EF EDUCATION FIRST 0:00:22,75
19 BOWDEN Scott (AUS) TEAM BRIDGELANE 0:00:24,37
20 RHIM Brendan (USA) ARAPAHOE HINCAPIE pb BMC 0:00:27,17
21 EASTER Griffin (USA) 303 PROJECT 0:00:27,28
22 HUFFMAN Evan (USA) RALLY UHC CYCLING 0:00:27,84
23 EG Niklas (DEN) TREK – SEGAFREDO 0:00:28,92
24 BADILATTI Matteo (SUI) ISRAEL CYCLING ACADEMY 0:00:29,10
25 MCCORMICK Hayden (NZL) TEAM BRIDGELANE 0:00:29,53
26 SUNDERLAND Dylan (AUS) TEAM BRIDGELANE 0:00:30,61
27 SAMUEL Travis (CAN) DC BANK PRO CYCLING TEAM 0:00:32,15
28 ELLSAY Nigel (CAN) RALLY UHC CYCLING 0:00:33,39
29 BASSETTI Samuel (USA) ELEVATE – KHS PRO CYCLING 0:00:33,53
30 COWAN Alexander (CAN) FLOYD'S PRO CYCLING 0:00:33,55
31 COOPER Joseph (NZL) TEAM BRIDGELANE 0:00:33,83
32 AVILA VANEGAS Edwin (COL) ISRAEL CYCLING ACADEMY 0:00:34,20
33 QUINTANA Dayer (COL) NERI SOTTOLI SELLE ITALIA KTM 0:00:34,74
34 ANDERSON Edward (USA) HAGENS BERMAN AXEON 0:00:35,63
35 DANIEL Gregory (USA) DC BANK PRO CYCLING TEAM 0:00:36,43
36 CHEYNE Jordan (CAN) ELEVATE – KHS PRO CYCLING 0:00:37,04
37 ROJAS CAMPOS Gabriel (CRC) AEVOLO 0:00:37,07
38 BRUNNER Eric (USA) AEVOLO 0:00:37,08
39 PUTT Tanner (USA) ARAPAHOE HINCAPIE pb BMC 0:00:37,21
40 LOPEZ Juan Pedro (ESP) TREK – SEGAFREDO 0:00:37,34
41 SIMPSON George (USA) ELEVATE – KHS PRO CYCLING 0:00:37,54
42 SCH?NBERGER Sebastia (AUT) NERI SOTTOLI SELLE ITALIA KTM 0:00:39,26
43 WOLFE Benjamin (USA) ARAPAHOE HINCAPIE pb BMC 0:00:40,24
44 BOARDMAN Samuel (USA) WILDLIFE GENERATION PRO CYCLING P B MAXXIS 0:00:40,60
45 EARLE Nathan (AUS) ISRAEL CYCLING ACADEMY 0:00:41,00
46 LINDORFF Tyler (AUS) TEAM BRIDGELANE 0:00:41,19
47 FRAYRE Eder (MEX) DC BANK PRO CYCLING TEAM 0:00:41,35
48 REVARD Thomas (USA) HAGENS BERMAN AXEON 0:00:42,01
49 EASTER Cullen (USA) 303 PROJECT 0:00:42,47
50 MAGNER Tyler (USA) RALLY UHC CYCLING 0:00:43,75
51 ORONTE Emerson (USA) RALLY UHC CYCLING 0:00:44,18
52 ALARC?N CARES Pablo (CHI) CANEL'S – SPECIALIZED 0:00:44,81
53 MARENGO Umberto (ITA) NERI SOTTOLI SELLE ITALIA KTM 0:00:45,15
54 BONGIORNO Francesco (ITA) NERI SOTTOLI SELLE ITALIA KTM 0:00:45,54
55 ZACCANTI Filippo (ITA) NIPPO – VINI FANTINI – FAIZANÈ 0:00:46,45
56 YOUNG Eric (USA) ELEVATE – KHS PRO CYCLING 0:00:46,46
57 CLARKE Jonathan (AUS) FLOYD'S PRO CYCLING 0:00:46,47
58 REIJNEN Kiel (USA) TREK – SEGAFREDO 0:00:46,57
59 CASTILLO SOTO Ulises (MEX) ELEVATE – KHS PRO CYCLING 0:00:46,87
60 VELASCO Simone (ITA) NERI SOTTOLI SELLE ITALIA KTM 0:00:47,15
61 HARPER Chris (AUS) TEAM BRIDGELANE 0:00:47,21
62 BAUER Dominik (GER) TEAM DAUNER | AKKON 0:00:47,96
63 GRANIGAN Noah (USA) FLOYD'S PRO CYCLING 0:00:48,82
64 FLAKSIS Andzs (LAT) ARAPAHOE HINCAPIE pb BMC 0:00:48,83
65 VOLLMER Andrew (USA) AEVOLO 0:00:48,99
66 WHELAN James (AUS) EF EDUCATION FIRST 0:00:49,44
67 DAVIS Cole (USA) HAGENS BERMAN AXEON 0:00:49,70
68 BACA Antonio (MEX) 303 PROJECT 0:00:49,71
69 CANOLA Marco (ITA) NIPPO – VINI FANTINI – FAIZANÈ 0:00:49,74
70 JEAN Emile (CAN) FLOYD'S PRO CYCLING 0:00:50,88
71 ZARDINI Edoardo (ITA) NERI SOTTOLI SELLE ITALIA KTM 0:00:51,10
72 ZIMMER Matthew (USA) DC BANK PRO CYCLING TEAM 0:00:52,19
73 RICE Michael (AUS) HAGENS BERMAN AXEON 0:00:52,60
74 SANTAROMITA Ivan (ITA) NIPPO – VINI FANTINI – FAIZANÈ 0:00:52,61
75 STEPHENS Austin (USA) 303 PROJECT 0:00:53,15
76 OIEN Justin Alexande (USA) ARAPAHOE HINCAPIE pb BMC 0:00:53,51
77 TOOVEY Ayden (AUS) TEAM BRIDGELANE 0:00:54,94
78 MOSCA Jacopo (ITA) TREK – SEGAFREDO 0:00:55,77
79 FIORELLI Filippo (ITA) NIPPO – VINI FANTINI – FAIZANÈ 0:00:56,55
80 EISENHART Taylor (T. (USA) ARAPAHOE HINCAPIE pb BMC 0:00:56,87
81 THIBAULT Jean-Denis (CAN) DC BANK PRO CYCLING TEAM 0:00:58,40
82 LONARDI Giovanni (ITA) NIPPO – VINI FANTINI – FAIZANÈ 0:00:58,45
83 MCGILL Scott (USA) AEVOLO 0:01:02,52
84 DEBEAUMARCH? Nicolas (FRA) TREK – SEGAFREDO 0:01:02,87
85 NEWKIRK Isaiah (USA) 303 PROJECT 0:01:03,88
86 PAVLIC Marko (SLO) DC BANK PRO CYCLING TEAM 0:01:04,01
87 FORTUNATO Lorenzo (ITA) NERI SOTTOLI SELLE ITALIA KTM 0:01:04,31
88 SANTOS MORENO Efren (MEX) CANEL'S – SPECIALIZED 0:01:04,42
89 BICKMORE Cade (USA) AEVOLO 0:01:04,64
90 FLAUTT Oliver (USA) TEAM DAUNER | AKKON 0:01:05,07
91 SCHUNK Conor (USA) AEVOLO 0:01:05,69
92 DE LUNA Flavio Aleja (MEX) 303 PROJECT 0:01:05,70
93 CORTE CORDERO Eduard (MEX) CANEL'S – SPECIALIZED 0:01:05,80
94 PRADO JUAREZ Ignacio (MEX) CANEL'S – SPECIALIZED 0:01:15,06
95 THURAU Sven (GER) TEAM DAUNER | AKKON 0:01:15,53
96 ROSS Kent (USA) WILDLIFE GENERATION PRO CYCLING P B MAXXIS 0:01:15,83
97 FONT MAS Bernat (ESP) 303 PROJECT 0:01:16,15
98 HATSUYAMA Sho (JPN) NIPPO – VINI FANTINI – FAIZANÈ 0:01:16,59
99 CHANCE Maxx (USA) WILDLIFE GENERATION PRO CYCLING P B MAXXIS 0:01:19,07
100 MAMOS Philipp (GER) TEAM DAUNER | AKKON 0:01:19,37
101 LARA CARBAJAL Franci (MEX) CANEL'S – SPECIALIZED 0:01:19,77
102 GULLICKSON Finn (USA) WILDLIFE GENERATION PRO CYCLING P B MAXXIS 0:01:19,92
103 HEIDER Christopher (GER) TEAM DAUNER | AKKON 0:01:20,56
104 SCHREURS Hamish (NZL) ISRAEL CYCLING ACADEMY 0:01:21,95
105 SANCHEZ GUARIN Oscar (COL) CANEL'S – SPECIALIZED 0:01:23,25
106 VODICKA Camden (USA) WILDLIFE GENERATION PRO CYCLING P B MAXXIS 0:01:23,61
107 BRYON Miguel (USA) ARAPAHOE HINCAPIE pb BMC 0:01:25,35
108 KIRBY Quinten (USA) WILDLIFE GENERATION PRO CYCLING P B MAXXIS 0:01:25,52
109 LEPLINGARD Antoine (FRA) DC BANK PRO CYCLING TEAM 0:01:27,52
110 NIV Guy (ISR) ISRAEL CYCLING ACADEMY 0:01:27,95
111 RODRIGUEZ VICTORIA J (MEX) ELEVATE – KHS PRO CYCLING 0:01:34,80
112 HEMING Mik (GER) TEAM DAUNER | AKKON 0:01:35,94
113 PALMA DAJUI Leonel (MEX) CANEL'S – SPECIALIZED 0:01:36,19