Markus Hoelgaard wygrał etap kończący Arctic Race of Norway. Dzięki świetnej jeździe na dzisiejszym odcinku cały wyścig wygrał Alexey Lutsenko.
Ostatni etap Arctic Race of Norway rozpoczynał się w Lødingen, a kończył się w Narvik. Trasa była trudna, ale nie aż tak, jak wczoraj. Kolarze pod koniec etapu najpierw trzykrotnie mieli wspiąć się na dwukilometrowy podjazd pod Skistua Summit, a później czekał ich jeszcze prowadzący lekko pod górę finisz. Etap zapowiadał się bardzo emocjonująco, ponieważ prowadzącego Warrena Barguila i drugiego Alexeya Lutsenkę dzieliły zaledwie 3 sekundy.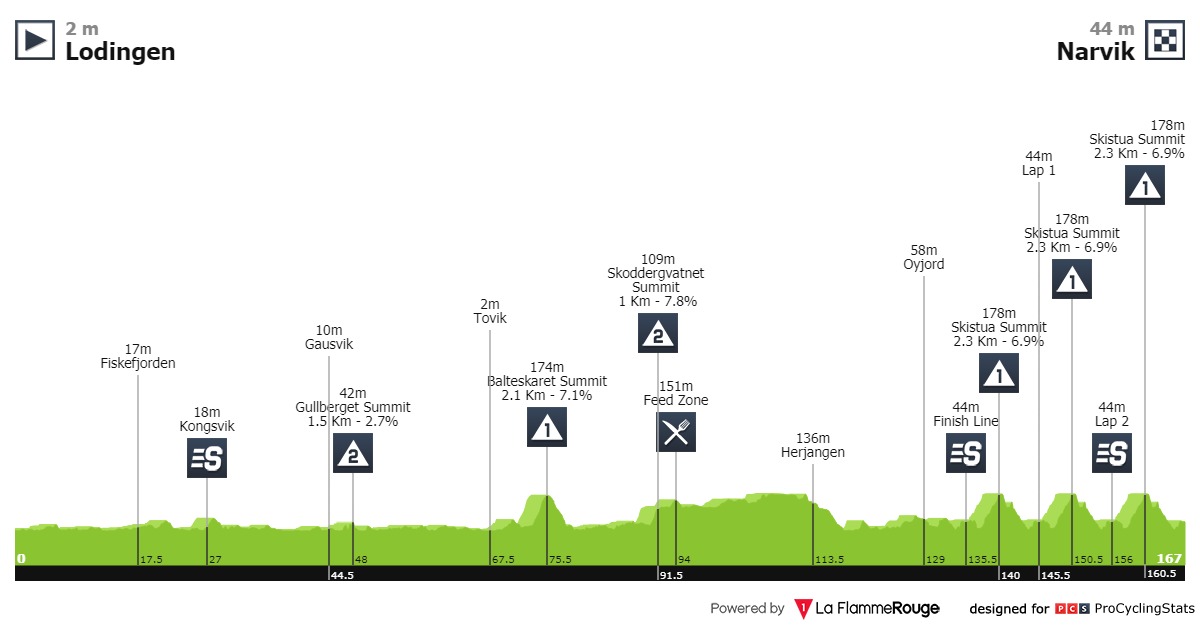 Na początku wyścigu od peletonu oderwała się dziewięcioosobowa grupka. W jej skład wchodzili Andreas Vangstad (Joker), Pascal Eenkhorn (Jumbo-Visma), Jonas Hvideberg (Uno-x), Pavel Kochetkov (Katusha) i Tom-Jelte Slagter (Dimension Data), Hugo Houle (Astana) Paul Van Hecke (Sport Vlaanderen), a także Otto Vergaerde i Mathieu van der Poel (Corendon-Circus). Przewaga ucieczki ani na moment nie nabrała niebezpiecznych rozmiarów. Ostatni z uciekinierów zostali doścignięci na 17 kilometrów przed metą, tuż przed ostatnią górską premią, wygraną przez Odda Cristiana Eikinga.
Chwilę później, tuż przed lotną premią mocno przyspieszyli walczący o sekundy Lutsenko i Barguil. Ostatecznie sprint wygrał Kazach, dzięki czemu zbliżył się do lidera na 2 sekundy. Obaj jeszcze przez kilka kilometrów utrzymali się przed główną grupą, jednak w końcu zostali doścignięci. Z coraz szybciej jadącego peletonu odpadali kolejni zawodnicy m. in van der Poel, który przed etapem zgłaszał, że nie czuje się najlepiej.
Chwilę później od grupy po raz kolejny w tym wyścigu oderwał się Hoelgaard. Tym razem wyglądało na to, że dojedzie do mety, bo grupa nie wyglądała na zainteresowaną gonieniem Norwega. Nie widać było współpracy- były ciągłe ataki, którym przodował Lutsenko, robiący wszystko, by odłączyć się od Barguila. Francuz reagował wprawdzie dość ociężale, ale za każdym razem w końcu dołączał do Kazacha.
Potem przyszedł finisz. Kolarze z głównej grupy walczyli już tylko o trzecie miejsce- pierwsze zgodnie z oczekiwaniami wpadło w ręce Hoelgaarda, natomiast drugie zajął Amund Jansen, który na ostatnim kilometrze odjechał i prawie dogonił zawodnika Uno-X. Tą walkę wygrał Lutsenko. Wydawało się, że mimo to Kazach wróci z Norwegii z niczym, ponieważ wszystko wskazywało na to, że to Barguil wygra wyścig dzięki lepszej sumie miejsc.
Jednak po analizie finiszu sędziowie stwierdzili, że między trzecim Kazachem, a czwartym Barguillem była sekundowa różnica. To oznaczało, że zwycięzcą ostatecznie okazał się zawodnik Astany, któremu udało się także odebrać zwycięstwo w klasyfikacji punktowej van der Poelowi. Pozostałe koszulki przypadły Oddowi Christianowi Eikingowi (górska) i Kristsowi Neiladtsowi, który obchodził dziś urodziny i sprawił sobie świetny prezent zajmując 3 miejsce w generalce oraz zgarniając koszulkę dla najlepszego młodzieżowca.
Wyniki 4. etapu:
1 Markus Hoelgaard (Nor) Uno-X Norwegian Development Team 3:35:32
2 Amund Grøndahl Jansen (Nor) Team Jumbo – Visma 0:00:00
3 Alexey Lutsenko (Kaz) Astana Pro Team 0:00:03
4 Warren Barguil (Fra) Team Arkéa – Samsic 0:00:04
5 Kristian Sbaragli (Ita) Israel Cycling Academy 0:00:04
6 Lilian Calmejane (Fra) Total Direct Energie 0:00:04
7 Enrico Gasparotto (Ita) Team Dimension Data 0:00:04
8 Ilnur Zakarin (Rus) Team Katusha Alpecin 0:00:04
9 Krists Neilands (Lat) Israel Cycling Academy 0:00:04
10 Sindre Skjøstad Lunke (Nor) Riwal Readynez Cycling Team 0:00:04
11 Hugo Houle (Can) Astana Pro Team 0:00:09
12 Stephen Cummings (GBr) Team Dimension Data 0:00:12
13 Dmitrii Strakhov (Rus) Team Katusha Alpecin 0:00:20
14 Odd Christian Eiking (Nor) Wanty – Gobert Cycling Team 0:00:20
15 Benjamin Declercq (Bel) Sport Vlaanderen – Baloise 0:00:20
16 Floris De Tier (Bel) Team Jumbo – Visma 0:00:20
17 Dimitri Peyskens (Bel) Wallonie Bruxelles 0:00:20
18 Andrea Pasqualon (Ita) Wanty – Gobert Cycling Team 0:00:20
19 Lucas Eriksson (Swe) Riwal Readynez Cycling Team 0:00:20
20 Kristian Aasvold (Nor) Team Coop 0:00:38
21 Jimmy Janssens (Bel) Corendon – Circus 0:00:53
22 Fabien Grellier (Fra) Total Direct Energie 0:01:16
23 Loïc Chetout (Fra) Cofidis Solutions Crédits 0:01:22
24 Quentin Pacher (Fra) Vital Concept – B&B Hotels 0:01:22
25 Trond Håkon Trondsen (Nor) Team Coop 0:01:38
26 Bjørn Tore Hoem (Nor) Joker Fuel of Norway 0:02:17
27 Nathan Haas (Aus) Team Katusha Alpecin 0:02:17
28 Magnus Cort Nielsen (Den) Astana Pro Team 0:02:17
29 Aritz Bagües Kalparsoro (Esp) Euskadi Basque Country – Murias 0:02:17
30 Kim Magnusson (Swe) Riwal Readynez Cycling Team 0:02:17
31 Brandon McNulty (USA) Rally UHC Cycling 0:02:17
32 Mathieu Van Der Poel (Ned) Corendon – Circus 0:02:57
33 Loïc Vliegen (Bel) Wanty – Gobert Cycling Team 0:03:08
34 August Jensen (Nor) Israel Cycling Academy 0:03:08
35 Øivind Lukkedal (Nor) Joker Fuel of Norway 0:03:08
36 Adam De Vos (Can) Rally UHC Cycling 0:03:08
37 Colin Joyce (USA) Rally UHC Cycling 0:03:08
38 Romain Combaud (Fra) Delko Marseille Provence 0:03:08
39 Alessandro Fedeli (Ita) Delko Marseille Provence 0:04:51
40 Franck Bonnamour (Fra) Team Arkéa – Samsic 0:05:00
41 Pit Leyder (Lux) Cofidis Solutions Crédits 0:05:00
42 Simon Carr (GBr) Delko Marseille Provence 0:05:00
43 Rein Taaramäe (Est) Total Direct Energie 0:05:17
44 Krister Hagen (Nor) Riwal Readynez Cycling Team 0:05:56
45 Frederik Backaert (Bel) Wanty – Gobert Cycling Team 0:05:56
46 Jordi Warlop (Bel) Sport Vlaanderen – Baloise 0:05:56
47 Mads Würtz Schmidt (Den) Team Katusha Alpecin 0:06:32
48 Louis Bendixen (Den) Team Coop 0:06:32
49 Bryan Coquard (Fra) Vital Concept – B&B Hotels 0:06:35
50 Kevyn Ista (Bel) Wallonie Bruxelles 0:06:35
51 Erik Nordsaeter Resell (Nor) Uno-X Norwegian Development Team 0:06:48
52 Tom Van Asbroeck (Bel) Israel Cycling Academy 0:07:16
53 Tom Wirtgen (Lux) Wallonie Bruxelles 0:07:16
54 Emils Liepins (Lat) Wallonie Bruxelles 0:07:16
55 Yoann Offredo (Fra) Wanty – Gobert Cycling Team 0:07:16
56 Emmanuel Morin (Fra) Cofidis Solutions Crédits 0:07:16
57 Christophe Noppe (Bel) Sport Vlaanderen – Baloise 0:07:16
58 Aksel Fischer Aasheim (Nor) Joker Fuel of Norway 0:07:16
59 Kenny Molly (Bel) Wallonie Bruxelles 0:07:16
60 Jonas Gregaard Wilsly (Den) Astana Pro Team 0:07:16
61 Bryan Nauleau (Fra) Total Direct Energie 0:07:16
62 Danilo Wyss (SUI) Team Dimension Data 0:07:16
63 Pavel Kochetkov (Rus) Team Katusha Alpecin 0:07:16
64 Ander Barrenetxea Uriarte (Esp) Euskadi Basque Country – Murias 0:07:16
65 Kévin Ledanois (Fra) Team Arkéa – Samsic 0:07:16
66 Jonathan Hivert (Fra) Total Direct Energie 0:07:16
67 Lasse Norman Hansen (Den) Corendon – Circus 0:08:36
68 Thimo Willems (Bel) Sport Vlaanderen – Baloise 0:08:36
69 Olav Hjemsæter (Nor) Team Coop 0:08:36
70 Ryan Anderson (Can) Rally UHC Cycling 0:08:36
71 Juri Hollmann (GER) Team Katusha Alpecin 0:08:36
72 Julien Mortier (Bel) Wallonie Bruxelles 0:08:36
73 Kristoffer Skjerping (Nor) Uno-X Norwegian Development Team 0:08:36
74 Jonas Iversby Hvideberg (Nor) Uno-X Norwegian Development Team 0:08:36
75 Dries De Bondt (Bel) Corendon – Circus 0:08:36
76 Håkon Lunder Aalrust (Nor) Team Coop 0:08:36
77 Thomas Leezer (Ned) Team Jumbo – Visma 0:08:36
78 Stijn Devolder (Bel) Corendon – Circus 0:10:28
79 Lars Saugstad (Nor) Uno-X Norwegian Development Team 0:11:13
80 Andreas Vangstad (Nor) Joker Fuel of Norway 0:11:40
81 Erlend Blikra (Nor) Team Coop 0:11:40
82 Jay Robert Thomson (RSA) Team Dimension Data 0:15:06
83 Tom-Jelte Slagter (Ned) Team Dimension Data 0:15:06
84 Rasmus Bøgh Wallin (Den) Riwal Readynez Cycling Team 0:15:06
85 Julen Irizar Laskurain (Esp) Euskadi Basque Country – Murias 0:15:06
86 Herman Dahl (Nor) Joker Fuel of Norway 0:15:06
87 Tobias Mørch Kongstad (Den) Riwal Readynez Cycling Team 0:15:06
88 Brenton Jones (Aus) Delko Marseille Provence 0:15:06
89 Mathias Van Gompel (Bel) Sport Vlaanderen – Baloise 0:15:06
90 Patrick Müller (SUI) Vital Concept – B&B Hotels 0:15:06
91 Kevin Van Melsen (Bel) Wanty – Gobert Cycling Team 0:15:06
92 Enzo Bernard (Fra) Total Direct Energie 0:15:06
93 Preben Van Hecke (Bel) Sport Vlaanderen – Baloise 0:15:06
94 Otto Vergaerde (Bel) Corendon – Circus 0:15:06
95 Bert Van Lerberghe (Bel) Cofidis Solutions Crédits 0:15:06
96 Guy Sagiv (Isr) Israel Cycling Academy 0:15:06
97 Sondre Holst Enger (Nor) Israel Cycling Academy 0:15:06
98 Przemysław Kasperkiewicz (Pol) Delko Marseille Provence 0:15:06
99 Bert-Jan Lindeman (Ned) Team Jumbo – Visma 0:15:06
100 Danny Van Poppel (Ned) Team Jumbo – Visma 0:15:06
101 Pascal Eenkhoorn (Ned) Team Jumbo – Visma 0:15:06
102 Connor Swift (GBr) Team Arkéa – Samsic 0:15:06
103 Daniil Fominykh (Kaz) Astana Pro Team 0:15:06
104 Yuriy Natarov (Kaz) Astana Pro Team 0:15:06
105 Christophe Laporte (Fra) Cofidis Solutions Crédits 0:15:06
106 Bernhard Eisel (AUT) Team Dimension Data 0:15:06
107 Svein Tuft (Can) Rally UHC Cycling 0:15:06
108 Cyril Lemoine (Fra) Cofidis Solutions Crédits 0:15:06
109 Kristian Kulset (Nor) Uno-X Norwegian Development Team 0:15:06
DNF Maxime Bouet (Fra) Team Arkéa – Samsic
DNF Alan Riou (Fra) Team Arkéa – Samsic
DNF Johan Le Bon (Fra) Vital Concept – B&B Hotels
DNF Jérémy Lecroq (Fra) Vital Concept – B&B Hotels
DNF Kévin Réza (Fra) Vital Concept – B&B Hotels
DNF Mauro Finetto (Ita) Delko Marseille Provence
DNF Jose Daniel Viejo Redondo (Esp) Euskadi Basque Country – Murias
Klasyfikacja generalna:
1 Alexey Lutsenko (Kaz) Astana Pro Team 14:59:27
2 Warren Barguil (Fra) Team Arkéa – Samsic 0:00:01
3 Krists Neilands (Lat) Israel Cycling Academy 0:00:19
4 Lilian Calmejane (Fra) Total Direct Energie 0:00:23
5 Hugo Houle (Can) Astana Pro Team 0:00:40
6 Sindre Skjøstad Lunke (Nor) Riwal Readynez Cycling Team 0:00:42
7 Markus Hoelgaard (Nor) Uno-X Norwegian Development Team 0:00:43
8 Amund Grøndahl Jansen (Nor) Team Jumbo – Visma 0:00:51
9 Enrico Gasparotto (Ita) Team Dimension Data 0:00:53
10 Stephen Cummings (GBr) Team Dimension Data 0:01:12
11 Floris De Tier (Bel) Team Jumbo – Visma 0:01:15
12 Dimitri Peyskens (Bel) Wallonie Bruxelles 0:01:20
13 Lucas Eriksson (Swe) Riwal Readynez Cycling Team 0:01:20
14 Andrea Pasqualon (Ita) Wanty – Gobert Cycling Team 0:01:23
15 Benjamin Declercq (Bel) Sport Vlaanderen – Baloise 0:01:47
16 Ilnur Zakarin (Rus) Team Katusha Alpecin 0:01:59
17 Quentin Pacher (Fra) Vital Concept – B&B Hotels 0:02:30
18 Magnus Cort Nielsen (Den) Astana Pro Team 0:02:53
19 Brandon McNulty (USA) Rally UHC Cycling 0:03:06
20 Aritz Bagües Kalparsoro (Esp) Euskadi Basque Country – Murias 0:03:48
21 Kim Magnusson (Swe) Riwal Readynez Cycling Team 0:04:04
22 Mathieu Van Der Poel (Ned) Corendon – Circus 0:04:05
23 Franck Bonnamour (Fra) Team Arkéa – Samsic 0:06:31
24 Jordi Warlop (Bel) Sport Vlaanderen – Baloise 0:07:27
25 Loïc Chetout (Fra) Cofidis Solutions Crédits 0:08:38
26 Jonathan Hivert (Fra) Total Direct Energie 0:13:13
27 Rein Taaramäe (Est) Total Direct Energie 0:13:38
28 Pavel Kochetkov (Rus) Team Katusha Alpecin 0:16:03
29 Odd Christian Eiking (Nor) Wanty – Gobert Cycling Team 0:16:56
30 Preben Van Hecke (Bel) Sport Vlaanderen – Baloise 0:17:25
31 Kristian Aasvold (Nor) Team Coop 0:18:33
32 Christophe Laporte (Fra) Cofidis Solutions Crédits 0:18:47
33 Jimmy Janssens (Bel) Corendon – Circus 0:19:16
34 Bjørn Tore Hoem (Nor) Joker Fuel of Norway 0:20:32
35 Loïc Vliegen (Bel) Wanty – Gobert Cycling Team 0:21:56
36 Kristian Sbaragli (Ita) Israel Cycling Academy 0:22:10
37 Romain Combaud (Fra) Delko Marseille Provence 0:22:16
38 Simon Carr (GBr) Delko Marseille Provence 0:22:22
39 August Jensen (Nor) Israel Cycling Academy 0:22:36
40 Colin Joyce (USA) Rally UHC Cycling 0:22:47
41 Adam De Vos (Can) Rally UHC Cycling 0:23:24
42 Fabien Grellier (Fra) Total Direct Energie 0:23:34
43 Pascal Eenkhoorn (Ned) Team Jumbo – Visma 0:24:04
44 Pit Leyder (Lux) Cofidis Solutions Crédits 0:24:08
45 Dmitrii Strakhov (Rus) Team Katusha Alpecin 0:24:15
46 Øivind Lukkedal (Nor) Joker Fuel of Norway 0:24:26
47 Alessandro Fedeli (Ita) Delko Marseille Provence 0:24:30
48 Nathan Haas (Aus) Team Katusha Alpecin 0:24:42
49 Frederik Backaert (Bel) Wanty – Gobert Cycling Team 0:24:51
50 Jonas Gregaard Wilsly (Den) Astana Pro Team 0:25:39
51 Mads Würtz Schmidt (Den) Team Katusha Alpecin 0:26:00
52 Louis Bendixen (Den) Team Coop 0:26:11
53 Danilo Wyss (SUI) Team Dimension Data 0:26:24
54 Yoann Offredo (Fra) Wanty – Gobert Cycling Team 0:26:24
55 Tom Wirtgen (Lux) Wallonie Bruxelles 0:27:19
56 Kévin Ledanois (Fra) Team Arkéa – Samsic 0:27:24
57 Tom Van Asbroeck (Bel) Israel Cycling Academy 0:28:02
58 Krister Hagen (Nor) Riwal Readynez Cycling Team 0:28:04
59 Danny Van Poppel (Ned) Team Jumbo – Visma 0:28:48
60 Ryan Anderson (Can) Rally UHC Cycling 0:28:52
61 Kristoffer Skjerping (Nor) Uno-X Norwegian Development Team 0:29:15
62 Bryan Nauleau (Fra) Total Direct Energie 0:29:34
63 Christophe Noppe (Bel) Sport Vlaanderen – Baloise 0:29:38
64 Erik Nordsaeter Resell (Nor) Uno-X Norwegian Development Team 0:29:39
65 Ander Barrenetxea Uriarte (Esp) Euskadi Basque Country – Murias 0:29:51
66 Trond Håkon Trondsen (Nor) Team Coop 0:29:53
67 Emils Liepins (Lat) Wallonie Bruxelles 0:30:08
68 Andreas Vangstad (Nor) Joker Fuel of Norway 0:30:15
69 Julien Mortier (Bel) Wallonie Bruxelles 0:31:21
70 Kevyn Ista (Bel) Wallonie Bruxelles 0:31:31
71 Lasse Norman Hansen (Den) Corendon – Circus 0:31:55
72 Dries De Bondt (Bel) Corendon – Circus 0:32:09
73 Emmanuel Morin (Fra) Cofidis Solutions Crédits 0:32:12
74 Kenny Molly (Bel) Wallonie Bruxelles 0:32:15
75 Tom-Jelte Slagter (Ned) Team Dimension Data 0:32:24
76 Bryan Coquard (Fra) Vital Concept – B&B Hotels 0:32:39
77 Jonas Iversby Hvideberg (Nor) Uno-X Norwegian Development Team 0:32:47
78 Olav Hjemsæter (Nor) Team Coop 0:32:48
79 Julen Irizar Laskurain (Esp) Euskadi Basque Country – Murias 0:34:03
80 Cyril Lemoine (Fra) Cofidis Solutions Crédits 0:34:36
81 Thomas Leezer (Ned) Team Jumbo – Visma 0:34:48
82 Yuriy Natarov (Kaz) Astana Pro Team 0:35:22
83 Connor Swift (GBr) Team Arkéa – Samsic 0:35:57
84 Erlend Blikra (Nor) Team Coop 0:36:15
85 Bert Van Lerberghe (Bel) Cofidis Solutions Crédits 0:36:39
86 Thimo Willems (Bel) Sport Vlaanderen – Baloise 0:36:51
87 Aksel Fischer Aasheim (Nor) Joker Fuel of Norway 0:36:51
88 Håkon Lunder Aalrust (Nor) Team Coop 0:36:51
89 Juri Hollmann (GER) Team Katusha Alpecin 0:36:55
90 Herman Dahl (Nor) Joker Fuel of Norway 0:37:14
91 Enzo Bernard (Fra) Total Direct Energie 0:37:24
92 Mathias Van Gompel (Bel) Sport Vlaanderen – Baloise 0:37:24
93 Daniil Fominykh (Kaz) Astana Pro Team 0:37:28
94 Lars Saugstad (Nor) Uno-X Norwegian Development Team 0:37:28
95 Kevin Van Melsen (Bel) Wanty – Gobert Cycling Team 0:38:17
96 Patrick Müller (SUI) Vital Concept – B&B Hotels 0:38:29
97 Otto Vergaerde (Bel) Corendon – Circus 0:38:31
98 Guy Sagiv (Isr) Israel Cycling Academy 0:40:02
99 Brenton Jones (Aus) Delko Marseille Provence 0:40:25
100 Sondre Holst Enger (Nor) Israel Cycling Academy 0:40:25
101 Svein Tuft (Can) Rally UHC Cycling 0:41:05
102 Bert-Jan Lindeman (Ned) Team Jumbo – Visma 0:41:37
103 Przemysław Kasperkiewicz (Pol) Delko Marseille Provence 0:42:01
104 Tobias Mørch Kongstad (Den) Riwal Readynez Cycling Team 0:43:15
105 Kristian Kulset (Nor) Uno-X Norwegian Development Team 0:43:16
106 Rasmus Bøgh Wallin (Den) Riwal Readynez Cycling Team 0:43:21
107 Bernhard Eisel (AUT) Team Dimension Data 0:43:25
108 Stijn Devolder (Bel) Corendon – Circus 0:44:12
109 Jay Robert Thomson (RSA) Team Dimension Data 0:51:44