Lotta Lepistoe (Trek-Segafredo) wygrała pierwszy etap wyścigu Healthy Ageing Tour (kat. 2.1). 29-latka w pokonanym polu pozostawiła Lisę Klein (Canyon//SRAM) i Christine Majerus (Boels-Dolmans).
Etap pierwszy holenderskiego wyścigu liczył 102 kilometry. Start i meta zlokalizowane były w Borkum, a zawodniczki miały do pokonania siedem, liczących po 15,2 km okrążeń w płaskim terenie. Mimo pozornie pozbawionej trudności trasy, szybko dał o sobie znać wiatr, który skutecznie zweryfikował umiejętności zawodniczek.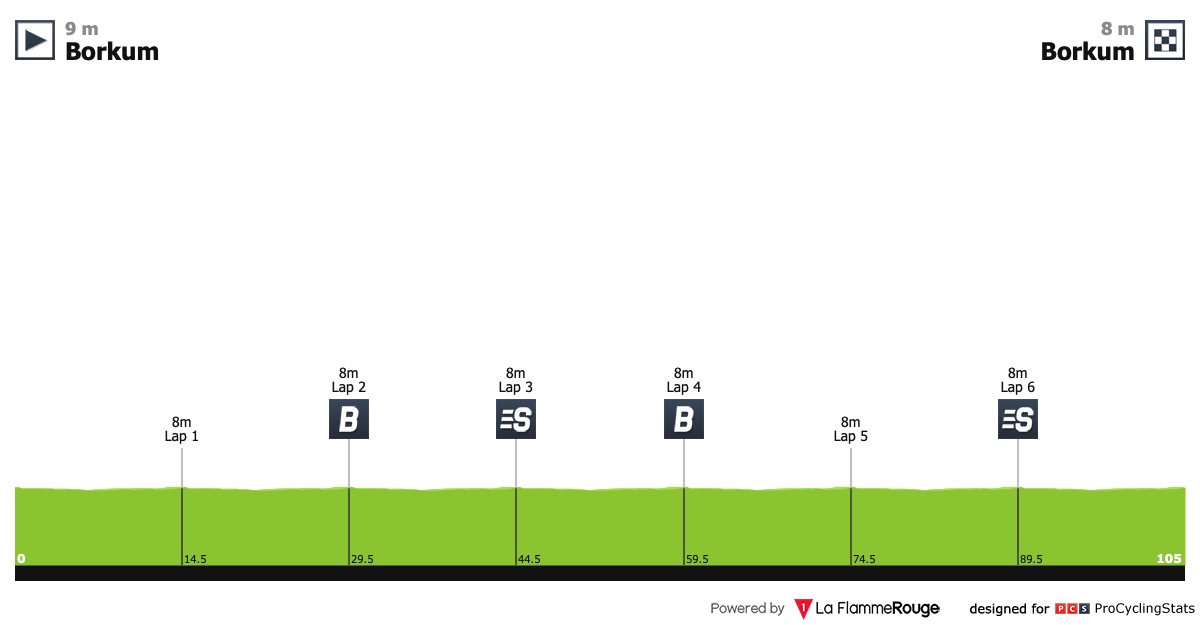 Już niedługo po starcie udało się oderwać grupie około 40 pań, w gronie których były między innymi Lisa Brennauer (WNT-Rotor), Ellen van Dijk i Lotta Lepistoe (obie Trek-Segafredo). Jednocześnie, po upadku za zasadniczą grupą została Anna van der Breggen (Boels-Dolmans). Z czasem grupa zawęziła się do 14 nazwisk. Były w niej: Amy Pieters, Jolien D'hoore, Christine Majerus (wszystkie Boels-Dolmans), Lotta Lepistoe, Ellen van Dijk (Trek-Segafredo), Alice Barnes, Lisa Klein (Canyon//SRAM), Kirsten Wild (WNT-Rotor), Barbara Guarischi, Anouska Koster (Virtu), Lorena Wiebes (Parkhotel Valkenburg), Natalie van Gogh (Biehler), Jessica Roberts i Rhona Callander (Reprezentacja Wielkiej Brytanii)
Około 40 kilometrów przed "kreską", kiedy jej przewaga wynosiła już półtorej minuty jasnym stało się, że to z tego grona wyłoni się zwyciężczyni pierwszego etapu. Na pierwsze, poważniejsze ataki musieliśmy jednak poczekać do finałowych dziesięciu kilometrów. Wtedy to rozpoczęło się wzajemne sprawdzanie sił. Nieco ponad trzy kilometry przed metą wydawało się, że decydujący cios wyprowadziła Barnes, która zdecydowała się na skok, lecz została dogoniona, głównie dzięki pracy Boels-Dolmans.
O losach etapu zdecydował ostatecznie sprint, w którym najlepsza okazała się Lotta Lepistoe (Trek-Segafredo), pokonując Lisę Klein (Canyon//SRAM) oraz Christine Majerus (Boels-Dolmans).
Wyniki pierwszego etapu:
1 Lotta Lepistö (Fin) Trek – Segafredo 2:41:34
2 Lisa Klein (GER) Canyon//SRAM Racing 0:00:00
3 Christine Majerus (Lux) Boels Dolmans Cycling Team 0:00:00
4 Kirsten Wild (Ned) WNT – Rotor Pro Cycling Team 0:00:00
5 Barbara Guarischi (Ita) Team Virtu Cycling 0:00:00
6 Ellen Van Dijk (Ned) Trek – Segafredo 0:00:00
7 Anouska Koster (Ned) Team Virtu Cycling 0:00:00
8 Jessica Roberts (GBr) Nationalmannschaft Großbritannien 0:00:00
9 Natalie Van Gogh (Ned) Biehler Pro Cycling 0:00:00
10 Jolien D`Hoore (Bel) Boels Dolmans Cycling Team 0:00:00
11 Amy Pieters (Ned) Boels Dolmans Cycling Team 0:00:00
12 Rhona Callander (GBr) Nationalmannschaft Großbritannien 0:00:00
13 Alice Barnes (GBr) Canyon//SRAM Racing 0:00:00
14 Lorena Wiebes (Ned) Parkhotel Valkenburg 0:00:00
15 Lucy Garner (GBr) Hitec Products – Birk Sport 0:04:18
16 Janine Van Der Meer (Ned) Parkhotel Valkenburg 0:04:18
17 Lea Lin Teutenberg (GER) WNT – Rotor Pro Cycling Team 0:04:18
18 Susanne Andersen (Nor) Nationalmannschaft Norwegen 0:04:18
19 Julia Soek (Ned) Nationalmannschaft Niederlande 0:04:18
20 Amber Van Der Hulst (Ned) Jan van Arckel 0:04:18
21 Nina Kessler (Ned) Regioteam Noord-Holland 0:04:18
22 Lisa Brennauer (GER) WNT – Rotor Pro Cycling Team 0:04:18
23 Lonneke Uneken (Ned) Hitec Products – Birk Sport 0:04:18
24 Nienke Wasmus (Ned) Biehler Pro Cycling 0:04:18
25 Jesse Vandenbulcke (Bel) Nationalmannschaft Belgien 0:04:18
26 Sara Penton (Swe) Team Virtu Cycling 0:04:18
27 Pfeiffer Georgi (GBr) Nationalmannschaft Großbritannien 0:04:18
28 Teuntje Beekhuis (Ned) Biehler Pro Cycling 0:04:18
29 Cathalijne Hoolwerf (Ned) Team Rogelli-Gyproc-APB 0:04:18
30 Bente Van Teeseling (Ned) Jan van Arckel 0:04:18
31 Romy Kasper (GER) Nationalmannschaft Deutschland 0:04:18
32 Rotem Gafinovitz (Isr) Canyon//SRAM Racing 0:04:18
33 Kaat Hannes (Bel) Nationalmannschaft Belgien 0:04:18
34 Nikol Plosaj (Pol) Nationalmannschaft Polen 0:04:18
35 Laura Süßemilch (GER) Nationalmannschaft Deutschland 0:04:18
36 Nicole Steigenga (Ned) Nationalmannschaft Niederlande 0:04:18
37 Marta Jaskulska (Pol) Nationalmannschaft Polen 0:04:18
38 Stine Borgli (Nor) Nationalmannschaft Norwegen 0:04:18
39 Fien Delbaere (Bel) Nationalmannschaft Belgien 0:04:18
40 Laura Van Regenmortel (Ned) SWABO 0:04:18
41 Tanja Erath (GER) Canyon//SRAM Racing 0:04:18
42 Dorota Przezak (Pol) Nationalmannschaft Polen 0:04:18
43 Emilie Moberg (Nor) Team Virtu Cycling 0:04:18
44 Letizia Paternoster (Ita) Trek – Segafredo 0:04:18
45 Mareille Meijering (Ned) Team Drenthe 0:04:18
46 Julie Solvang (Nor) Hitec Products – Birk Sport 0:04:18
47 Melanie Klement (Ned) Biehler Pro Cycling 0:04:18
48 Weronika Humelt (Pol) Nationalmannschaft Polen 0:04:18
49 Lauretta Hanson (Aus) Trek – Segafredo 0:04:18
50 Eva Bijwaard (Ned) SWABO 0:04:18
51 Tessa Paardekooper (Ned) Merida – Adelaar Ladies CT 0:04:18
52 Merel Hofman (Ned) Biehler Pro Cycling 0:04:18
53 Inez Beijer (Ned) SWABO 0:04:18
54 Ann-Sophie Duyck (Bel) Parkhotel Valkenburg 0:04:18
55 Jip Van Den Bos (Ned) Boels Dolmans Cycling Team 0:04:18
56 Marta Tagliaferro (Ita) Hitec Products – Birk Sport 0:04:18
57 Yva Geluk (Ned) Merida – Adelaar Ladies CT 0:04:18
58 Esmée Peperkamp (Ned) Team Loving Potatoes 0:04:18
59 Louise Hansen (Den) Team Virtu Cycling 0:04:18
60 Gwenno Hughes (GBr) Regioteam Noord-Holland 0:04:18
61 Mieke Kröger (GER) Team Virtu Cycling 0:04:18
62 Anna Van Der Breggen (Ned) Boels Dolmans Cycling Team 0:04:18
63 Line Marie Gulliksen (Nor) Nationalmannschaft Norwegen 0:04:18
64 Trixi Worrack (GER) Trek – Segafredo 0:04:18
65 Anna Plichta (Pol) Trek – Segafredo 0:04:18
66 Britt Knaven (Bel) Team Rogelli-Gyproc-APB 0:04:18
67 Skylar Schneider (USA) Boels Dolmans Cycling Team 0:04:18
68 Daniela Gaß (GER) Equano-Wase Zon CT 0:07:57
69 Eva Jonkers (Ned) Team Rogelli-Gyproc-APB 0:07:57
70 Ingrit Verhoeff (Ned) Team Rogelli-Gyproc-APB 0:07:57
71 Lisa Küllmer (GER) Nationalmannschaft Deutschland 0:07:57
72 Gaia Tortolina (Ita) Equano-Wase Zon CT 0:07:57
73 Kylie Waterreus (Ned) Nationalmannschaft Niederlande 0:07:57
74 Katharina Hechler (GER) Nationalmannschaft Deutschland 0:07:57
75 Berdine Bakker (Ned) Team Loving Potatoes 0:07:57
76 Saartje Vandenbroucke (Bel) Nationalmannschaft Belgien 0:07:57
77 Hanneke De Goeje (Ned) SWABO 0:07:57
78 Karolina Perekitko (Pol) Equano-Wase Zon CT 0:07:57
79 Kim Baptista (GBr) Regioteam Noord-Holland 0:07:57
80 Anna Sagan (Pol) Nationalmannschaft Polen 0:07:57
81 Aranka Lisanne Berends (Esp) Merida – Adelaar Ladies CT 0:07:57
82 Christa Riffel (GER) Canyon//SRAM Racing 0:07:57
83 Ilse Miltenburg (Ned) Restore Cycling Team 0:07:57
84 Minke Bakker (Ned) Jan van Arckel 0:07:57
85 Amalie Lutro (Nor) Hitec Products – Birk Sport 0:07:57
86 Kaja Rysz (Pol) Nationalmannschaft Polen 0:07:57
87 Maria Apolonia Van't Geloof (Ned) Nationalmannschaft Niederlande 0:07:57
88 Nathalie Bex (Bel) Team Rogelli-Gyproc-APB 0:07:57
89 Vibeke Lystad (Nor) Nationalmannschaft Norwegen 0:07:57
90 Lone Meertens (Bel) Nationalmannschaft Belgien 0:07:57
91 Maaike Boogaard (Ned) Nationalmannschaft Niederlande 0:07:57
92 Kathrin Hammes (GER) WNT – Rotor Pro Cycling Team 0:07:57
93 Sylvie Swinkels (Ned) Parkhotel Valkenburg 0:07:57
94 Karlijn Swinkels (Ned) Nationalmannschaft Niederlande 0:07:57
95 Lieke Van De Draai (Ned) SWABO 0:07:57
96 Henrietta Colborne (GBr) Biehler Pro Cycling 0:07:57
97 Aafke Soet (Ned) WNT – Rotor Pro Cycling Team 0:07:57
98 Maartje De Boer (Ned) Regioteam Noord-Holland 0:07:57
99 Ane Santesteban Gonzalez (Esp) WNT – Rotor Pro Cycling Team 0:07:57
100 Loes Adegeest (Ned) Parkhotel Valkenburg 0:07:57
101 Dorothea Heitzmann (GER) Nationalmannschaft Deutschland 0:07:57
102 Wendy Oosterwoud (Ned) NWVG – Uplus 0:07:57
103 Josie Knight (GBr) Nationalmannschaft Großbritannien 0:07:57
104 Esther Van Leeuwe (Ned) Restore Cycling Team 0:07:57
105 Floor Weerink (Ned) Team Drenthe 0:07:57
106 Chanella Stougje (Ned) Hitec Products – Birk Sport 0:07:57
107 Anna Docherty (GBr) Nationalmannschaft Großbritannien 0:07:57
108 Rebecca Raybould (GBr) Nationalmannschaft Großbritannien 0:07:57
109 Mathea Neijmeijer (Ned) Team Drenthe 0:07:57
110 Nicole Clerx (Ned) Team Drenthe 0:07:57
111 Elyse Fraser (NZl) Equano-Wase Zon CT 0:07:57
112 Rixt Hoogland (Ned) NWVG – Uplus 0:07:57
113 Dèvon Kuijstermans (Ned) Team Loving Potatoes 0:07:57
114 Manon De Boer (Ned) NWVG – Uplus 0:07:57
115 Shari Bossuyt (Bel) Team Rogelli-Gyproc-APB 0:07:57
116 Anne Marijn Van Der Graaf (Ned) NWVG – Uplus 0:07:57
117 Maaike Meistrok (Ned) Jan van Arckel 0:07:57
118 Charlotte Broughton (GBr) Liv AWOL Cycling Team 0:11:22
119 Anneke Dijkstra (Ned) Team Drenthe 0:15:23
120 Birgitte Ravndal (Nor) Nationalmannschaft Norwegen 0:16:05
DNF Ella Harris (NZl) Canyon//SRAM Racing
DNF Marit Raaijmakers (Ned) Parkhotel Valkenburg
DNF Malin Eriksen (Nor) Nationalmannschaft Norwegen
DNF Karin Van Leeuwen (Ned) Jan van Arckel
DNF Thirza Korevaar (Ned) Jan van Arckel
DNF Yvet Schoonewille (Ned) NWVG – Uplus
DNF Lisa-Marie Hoffmann (GER) NWVG – Uplus
DNF Marthe Roose (Ned) Team Drenthe
DNF Phaedra Krol (Ned) SWABO
DNF Ingrid Van Den Wijngaard (Ned) Team Loving Potatoes
DNF Jet Wildeman (Ned) Team Loving Potatoes
DNF Tessa Van Der Velden (Ned) Team Loving Potatoes
DNF Willemiek Meinders (Ned) Merida – Adelaar Ladies CT
DNF Michelle De Graaf (Ned) Merida – Adelaar Ladies CT
DNF Madeleine Gammons (GBr) Liv AWOL Cycling Team
DNF Louise Scupham (GBr) Liv AWOL Cycling Team
DNF Clover Murray (GBr) Liv AWOL Cycling Team
DNF Connie Hayes (GBr) Liv AWOL Cycling Team
DNF Hannah Bayes (GBr) Liv AWOL Cycling Team
DNF Ines Malfait (Bel) Equano-Wase Zon CT
DNF Pernilla Van Rozelaar (Ned) Regioteam Noord-Holland
DNF Emma Boogaard (Ned) Regioteam Noord-Holland
DNF Marieke De Graaf (Ned) Restore Cycling Team
DNF Alicja Verhagen (Ned) Restore Cycling Team
DNF Rikke Bak Dalgaard (Den) Restore Cycling Team
Klasyfikacja generalna po pierwszym etapie:
1 Lotta Lepistö (Fin) Trek – Segafredo 2:41:24
2 Lisa Klein (GER) Canyon//SRAM Racing 0:00:01
3 Christine Majerus (Lux) Boels Dolmans Cycling Team 0:00:06
4 Jolien D`Hoore (Bel) Boels Dolmans Cycling Team 0:00:08
5 Amy Pieters (Ned) Boels Dolmans Cycling Team 0:00:08
6 Ellen Van Dijk (Ned) Trek – Segafredo 0:00:09
7 Anouska Koster (Ned) Team Virtu Cycling 0:00:09
8 Kirsten Wild (Ned) WNT – Rotor Pro Cycling Team 0:00:10
9 Barbara Guarischi (Ita) Team Virtu Cycling 0:00:10
10 Jessica Roberts (GBr) Nationalmannschaft Großbritannien 0:00:10
11 Natalie Van Gogh (Ned) Biehler Pro Cycling 0:00:10
12 Rhona Callander (GBr) Nationalmannschaft Großbritannien 0:00:10
13 Alice Barnes (GBr) Canyon//SRAM Racing 0:00:10
14 Lorena Wiebes (Ned) Parkhotel Valkenburg 0:00:10
15 Lisa Brennauer (GER) WNT – Rotor Pro Cycling Team 0:04:25
16 Lucy Garner (GBr) Hitec Products – Birk Sport 0:04:28
17 Janine Van Der Meer (Ned) Parkhotel Valkenburg 0:04:28
18 Lea Lin Teutenberg (GER) WNT – Rotor Pro Cycling Team 0:04:28
19 Susanne Andersen (Nor) Nationalmannschaft Norwegen 0:04:28
20 Julia Soek (Ned) Nationalmannschaft Niederlande 0:04:28
21 Amber Van Der Hulst (Ned) Jan van Arckel 0:04:28
22 Nina Kessler (Ned) Regioteam Noord-Holland 0:04:28
23 Lonneke Uneken (Ned) Hitec Products – Birk Sport 0:04:28
24 Nienke Wasmus (Ned) Biehler Pro Cycling 0:04:28
25 Jesse Vandenbulcke (Bel) Nationalmannschaft Belgien 0:04:28
26 Sara Penton (Swe) Team Virtu Cycling 0:04:28
27 Pfeiffer Georgi (GBr) Nationalmannschaft Großbritannien 0:04:28
28 Teuntje Beekhuis (Ned) Biehler Pro Cycling 0:04:28
29 Cathalijne Hoolwerf (Ned) Team Rogelli-Gyproc-APB 0:04:28
30 Bente Van Teeseling (Ned) Jan van Arckel 0:04:28
31 Romy Kasper (GER) Nationalmannschaft Deutschland 0:04:28
32 Rotem Gafinovitz (Isr) Canyon//SRAM Racing 0:04:28
33 Kaat Hannes (Bel) Nationalmannschaft Belgien 0:04:28
34 Nikol Plosaj (Pol) Nationalmannschaft Polen 0:04:28
35 Laura Süßemilch (GER) Nationalmannschaft Deutschland 0:04:28
36 Nicole Steigenga (Ned) Nationalmannschaft Niederlande 0:04:28
37 Marta Jaskulska (Pol) Nationalmannschaft Polen 0:04:28
38 Stine Borgli (Nor) Nationalmannschaft Norwegen 0:04:28
39 Fien Delbaere (Bel) Nationalmannschaft Belgien 0:04:28
40 Laura Van Regenmortel (Ned) SWABO 0:04:28
41 Tanja Erath (GER) Canyon//SRAM Racing 0:04:28
42 Dorota Przezak (Pol) Nationalmannschaft Polen 0:04:28
43 Emilie Moberg (Nor) Team Virtu Cycling 0:04:28
44 Letizia Paternoster (Ita) Trek – Segafredo 0:04:28
45 Mareille Meijering (Ned) Team Drenthe 0:04:28
46 Julie Solvang (Nor) Hitec Products – Birk Sport 0:04:28
47 Melanie Klement (Ned) Biehler Pro Cycling 0:04:28
48 Weronika Humelt (Pol) Nationalmannschaft Polen 0:04:28
49 Lauretta Hanson (Aus) Trek – Segafredo 0:04:28
50 Eva Bijwaard (Ned) SWABO 0:04:28
51 Tessa Paardekooper (Ned) Merida – Adelaar Ladies CT 0:04:28
52 Merel Hofman (Ned) Biehler Pro Cycling 0:04:28
53 Inez Beijer (Ned) SWABO 0:04:28
54 Ann-Sophie Duyck (Bel) Parkhotel Valkenburg 0:04:28
55 Jip Van Den Bos (Ned) Boels Dolmans Cycling Team 0:04:28
56 Marta Tagliaferro (Ita) Hitec Products – Birk Sport 0:04:28
57 Yva Geluk (Ned) Merida – Adelaar Ladies CT 0:04:28
58 Esmée Peperkamp (Ned) Team Loving Potatoes 0:04:28
59 Louise Hansen (Den) Team Virtu Cycling 0:04:28
60 Gwenno Hughes (GBr) Regioteam Noord-Holland 0:04:28
61 Mieke Kröger (GER) Team Virtu Cycling 0:04:28
62 Anna Van Der Breggen (Ned) Boels Dolmans Cycling Team 0:04:28
63 Line Marie Gulliksen (Nor) Nationalmannschaft Norwegen 0:04:28
64 Trixi Worrack (GER) Trek – Segafredo 0:04:28
65 Anna Plichta (Pol) Trek – Segafredo 0:04:28
66 Britt Knaven (Bel) Team Rogelli-Gyproc-APB 0:04:28
67 Skylar Schneider (USA) Boels Dolmans Cycling Team 0:04:28
68 Daniela Gaß (GER) Equano-Wase Zon CT 0:08:07
69 Eva Jonkers (Ned) Team Rogelli-Gyproc-APB 0:08:07
70 Ingrit Verhoeff (Ned) Team Rogelli-Gyproc-APB 0:08:07
71 Lisa Küllmer (GER) Nationalmannschaft Deutschland 0:08:07
72 Gaia Tortolina (Ita) Equano-Wase Zon CT 0:08:07
73 Kylie Waterreus (Ned) Nationalmannschaft Niederlande 0:08:07
74 Katharina Hechler (GER) Nationalmannschaft Deutschland 0:08:07
75 Berdine Bakker (Ned) Team Loving Potatoes 0:08:07
76 Saartje Vandenbroucke (Bel) Nationalmannschaft Belgien 0:08:07
77 Hanneke De Goeje (Ned) SWABO 0:08:07
78 Karolina Perekitko (Pol) Equano-Wase Zon CT 0:08:07
79 Kim Baptista (GBr) Regioteam Noord-Holland 0:08:07
80 Anna Sagan (Pol) Nationalmannschaft Polen 0:08:07
81 Aranka Lisanne Berends (Esp) Merida – Adelaar Ladies CT 0:08:07
82 Christa Riffel (GER) Canyon//SRAM Racing 0:08:07
83 Ilse Miltenburg (Ned) Restore Cycling Team 0:08:07
84 Minke Bakker (Ned) Jan van Arckel 0:08:07
85 Amalie Lutro (Nor) Hitec Products – Birk Sport 0:08:07
86 Kaja Rysz (Pol) Nationalmannschaft Polen 0:08:07
87 Maria Apolonia Van't Geloof (Ned) Nationalmannschaft Niederlande 0:08:07
88 Nathalie Bex (Bel) Team Rogelli-Gyproc-APB 0:08:07
89 Vibeke Lystad (Nor) Nationalmannschaft Norwegen 0:08:07
90 Lone Meertens (Bel) Nationalmannschaft Belgien 0:08:07
91 Maaike Boogaard (Ned) Nationalmannschaft Niederlande 0:08:07
92 Kathrin Hammes (GER) WNT – Rotor Pro Cycling Team 0:08:07
93 Sylvie Swinkels (Ned) Parkhotel Valkenburg 0:08:07
94 Karlijn Swinkels (Ned) Nationalmannschaft Niederlande 0:08:07
95 Lieke Van De Draai (Ned) SWABO 0:08:07
96 Henrietta Colborne (GBr) Biehler Pro Cycling 0:08:07
97 Aafke Soet (Ned) WNT – Rotor Pro Cycling Team 0:08:07
98 Maartje De Boer (Ned) Regioteam Noord-Holland 0:08:07
99 Ane Santesteban Gonzalez (Esp) WNT – Rotor Pro Cycling Team 0:08:07
100 Loes Adegeest (Ned) Parkhotel Valkenburg 0:08:07
101 Dorothea Heitzmann (GER) Nationalmannschaft Deutschland 0:08:07
102 Wendy Oosterwoud (Ned) NWVG – Uplus 0:08:07
103 Josie Knight (GBr) Nationalmannschaft Großbritannien 0:08:07
104 Esther Van Leeuwe (Ned) Restore Cycling Team 0:08:07
105 Floor Weerink (Ned) Team Drenthe 0:08:07
106 Chanella Stougje (Ned) Hitec Products – Birk Sport 0:08:07
107 Anna Docherty (GBr) Nationalmannschaft Großbritannien 0:08:07
108 Rebecca Raybould (GBr) Nationalmannschaft Großbritannien 0:08:07
109 Mathea Neijmeijer (Ned) Team Drenthe 0:08:07
110 Nicole Clerx (Ned) Team Drenthe 0:08:07
111 Elyse Fraser (NZl) Equano-Wase Zon CT 0:08:07
112 Rixt Hoogland (Ned) NWVG – Uplus 0:08:07
113 Dèvon Kuijstermans (Ned) Team Loving Potatoes 0:08:07
114 Manon De Boer (Ned) NWVG – Uplus 0:08:07
115 Shari Bossuyt (Bel) Team Rogelli-Gyproc-APB 0:08:07
116 Anne Marijn Van Der Graaf (Ned) NWVG – Uplus 0:08:07
117 Maaike Meistrok (Ned) Jan van Arckel 0:08:07
118 Charlotte Broughton (GBr) Liv AWOL Cycling Team 0:11:32
119 Anneke Dijkstra (Ned) Team Drenthe 0:15:33
120 Birgitte Ravndal (Nor) Nationalmannschaft Norwegen 0:16:15