Erlend Blikra wygrał 2. etap Tour of Rhodes. Kolejny świetny występ zaliczył Alan Banaszek. Zawodnik Mazowsze Serce Polski przyjechał na metę jako drugi.
Drugi etap International Tour of Rhodes był bardzo podobny do pierwszego. Miał 145 kilometrów (niecałe pięć kilometrów mniej niż wczoraj) i pomimo pewnych trudności przewidywano, że zakończy się finiszem sprinterskim.
My mogliśmy trzymać kciuki za kolarzy Mazowsze Serce Polski – m.in Alana Banaszka, który wczoraj zajął bardzo przyzwoite 5. miejsce.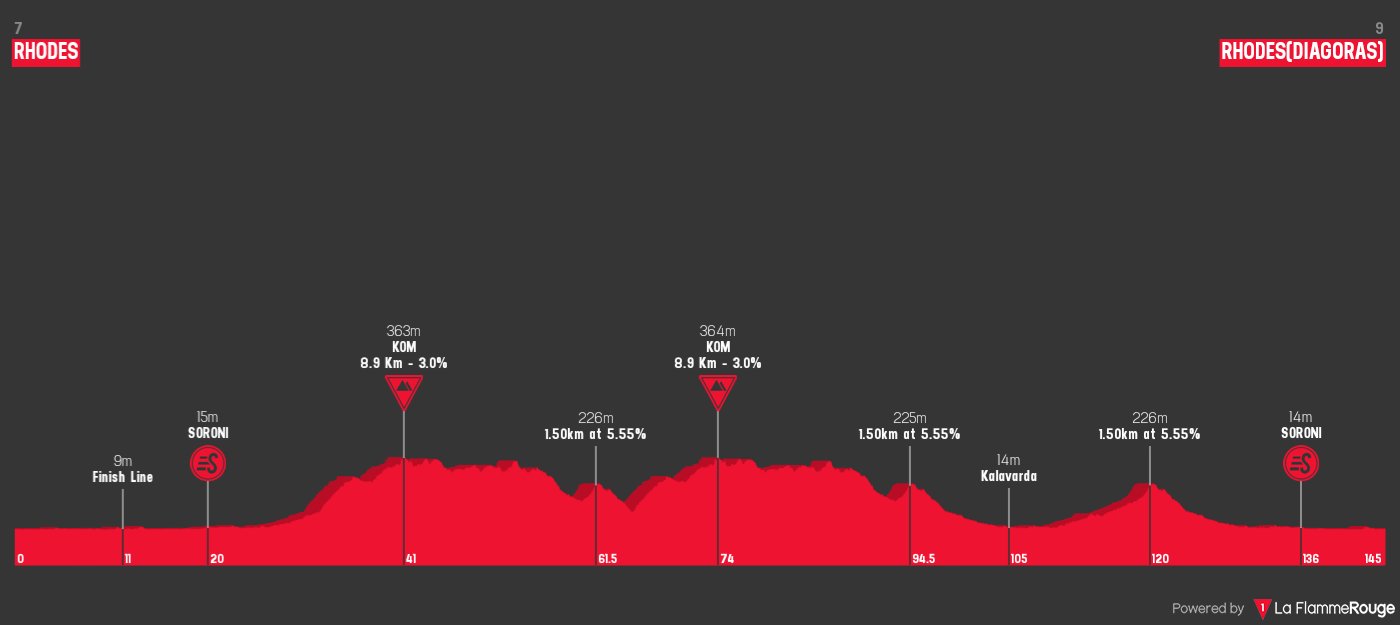 Oczywiście 22-letni sprinter na swoją szansę musiał poczekać do końcówki etapu. To jednak nie oznaczało, że do tego czasu inni zawodnicy ekipy Dariusza Banaszka zamierzają cichutko siedzieć w peletonie. Wręcz przeciwnie, od początku wykazywali bardzo dużą aktywność.
Najpierw atakował Jakub Kaczmarek, a gdy został dogoniony przez główną grupę, jego miejsce z przodu zajął Emanuel Piaskowy. Zawodnik, który przez trzy poprzednie sezony reprezentował Team Hurom znalazł się w czteroosobowym odjeździe, który przez długi czas dzielnie trzymał się przed peletonem.
W końcu jednak peleton dogonił uciekinierów i stało się jasne, że walkę o zwycięstwo rozstrzygną między sobą sprinterzy. Ostatecznie zwycięsko wyszedł z niej Erlend Blikra, a chwilę za nim na metę wjechał… Alan Banaszek, dla którego był to kolejny dobry występ w tym sezonie. Pierwszą trójkę uzupełnił wczorajszy zwycięzca – Søren Wærenskjold.
Oto co 22-letni sprinter miał do powiedzenia po etapie:
1
 

B

LIKRA

 Erlend
Uno-X Norwegian Development Team

3:28:40

2
 

BANASZEK

 Alan
Mazowsze Serce Polski

,,

3
 

WÆRENSKJOLD

 Søren
Joker Fuel of Norway

,,

4
 

BENHAMOUDA

 Mehdi
Team Novo Nordisk

,,

5
 

THURAU

 Sven
Dauner D&DQ-Akkon

,,

6
 

HUPPERTZ

 Joshua
Team Lotto – Kern Haus

,,

7
 

BARTA

 Tomas
Tufo – Pardus Prostějov

,,

8
 

STÜSSI

 Colin
Team Vorarlberg Santic

,,

9
 

STOCEK

 Bruno
Tufo – Pardus Prostějov

,,

10
 

EIDE

 Mikkel
Tonsberg Cycle Club

,,

11
 

KUSZTOR

 Péter
Team Novo Nordisk

,,

12
 

KARATSIVIS

 Panagiotis
Greece

,,

13
 

WOLLENBERG

 Tim
Maloja Pushbikers

,,

14
 

WÆRSTED

 Syver
Uno-X Norwegian Development Team

,,

15
 

RØINÅS

 Fridtjof
Joker Fuel of Norway

,,

16
 

NIELSEN

 Philip Birker
Iviskos – Rodilios Regional

,,

17
 

ACHTERBERG

 Yannik
Maloja Pushbikers

,,

18
 

IRVINE

 Declan
Team Novo Nordisk

,,

19
 

EKREN

 Thomas
Bygdo IL

,,

20
 

CLAUSS

 Marc
Dauner D&DQ-Akkon

,,

21
 

THALMANN

 Roland
Team Vorarlberg Santic

,,

22
 

MÜNSTERMANN

 Per
Team SKS Sauerland NRW

,,

23
 

ROSE-DAVIES

 Louis
Holdsworth Zappi Team

,,

24
 

ODDLI

 Anders
Bygdo IL

,,

25
 

URIANSTAD

 Martin
Uno-X Norwegian Development Team

,,

26
 

AGROTIS

 Alexandros
Cyprus

,,

27
 

KULSET

 Sindre
Uno-X Norwegian Development Team

,,

28
 

DAVIS

 Corey
Maloja Pushbikers

,,

29
 

TSOPOUROGLOU

 Vasilios
Iviskos – Rodilios Regional

,,

30
 

ČANECKÝ

 Marek
Dukla Banska Bystrica

,,

31
 

SKJELBRED

 Aleksander
Asker CX Elite Men

,,

32
 

KNOLLE

 Jon
Team SKS Sauerland NRW

,,

33
 

RØNNING

 Vebjørn
Tonsberg Cycle Club

,,

34
 

STENSBY 

Anton
Tonsberg Cycle Club

,,

35
 

GKAZONIS

 Petros
Iviskos – Rodilios Regional

,,

36
 

BEKKEN

 Jon-anders
Tonsberg Cycle Club

0:09

37
 

TYRPEKL

 Karel
Tufo – Pardus Prostějov

,,

38
 

KACZMAREK

 Jakub
Mazowsze Serce Polski

,,

39
 

KULSET

 Kristian
Uno-X Norwegian Development Team

,,

40
 

HENN

 Luca
Team Lotto – Kern Haus

,,

41
 

HUGGER

 Jan
Team Lotto – Kern Haus

,,

42
 

MEWES 

Ben
Velo Schils Interbike Racing Team

,,

43
 

SKAARSETH

 Iver
Uno-X Norwegian Development Team

,,

44
 

REED

 Jordan
Holdsworth Zappi Team

,,

45
 

GIESSELMANN

 Michel
Team SKS Sauerland NRW

,,

46
 

HUYS

 Branko
Dauner D&DQ-Akkon

,,

47
 

HNIK

 Jakub
Tufo – Pardus Prostějov

,,

48
 

SAVAGE

 Kieran
Spirit Tifosi Racing Team

,,

49
 

TURGUT

 Onur
Turkey

,,

50
 

MUNDAY

 Samuel
Team Novo Nordisk

,,

51
 

MEILER

 Lukas
Team Vorarlberg Santic

,,

52
 

HOLLYMAN

 Mason
Holdsworth Zappi Team

,,

53
 

KOCH

 Christian
Team Lotto – Kern Haus

,,

54
 

KAMSTRA

 Brian
Team Novo Nordisk

,,

55
 

DOUBLE

 Paul
Holdsworth Zappi Team

,,

56
 

ŘEHA

 Filip
Tufo – Pardus Prostějov

,,

57
 

GIANNOUTSOS

 Miltiadis
Greece

,,

58
 

BELLAN

 Juraj
Dukla Banska Bystrica

,,

59
 

HEIDUK

 Kim
Team Lotto – Kern Haus

,,

60
 

BERNAS

 Paweł
Mazowsze Serce Polski

,,

61
 

SAYAR

 Mustafa
Turkey

,,

62
 

AALRUST

 Hakon
Joker Fuel of Norway

,,

63
 

MORRIS 

Samuel
Velo Schils Interbike Racing Team

,,

64
 

DUVERGER

 Romain-Guillaume
EuroCyclingTrips – CMI Pro Cycling Team

,,

65
 

ORRICO

 Davide
Team Vorarlberg Santic

,,

66
 

DOĞAN

 Halil İbrahim
Turkey

,,

67
 

PIASKOWY

 Emanuel
Mazowsze Serce Polski

,,

68
 

KIMBER

 George
Spirit Tifosi Racing Team

,,

69
 

GUERIN

 Alexis
Team Vorarlberg Santic

,,

70
 

PODLASKI

 Michał
Mazowsze Serce Polski

,,

71
 

RUTKIEWICZ

 Marek
Mazowsze Serce Polski

,,

72
 

CHRISTAPOPOULOS CHELLER

 Pangiotis
Asker CX Elite Men

,,

73
 

LUKKEDAHL

 Øivind
Joker Fuel of Norway

,,

74
 

KORTSIDAKIS

 Michail
Iviskos – Rodilios Regional

,,

75
 

BEAKE

 Charlie
Holdsworth Zappi Team

,,

76
 

SAMUEL

 Travis
Toronto Hustle

,,

77
 

YILMAZ

 Yunus Emre
Turkey

,,

78
 

STAUNE-MITTET

 Andreas
Joker Fuel of Norway

,,

79
 

RUDDERHAM

 Ryan
Toronto Hustle

,,

80
 

TARLTON

 Alexander
Team Lotto – Kern Haus

,,

81
 

TZORTZAKIS

 Polychronis
Greece

,,

82
 

ILIADIS

 Ioannis
Iviskos – Rodilios Regional

,,

83
 

CULLY

 Ján Andrej
Dukla Banska Bystrica

,,

84
 

WINTER

 Laurin
Maloja Pushbikers

,,

85
 

SCHÖSSWENDTE

 Christoph
Maloja Pushbikers

,,

86
 

PEYROTON-DARTET

 Thomas
EuroCyclingTrips – CMI Pro Cycling Team

,,

87
 

MAMOS

 Philipp
Dauner D&DQ-Akkon

,,

88
 

STEIGNER

 Kilian
Dauner D&DQ-Akkon

,,

89
 

ECHTERMANN

 Leon
Maloja Pushbikers

,,

90
 

HOLTER

 Adne
Joker Fuel of Norway

,,

91
 

KUREK

 Adrian
Mazowsze Serce Polski

,,

92
 

BALKAN

 Onur
Turkey

,,

93
 

KASTRANTAS

 Charalampos
Greece

,,

94
 

MIDTSVEEN

 Sondre
Joker Fuel of Norway

,,

95
 

HEMING

 Mika
Maloja Pushbikers

0:00

96
 

TYBOR

 Patrik
Dukla Banska Bystrica

,,

97
 

HODAPP

 Johannes
Team SKS Sauerland NRW

,,

98
 

JOHNSTON

 Calum
Holdsworth Zappi Team

,,

99
 

TRÆEN

 Torstein
Uno-X Norwegian Development Team

1:34

100
 

BAUER

 Dominik
Dauner D&DQ-Akkon

1:50

101
 

POLI

 Umberto
Team Novo Nordisk

0:00

102
 

MESSERSCHMIDT

 Jonas Fabian
Dauner D&DQ-Akkon

,,

103
 

BOLLAND

 David
Spirit Tifosi Racing Team

14:18

104
 

BIEL

 Patryk
Velo Schils Interbike Racing Team

14:19

105
 

CHREN

 Martin
Dukla Banska Bystrica

,,

106
 

VARABEI

 Anton
Toronto Hustle

,,

107
 

AVDELAS

 Alexandros
Aeolos of Athens Cycling Team

,,

108
 

ARCHIMANDRITIS

 Armanto
Cyprus

14:23

109
 

SOULIOS

 Zisis
Aeolos of Athens Cycling Team

,,

110
 

CHRISTAKOS

 Dimitrios
Greece

,,

111
 

TRONSTAD

 Karl Jonas
Holdsworth Zappi Team

14:46

112
 

XOURIS

 Panagiotis
Aeolos of Athens Cycling Team

15:44

113
 

KUBIŠ

 Lukáš
Dukla Banska Bystrica

21:29

114
 

SKINNER 

George
Velo Schils Interbike Racing Team

,,

115
 

BLAVAKIS

 Emmanouil
Toronto Hustle

,,

116
 

PAPASTAMATAKIS

 Kiriakos
Iviskos – Rodilios Regional

,,

117
 

THYMIDES

 Constantinos
Cyprus

,,

118
 

HARRIS

 Joe
Velo Schils Interbike Racing Team

,,

119
 

GREEN

 Simeon
EuroCyclingTrips – CMI Pro Cycling Team

,,

120
 

ZEGKLIS

 Nikolaos
Asker CX Elite Men

,,

121
 

MATSANGOS

 Alexandros
Cyprus

,,

122
 

VLČÁK

 Martin
Dukla Banska Bystrica

,,

123
 

MILTIADIS

 Andreas
Cyprus

,,

124
 

HOLLINS

 Jake
Velo Schils Interbike Racing Team

,,

125
 

MULLER

 Maxim
Tufo – Pardus Prostějov

,,

126
 

MOUTSIOS

 Martinos
Greece

,,

127
 

KRISTIANSEN

 Sondre
Tonsberg Cycle Club

,,

128
 

BRITTMARK

 Øystein
Bygdo IL

,,

129
 

NOBEL SKALLEBERG

 Sondre
Bygdo IL

,,

130
 

CLANCY

 Stephen
Team Novo Nordisk

,,

131
 

SOULA

 Guillaume
EuroCyclingTrips – CMI Pro Cycling Team

,,

132
 

RIVERS

 Grahame
Toronto Hustle

,,

133
 

PROCOPIDES

 Petros
Cyprus

,,

134
 

CARR

 Frazier
Spirit Tifosi Racing Team

,,

135
 

PASSFIELD

 Charlie
Spirit Tifosi Racing Team

,,

DNF
 

KUHN

 Jan
Team Lotto – Kern Haus

–

DNF
 

BARBER 

Farley
Spirit Tifosi Racing Team

,,

DNF
 

STALLAERT

 Joeri
Team Vorarlberg Santic

,,

DNF
 

TIRYAKI

 Oguzhan
Turkey

,,

DNF
 

BALDINGER

 Lukas
Team SKS Sauerland NRW

,,

DNF
 

ADNE

 Ihle
Asker CX Elite Men

,,

DNF
 

ÇETIN

 Melih
Turkey

,,

DNF
 

DEGEURCE

 Joffrey
EuroCyclingTrips – CMI Pro Cycling Team

,,

DNF
 

EIKELAND

 Ken Levi
Tonsberg Cycle Club

,,

DNF
 

DRIVENES

 Magnus
Bygdo IL

,,

DNF
 

MOWATT

 James
EuroCyclingTrips – CMI Pro Cycling Team

,,

DNF
 

HAWKINS

 Angus
Spirit Tifosi Racing Team

,,

DNF
 

DOLNICEK

 Marek
Tufo – Pardus Prostějov

,,

DNS
 

NEILAS

 Giorgios
Aeolos of Athens Cycling Team

,,

DNS
 

BERGSJØ

 Christian
Tonsberg Cycle Club

,,