Krists Neilands z drużyny Israel Cycling Academy po samotnym ataku wygrał Grand Prix de Wallonie. Dla utalentowanego Łotysza to już piąte zwycięstwo w tym sezonie.
Wyścig rozpoczął się w Blegne, a jego meta usytuowana była w Namur. Trasa składała się z wielu krótkich podjazdów, typowych dla tej części Belgii. Wspinaczka pod pierwszy z nich – Cote de Trasenter rozpoczęła się już po 10 kilometrach od startu, a później kolarze mieli do pokonania kilka większych lub mniejszych trudności aż do brukowanego, ale niezbyt stromego podjazdu pod cytadelę w Namur, na którym miało się okazać, który z kolarzy wyjedzie z Walonii ze zwycięstwem.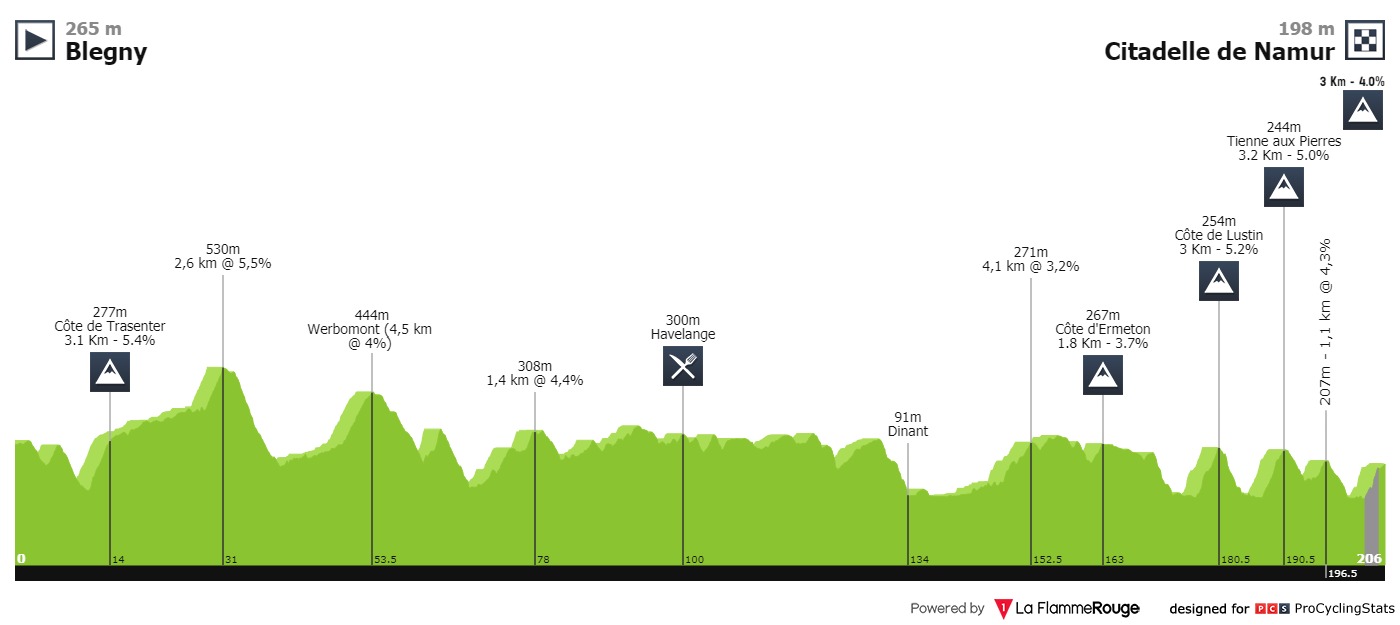 Jak można się było spodziewać, pierwsze ataki mieliśmy już na pierwszych kilometrach. Najbardziej konkretny był ten przeprowadzony przez pięcioosobową grupę składającą się z Nico Denza (AG2R), Alexandra Evansa (SEG), Julien Van Den Brande (Tarteletto) oraz Baptiste Planckaerta i Toma Wirtgena (Wallonie-Bruxelles). Jednak choć ich przewaga przez moment wynosiła blisko osiem minut, to na około 20 kilometrów przed metą grupka została wchłonięta przez peleton.
Chwilę później doszło do kraksy, która wprowadziła sporo zamieszania. Oczywiście znalazło się wielu zawodników, którzy próbowali z tego skorzystać, jednak każda akcja kończyła się po kilku minutach.
W końcu na bardzo soczysty atak zdecydował się Krists Neilandts i szybko zdobył sporą przewagę nad peletonem. Na decydujący podjazd wjechał z blisko 20-sekundową przewagą. Wtedy jego przewaga zaczęła gwałtownie spadać i wydawało się, że dogonienie go przez nacierającą chmarę kolarzy jest kwestią czasu.
Jednak opieszałość głównej grupy na ostatnich kilkuset metrach i waleczność zawodnika Israel Cycling Academy sprawiły, że to on dojechał do mety jako pierwszy. Reszcie stawki pozostała już tylko walka o drugie miejsce, którą wygrał obrońca tytułu Jasper Stuyven. Natomiast na trzecim stopniu podium uplasował się Jasper de Buyst.
Wyniki:
1 Krists Neilands (Lat) Israel Cycling Academy 4:56:07
2 Jasper Stuyven (Bel) Trek – Segafredo 0:00:02
3 Jasper De Buyst (Bel) Lotto Soudal 0:00:02
4 Jonathan Hivert (Fra) Total Direct Energie 0:00:02
5 Lilian Calmejane (Fra) Total Direct Energie 0:00:04
6 Christophe Laporte (Fra) Cofidis Solutions Crédits 0:00:04
7 Arjen Livyns (Bel) Roompot – Charles 0:00:04
8 Odd Christian Eiking (Nor) Wanty – Gobert Cycling Team 0:00:04
9 Tony Gallopin (Fra) AG2R La Mondiale 0:00:04
10 Aimé De Gendt (Bel) Wanty – Gobert Cycling Team 0:00:04
11 Thomas Sprengers (Bel) Sport Vlaanderen – Baloise 0:00:04
12 Jordi Warlop (Bel) Sport Vlaanderen – Baloise 0:00:04
13 Pierre Idjouadiene (Fra) Natura4Ever – Roubaix – Lille Métropole 0:00:04
14 Cyril Gautier (Fra) Vital Concept – B&B Hotels 0:00:04
15 Xandro Meurisse (Bel) Wanty – Gobert Cycling Team 0:00:04
16 Adam De Vos (Can) Rally UHC Cycling 0:00:04
17 Niki Terpstra (Ned) Total Direct Energie 0:00:04
18 Jelle Vanendert (Bel) Lotto Soudal 0:00:04
19 Quentin Pacher (Fra) Vital Concept – B&B Hotels 0:00:04
20 Alexander Kamp (Den) Riwal Readynez Cycling Team 0:00:04
21 Philipp Walsleben (GER) Corendon – Circus 0:00:11
22 Laurens Huys (Bel) Wallonie Bruxelles 0:00:12
23 Dimitri Claeys (Bel) Cofidis Solutions Crédits 0:00:12
24 Sylvain Moniquet (Bel) Nationalmannschaft Belgien 0:00:15
25 João Almeida (Por) Hagens Berman Axeon 0:00:15
26 Clément Champoussin (Fra) AG2R La Mondiale 0:00:18
27 Huub Duijn (Ned) Roompot – Charles 0:00:18
28 Jan Bakelants (Bel) Nationalmannschaft Belgien 0:00:18
29 Piet Allegaert (Bel) Sport Vlaanderen – Baloise 0:00:19
30 Ide Schelling (Ned) SEG Racing Academy 0:00:19
31 Tom Van Asbroeck (Bel) Israel Cycling Academy 0:00:19
32 Loïc Vliegen (Bel) Wanty – Gobert Cycling Team 0:00:19
33 Kevin Vermaerke (USA) Hagens Berman Axeon 0:00:24
34 Dimitri Peyskens (Bel) Wallonie Bruxelles 0:00:33
35 Pierre Gouault (Fra) Natura4Ever – Roubaix – Lille Métropole 0:00:33
36 Nathan Earle (Aus) Israel Cycling Academy 0:00:36
37 Julien Mortier (Bel) Wallonie Bruxelles 0:00:38
38 Maxime Chevalier (Fra) Vital Concept – B&B Hotels 0:00:38
39 Oscar Riesebeek (Ned) Roompot – Charles 0:00:38
40 Nick Van Der Lijke (Ned) Roompot – Charles 0:00:38
41 Hubert Dupont (Fra) AG2R La Mondiale 0:00:38
42 Andreas Lorentz Kron (Den) Riwal Readynez Cycling Team 0:00:43
43 Jaakko Hanninen (Fin) AG2R La Mondiale 0:00:43
44 Lucas Eriksson (Swe) Riwal Readynez Cycling Team 0:00:43
45 Otto Vergaerde (Bel) Corendon – Circus 0:00:45
46 Simon Guglielmi (Fra) Groupama – FDJ 0:00:45
47 Franck Bonnamour (Fra) Team Arkéa – Samsic 0:00:48
48 Sindre Skjøstad Lunke (Nor) Riwal Readynez Cycling Team 0:00:48
49 Mattia Petrucci (Ita) Groupama – FDJ 0:00:55
50 Thibault Ferasse (Fra) Natura4Ever – Roubaix – Lille Métropole 0:01:29
51 Anthony Turgis (Fra) Total Direct Energie 0:01:40
52 Thomas Degand (Bel) Wanty – Gobert Cycling Team 0:01:51
53 Piotr Havik (Ned) BEAT Cycling Club 0:02:05
54 Stan Van Tricht (Bel) Nationalmannschaft Belgien 0:02:08
55 Cristian Scaroni (Ita) Groupama – FDJ 0:02:08
56 Jordi Van Dingenen (Bel) Tarteletto – Isorex 0:02:08
57 Elias Van Breussegem (Bel) Tarteletto – Isorex 0:02:08
58 Toms Skujins (Lat) Trek – Segafredo 0:02:08
59 Kyle Murphy (USA) Rally UHC Cycling 0:02:08
60 Christophe Masson (Fra) Natura4Ever – Roubaix – Lille Métropole 0:02:08
61 Sven Burger (Ned) SEG Racing Academy 0:02:08
62 Ian Garrison (USA) Hagens Berman Axeon 0:02:08
63 Michiel Stockman (Bel) Tarteletto – Isorex 0:02:08
64 Stijn Vandenbergh (Bel) AG2R La Mondiale 0:02:08
65 Jens Keukeleire (Bel) Lotto Soudal 0:02:08
66 Elie Gesbert (Fra) Team Arkéa – Samsic 0:02:36
67 Viktor Verschaeve (Bel) Nationalmannschaft Belgien 0:02:41
68 Adam Lewis (GBr) BEAT Cycling Club 0:02:41
69 Alex Mengoulas (Ned) BEAT Cycling Club 0:02:41
70 Emil Nygaard Vinjebo (Den) Riwal Readynez Cycling Team 0:02:41
71 Jonas Goeman (Bel) Tarteletto – Isorex 0:02:49
72 Mathieu Burgaudeau (Fra) Total Direct Energie 0:02:51
73 Yacob Debesay (Eri) Groupama – FDJ 0:02:51
74 Ylber Sefa (Alb) Tarteletto – Isorex 0:02:54
75 Cyril Lemoine (Fra) Cofidis Solutions Crédits 0:02:56
76 Tom Dernies (Bel) Natura4Ever – Roubaix – Lille Métropole 0:02:56
77 Julien Antomarchi (Fra) Natura4Ever – Roubaix – Lille Métropole 0:03:03
78 Kévin Ledanois (Fra) Team Arkéa – Samsic 0:03:12
79 Geoffrey Soupe (Fra) Cofidis Solutions Crédits 0:03:13
80 André Carvalho (Por) Hagens Berman Axeon 0:03:14
81 Jérôme Baugnies (Bel) Wanty – Gobert Cycling Team 0:03:23
82 Rémy Mertz (Bel) Lotto Soudal 0:03:25
83 Sébastien Grignard (Bel) Nationalmannschaft Belgien 0:03:25
84 Stijn Steels (Bel) Roompot – Charles 0:03:30
85 Kaden Groves (Aus) SEG Racing Academy 0:03:30
86 Tiago Antunes (Por) SEG Racing Academy 0:03:30
87 Clément Carisey (Fra) Israel Cycling Academy 0:03:30
88 Benjamin Perry (Can) Israel Cycling Academy 0:03:30
89 Nico Denz (GER) AG2R La Mondiale 0:03:50
90 Ilan Van Wilder (Bel) Nationalmannschaft Belgien 0:03:50
91 Baptiste Planckaert (Bel) Wallonie Bruxelles 0:04:45
92 Aaron Verwilst (Bel) Sport Vlaanderen – Baloise 0:05:47
93 Preben Van Hecke (Bel) Sport Vlaanderen – Baloise 0:05:47
94 Sjoerd Van Ginneken (Ned) Roompot – Charles 0:05:47
95 Théo Nonnez (Fra) Groupama – FDJ 0:06:16
96 Fabio Felline (Ita) Trek – Segafredo 0:06:55
97 Julien Morice (Fra) Vital Concept – B&B Hotels 0:10:17
98 Kévin Réza (Fra) Vital Concept – B&B Hotels 0:10:17
99 Mathias Van Gompel (Bel) Sport Vlaanderen – Baloise 0:10:17
100 Emmanuel Morin (Fra) Cofidis Solutions Crédits 0:10:17
101 Bryan Coquard (Fra) Vital Concept – B&B Hotels 0:10:17
102 Julien Bernard (Fra) Trek – Segafredo 0:10:17
103 Benoît Jarrier (Fra) Team Arkéa – Samsic 0:10:17
104 Itamar Einhorn (Isr) Israel Cycling Academy 0:10:17
105 Clément Russo (Fra) Team Arkéa – Samsic 0:10:17
106 Morgan Kneisky (Fra) Groupama – FDJ 0:10:17
107 Karel Vacek (Cze) Hagens Berman Axeon 0:10:17
108 Laurent Pichon (Fra) Team Arkéa – Samsic 0:10:17
109 Daan Hoeyberghs (Bel) BEAT Cycling Club 0:10:17
110 Anthony Jullien (Fra) AG2R La Mondiale 0:10:17
111 Yves Coolen (Bel) BEAT Cycling Club 0:10:17
112 Mathijs Paasschens (Ned) Wallonie Bruxelles 0:10:17
113 Valentin Ferron (Fra) Total Direct Energie 0:10:17
114 Clement Davy (Fra) Groupama – FDJ 0:10:17
115 Daniel Abraham Gebru (Ned) BEAT Cycling Club 0:10:17
116 Zico Waeytens (Bel) Cofidis Solutions Crédits 0:10:17
117 Lorrenzo Manzin (Fra) Vital Concept – B&B Hotels 0:10:17
118 Jonathan Brown (USA) Hagens Berman Axeon 0:10:31
119 Nicola Conci (Ita) Trek – Segafredo 0:10:31
120 Adrien Petit (Fra) Total Direct Energie 0:11:41
121 Ludwig De Winter (Bel) Wanty – Gobert Cycling Team 0:11:41
122 Thimo Willems (Bel) Sport Vlaanderen – Baloise 0:11:47
123 Guillaume Seye (Bel) BEAT Cycling Club 0:12:23
124 Alexander Evans (Aus) SEG Racing Academy 0:12:49
125 Lawrence Naesen (Bel) Lotto Soudal 0:13:19
126 Enzo Wouters (Bel) Lotto Soudal 0:13:58
127 Tyler Magner (USA) Rally UHC Cycling 0:13:58
128 Mads Pedersen (Den) Trek – Segafredo 0:14:19
129 Michael Gogl (AUT) Trek – Segafredo 0:14:19
130 Tom Wirtgen (Lux) Wallonie Bruxelles 0:14:19
DNF Romain Hardy (Fra) Team Arkéa – Samsic
DNF Wessel Krul (Ned) SEG Racing Academy
DNF Rasmus Byriel Iversen (Den) Lotto Soudal
DNF Julien Van Den Brande (Bel) Tarteletto – Isorex
DNF Adam Hartley (GBr) SEG Racing Academy
DNF Jens Reynders (Bel) Nationalmannschaft Belgien
DNF Thomas Vaubourzeix (Fra) Natura4Ever – Roubaix – Lille Métropole
DNF Brent Clé (Bel) Corendon – Circus
DNF Polychronis Tzortzakis (Gre) Tarteletto – Isorex
DNF Lionel Taminiaux (Bel) Wallonie Bruxelles
DNF Loïc Chetout (Fra) Cofidis Solutions Crédits
DNF John Murphy (USA) Rally UHC Cycling
DNF Maikel Zijlaard (Ned) Hagens Berman Axeon
DNF Matteo Dal-Cin (Can) Rally UHC Cycling
DNF Torkil Veyhe (Den) Riwal Readynez Cycling Team
DNF Dries De Bondt (Bel) Corendon – Circus
DNF Sean De Bie (Bel) Roompot – Charles
DNF Stijn Devolder (Bel) Corendon – Circus
DNF Emerson Oronte (USA) Rally UHC Cycling
DNS Pier Andre Cote (Can) Rally UHC Cycling
DNS Joeri Stallaert (Bel) Corendon – Circus
DNS Guillaume Boivin (Can) Israel Cycling Academy
DNS Jimmy Janssens (Bel) Corendon – Circus