Dylan Groenewegen z kolejnym triumfem na Tour of Britain. Po słabszym drugim etapie Holender znów okazał się lepszy od przeciwników. Liderem pozostał Matteo Trentin.
Trzeci etap Tour of Britain rozpoczął się w Berwick nad rzeką Tweed. Stamtąd kolarze udali się na południe, wzdłuż wybrzeża Morza Północnego, aby w końcu dojechać do Newcastle. Trasa liczyła 183 kilometry i w jej pierwszej części znalazły się trzy górskie premie. Później teren był bardziej płaski, aż do ostatniego kilometra przed metą, który prowadził lekko pod górę, co sprawiało, że największe szanse dawano Mathieu van der Poelowi.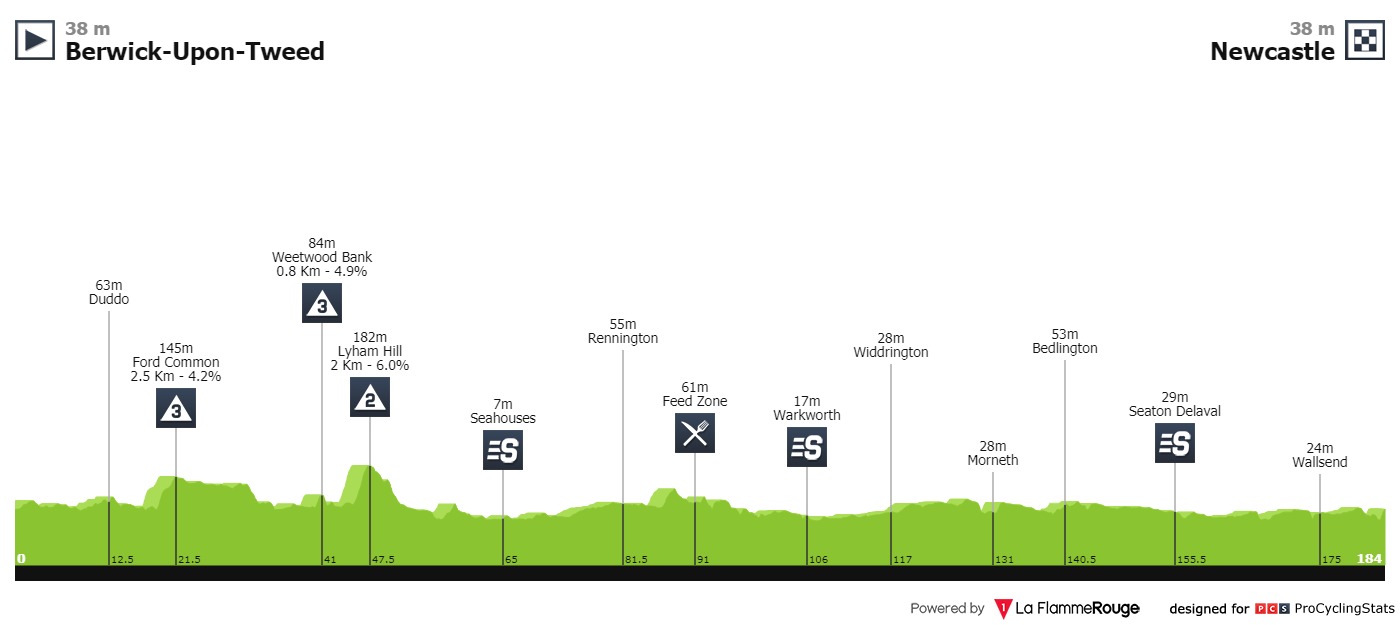 Ucieczka dnia uformowała się już po pierwszych piętnastu kilometrach. W skład szóstki, która postanowiła oderwać się od peletonu weszli: Robert Scott (Wiggins), Jacob Scott (SwiftCarbon), Harry Tanfield (Katusha), Rory Townsend (Canyon), Dries De Bondt (Corendon-Circus) i Christophe Noppe (SportVlaanderen).
Dwie z trzech górskich premii zgarnął Jacob Scott, który dzięki temu umocnił się na czele klasyfikacji najlepszego górala. Po przejechaniu przez najtrudniejszą część trasy uciekinierzy kontynuowali współpracę, a ich przewaga cały czas wynosiła około 3-4 minut.
Wszystko szło zgodnie z przewidywaniami aż do 60. kilometra. Wtedy przed częścią zawodników peletonu zamknął się przejazd kolejowy. Wyścig został przerwany, a kolarze zatrzymani. Cała sytuacja trwała dobre kilkanaście minut, aż w końcu uczestnicy wyścigu otrzymali zielone światło i wreszcie mogli kontynuować rywalizację.
Jednak chwila odpoczynku nie uratowała zmęczonych uciekinierów. Po wznowieniu wyścigu ich przewaga zaczęła stopniowo spadać i choć przez długi czas walczyli bardzo dzielnie, to w końcu, na kilometr przed metą musieli skapitulować przed peletonem napędzanym przez Mitchelton, liczący na Matteo Trentina – zwycięzcę wczorajszego etapu.
Tyle że zarówno Włoch, jak i van der Poel musieli uznać wyższość Dylana Groenewegena, którego nie przestraszyła trudna końcówka. Swój finisz zaczął wcześniej niż reszta rywali i opłaciło mu się to- pokonał rywali o długość roweru. Mimo drugiego zwycięstwa Holendra liderem pozostał Matteo Trentin.
Wyniki 3. etapu:
1 Dylan Groenewegen (Ned) Team Jumbo – Visma 4:37:53
2 Mathieu Van Der Poel (Ned) Corendon – Circus 0:00:00
3 Davide Cimolai (Ita) Israel Cycling Academy 0:00:00
4 Mike Teunissen (Ned) Team Jumbo – Visma 0:00:00
5 Matteo Trentin (Ita) Mitchelton – Scott 0:00:00
6 Amund Grøndahl Jansen (Nor) Team Jumbo – Visma 0:00:00
7 Matthew Walls (GBr) Nationalmannschaft Großbritannien 0:00:00
8 Alexander Edmondson (Aus) Mitchelton – Scott 0:00:00
9 Nils Eekhoff (Ned) Team Sunweb 0:00:00
10 Danilo Wyss (SUI) Team Dimension Data 0:00:00
11 Boris Vallée (Bel) Wanty – Gobert Cycling Team 0:00:00
12 Simon Clarke (Aus) EF Education First 0:00:00
13 Tiesj Benoot (Bel) Lotto Soudal 0:00:00
14 Ben Swift (GBr) Team Ineos 0:00:00
15 Thomas Sprengers (Bel) Sport Vlaanderen – Baloise 0:00:00
16 Gabriel Cullaigh (GBr) Team Wiggins LeCol 0:00:00
17 Gianni Moscon (Ita) Team Ineos 0:00:00
18 Loïc Vliegen (Bel) Wanty – Gobert Cycling Team 0:00:00
19 Trond Håkon Trondsen (Nor) Wanty – Gobert Cycling Team 0:00:00
20 Matthew Holmes (GBr) Madison Genesis 0:00:00
21 Andrey Amador (CRc) Movistar Team 0:00:00
22 Edward Dunbar (Irl) Team Ineos 0:00:00
23 Moreno Hofland (Ned) EF Education First 0:00:00
24 Pavel Sivakov (Rus) Team Ineos 0:00:00
25 Nils Politt (GER) Team Katusha Alpecin 0:00:00
26 Julien Vermote (Bel) Team Dimension Data 0:00:00
27 Xandro Meurisse (Bel) Wanty – Gobert Cycling Team 0:00:00
28 Christopher Hamilton (Aus) Team Sunweb 0:00:08
29 Lawrence Warbasse (USA) AG2R La Mondiale 0:00:08
30 Alex Colman (Bel) Canyon – dhb p/b Bloor Homes 0:00:08
31 Brent Van Moer (Bel) Lotto Soudal 0:00:08
32 Michał Gołaś (Pol) Team Ineos 0:00:08
33 James Shaw (GBr) SwiftCarbon Pro Cycling 0:00:08
34 Alex Dowsett (GBr) Team Katusha Alpecin 0:00:08
35 Carlos Verona Quintanilla (Esp) Movistar Team 0:00:08
36 Sebastian Langeveld (Ned) EF Education First 0:00:08
37 Dylan Van Baarle (Ned) Team Ineos 0:00:08
38 Mikaël Cherel (Fra) AG2R La Mondiale 0:00:08
39 Emil Nygaard Vinjebo (Den) Riwal Readynez Cycling Team 0:00:08
40 Tanel Kangert (Est) EF Education First 0:00:08
41 Peter Williams (GBr) SwiftCarbon Pro Cycling 0:00:08
42 Eduardo Sepulveda (Arg) Movistar Team 0:00:08
43 Tom Van Asbroeck (Bel) Israel Cycling Academy 0:00:08
44 Cameron Meyer (Aus) Mitchelton – Scott 0:00:08
45 Carlos Barbero (Esp) Movistar Team 0:00:08
46 Ben Gastauer (Lux) AG2R La Mondiale 0:00:08
47 Luis Ricardo Villalobos Hernandez (Mex) EF Education First 0:00:08
48 Lucas Eriksson (Swe) Riwal Readynez Cycling Team 0:00:08
49 Luke Durbridge (Aus) Mitchelton – Scott 0:00:08
50 Thimo Willems (Bel) Sport Vlaanderen – Baloise 0:00:08
51 Ryan Christensen (NZl) Canyon – dhb p/b Bloor Homes 0:00:08
52 Mark Christian (GBr) Team Wiggins LeCol 0:00:08
53 Connor Swift (GBr) Nationalmannschaft Großbritannien 0:00:08
54 Otto Vergaerde (Bel) Corendon – Circus 0:00:08
55 Chad Haga (USA) Team Sunweb 0:00:08
56 Sindre Skjøstad Lunke (Nor) Riwal Readynez Cycling Team 0:00:08
57 Ethan Vernon (GBr) Nationalmannschaft Großbritannien 0:00:08
58 Stephen Cummings (GBr) Team Dimension Data 0:00:08
59 Hector Carretero (Esp) Movistar Team 0:00:08
60 Ben Hermans (Bel) Israel Cycling Academy 0:00:08
61 Jimmy Janssens (Bel) Corendon – Circus 0:00:08
62 Mikel Landa Meana (Esp) Movistar Team 0:00:08
63 Tony Gallopin (Fra) AG2R La Mondiale 0:00:08
64 Robert Scott (GBr) Team Wiggins LeCol 0:00:08
65 Juri Hollmann (GER) Team Katusha Alpecin 0:00:08
66 Alexander Kamp (Den) Riwal Readynez Cycling Team 0:00:08
67 Mark Donovan (GBr) Team Wiggins LeCol 0:00:08
68 Axel Domont (Fra) AG2R La Mondiale 0:00:08
69 Cees Bol (Ned) Team Sunweb 0:00:08
70 Samuel Jenner (Aus) Team Wiggins LeCol 0:00:08
71 Bernhard Eisel (AUT) Team Dimension Data 0:00:08
72 Aaron Verwilst (Bel) Sport Vlaanderen – Baloise 0:00:08
73 Wesley Kreder (Ned) Wanty – Gobert Cycling Team 0:00:24
74 Harry Tanfield (GBr) Team Katusha Alpecin 0:00:27
75 Jim Brown (GBr) Nationalmannschaft Großbritannien 0:00:31
76 Gediminas Bagdonas (Ltu) AG2R La Mondiale 0:00:31
77 Ben Hardy (GBr) SwiftCarbon Pro Cycling 0:00:36
78 Roy Curvers (Ned) Team Sunweb 0:00:38
79 Christophe Noppe (Bel) Sport Vlaanderen – Baloise 0:00:40
80 Rory Townsend (Irl) Canyon – dhb p/b Bloor Homes 0:00:40
81 James Fouche (NZl) Team Wiggins LeCol 0:00:45
82 Jake Stewart (GBr) Nationalmannschaft Großbritannien 0:00:45
83 Florian Stork (GER) Team Sunweb 0:00:45
84 Mark Cavendish (GBr) Team Dimension Data 0:00:47
85 Rhys Britton (GBr) Nationalmannschaft Großbritannien 0:00:51
86 Matthew Bostock (GBr) Canyon – dhb p/b Bloor Homes 0:00:55
87 Jos Van Emden (Ned) Team Jumbo – Visma 0:00:55
88 Thomas Stewart (GBr) Canyon – dhb p/b Bloor Homes 0:01:00
89 Erick Rowsell (GBr) Madison Genesis 0:01:12
90 Jack Bauer (NZl) Mitchelton – Scott 0:01:22
91 Philipp Walsleben (GER) Corendon – Circus 0:01:26
92 Edward Laverack (GBr) SwiftCarbon Pro Cycling 0:01:28
93 Conor Dunne (Irl) Israel Cycling Academy 0:01:29
94 Jacob Scott (GBr) SwiftCarbon Pro Cycling 0:01:33
95 Frederik Frison (Bel) Lotto Soudal 0:01:38
96 Jens Debusschere (Bel) Team Katusha Alpecin 0:01:38
97 Dries De Bondt (Bel) Corendon – Circus 0:01:40
98 Mark Renshaw (Aus) Team Dimension Data 0:01:40
99 Lasse Norman Hansen (Den) Corendon – Circus 0:02:10
100 Jasper De Buyst (Bel) Lotto Soudal 0:00:00
101 Edoardo Affini (Ita) Mitchelton – Scott 0:05:04
102 Koen Bouwman (Ned) Team Jumbo – Visma 0:05:04
103 Pascal Eenkhoorn (Ned) Team Jumbo – Visma 0:05:04
104 Andreas Nielsen (Den) Riwal Readynez Cycling Team 0:05:04
105 Joey Walker (GBr) Madison Genesis 0:05:43
106 Torkil Veyhe (Den) Riwal Readynez Cycling Team 0:05:43
107 Andrew Tennant (GBr) Canyon – dhb p/b Bloor Homes 0:05:43
108 Jonathan Dibben (GBr) Madison Genesis 0:05:43
109 Rasmus Byriel Iversen (Den) Lotto Soudal 0:05:51
110 Sacha Modolo (Ita) EF Education First 0:05:51
111 Jonathan McEvoy (GBr) Madison Genesis 0:05:51
112 Rémy Mertz (Bel) Lotto Soudal 0:09:20
113 Omer Goldstein (Isr) Israel Cycling Academy 0:09:20
114 Benjamin Perry (Can) Israel Cycling Academy 0:09:20
115 Michael Cuming (GBr) Madison Genesis 0:09:35
116 Tristan Robbins (GBr) SwiftCarbon Pro Cycling 0:12:12
117 Benjamin Declercq (Bel) Sport Vlaanderen – Baloise 0:13:20
DNS Yoann Offredo (Fra) Wanty – Gobert Cycling Team
DNS Mads Würtz Schmidt (Den) Team Katusha Alpecin
Klasyfikacja generalna:
1 Matteo Trentin (Ita) Mitchelton – Scott 13:13:18
2 Davide Cimolai (Ita) Israel Cycling Academy 0:00:07
3 Mathieu Van Der Poel (Ned) Corendon – Circus 0:00:11
4 Jasper De Buyst (Bel) Lotto Soudal 0:00:11
5 Mike Teunissen (Ned) Team Jumbo – Visma 0:00:13
6 Simon Clarke (Aus) EF Education First 0:00:16
7 Ben Swift (GBr) Team Ineos 0:00:17
8 Loïc Vliegen (Bel) Wanty – Gobert Cycling Team 0:00:17
9 Alexander Edmondson (Aus) Mitchelton – Scott 0:00:17
10 Danilo Wyss (SUI) Team Dimension Data 0:00:17
11 Amund Grøndahl Jansen (Nor) Team Jumbo – Visma 0:00:17
12 Andrey Amador (CRc) Movistar Team 0:00:17
13 Nils Politt (GER) Team Katusha Alpecin 0:00:17
14 Thomas Sprengers (Bel) Sport Vlaanderen – Baloise 0:00:17
15 Pavel Sivakov (Rus) Team Ineos 0:00:17
16 Tiesj Benoot (Bel) Lotto Soudal 0:00:17
17 Julien Vermote (Bel) Team Dimension Data 0:00:17
18 Gianni Moscon (Ita) Team Ineos 0:00:17
19 Matthew Holmes (GBr) Madison Genesis 0:00:17
20 Edward Dunbar (Irl) Team Ineos 0:00:17
21 Xandro Meurisse (Bel) Wanty – Gobert Cycling Team 0:00:17
22 Alex Dowsett (GBr) Team Katusha Alpecin 0:00:25
23 Sebastian Langeveld (Ned) EF Education First 0:00:25
24 Tom Van Asbroeck (Bel) Israel Cycling Academy 0:00:25
25 Christopher Hamilton (Aus) Team Sunweb 0:00:25
26 Brent Van Moer (Bel) Lotto Soudal 0:00:25
27 Lawrence Warbasse (USA) AG2R La Mondiale 0:00:25
28 Tanel Kangert (Est) EF Education First 0:00:25
29 Mikaël Cherel (Fra) AG2R La Mondiale 0:00:25
30 James Shaw (GBr) SwiftCarbon Pro Cycling 0:00:25
31 Connor Swift (GBr) Nationalmannschaft Großbritannien 0:00:25
32 Carlos Verona Quintanilla (Esp) Movistar Team 0:00:25
33 Dylan Van Baarle (Ned) Team Ineos 0:00:25
34 Michał Gołaś (Pol) Team Ineos 0:00:25
35 Cees Bol (Ned) Team Sunweb 0:00:25
36 Eduardo Sepulveda (Arg) Movistar Team 0:00:25
37 Cameron Meyer (Aus) Mitchelton – Scott 0:00:25
38 Otto Vergaerde (Bel) Corendon – Circus 0:00:25
39 Mark Donovan (GBr) Team Wiggins LeCol 0:00:25
40 Ryan Christensen (NZl) Canyon – dhb p/b Bloor Homes 0:00:25
41 Carlos Barbero (Esp) Movistar Team 0:00:25
42 Hector Carretero (Esp) Movistar Team 0:00:25
43 Mark Christian (GBr) Team Wiggins LeCol 0:00:25
44 Luke Durbridge (Aus) Mitchelton – Scott 0:00:25
45 Lucas Eriksson (Swe) Riwal Readynez Cycling Team 0:00:25
46 Tony Gallopin (Fra) AG2R La Mondiale 0:00:25
47 Chad Haga (USA) Team Sunweb 0:00:25
48 Ben Hermans (Bel) Israel Cycling Academy 0:00:25
49 Ben Gastauer (Lux) AG2R La Mondiale 0:00:25
50 Alexander Kamp (Den) Riwal Readynez Cycling Team 0:00:25
51 Stephen Cummings (GBr) Team Dimension Data 0:00:25
52 Sindre Skjøstad Lunke (Nor) Riwal Readynez Cycling Team 0:00:25
53 Jimmy Janssens (Bel) Corendon – Circus 0:00:25
54 Mikel Landa Meana (Esp) Movistar Team 0:00:25
55 Axel Domont (Fra) AG2R La Mondiale 0:00:25
56 Florian Stork (GER) Team Sunweb 0:01:02
57 Philipp Walsleben (GER) Corendon – Circus 0:01:43
58 Edward Laverack (GBr) SwiftCarbon Pro Cycling 0:01:45
59 Conor Dunne (Irl) Israel Cycling Academy 0:02:22
60 Dylan Groenewegen (Ned) Team Jumbo – Visma 0:03:28
61 Nils Eekhoff (Ned) Team Sunweb 0:03:48
62 Boris Vallée (Bel) Wanty – Gobert Cycling Team 0:03:48
63 Matthew Walls (GBr) Nationalmannschaft Großbritannien 0:03:48
64 Trond Håkon Trondsen (Nor) Wanty – Gobert Cycling Team 0:03:48
65 Gabriel Cullaigh (GBr) Team Wiggins LeCol 0:03:48
66 Moreno Hofland (Ned) EF Education First 0:03:48
67 Robert Scott (GBr) Team Wiggins LeCol 0:03:55
68 Ethan Vernon (GBr) Nationalmannschaft Großbritannien 0:03:56
69 Thimo Willems (Bel) Sport Vlaanderen – Baloise 0:03:56
70 Emil Nygaard Vinjebo (Den) Riwal Readynez Cycling Team 0:03:56
71 Luis Ricardo Villalobos Hernandez (Mex) EF Education First 0:03:56
72 Aaron Verwilst (Bel) Sport Vlaanderen – Baloise 0:03:56
73 Alex Colman (Bel) Canyon – dhb p/b Bloor Homes 0:03:56
74 Rory Townsend (Irl) Canyon – dhb p/b Bloor Homes 0:04:12
75 Wesley Kreder (Ned) Wanty – Gobert Cycling Team 0:04:12
76 Harry Tanfield (GBr) Team Katusha Alpecin 0:04:15
77 Jim Brown (GBr) Nationalmannschaft Großbritannien 0:04:19
78 Christophe Noppe (Bel) Sport Vlaanderen – Baloise 0:04:26
79 Roy Curvers (Ned) Team Sunweb 0:04:26
80 Jake Stewart (GBr) Nationalmannschaft Großbritannien 0:04:33
81 Mark Cavendish (GBr) Team Dimension Data 0:04:35
82 Rhys Britton (GBr) Nationalmannschaft Großbritannien 0:04:39
83 Matthew Bostock (GBr) Canyon – dhb p/b Bloor Homes 0:04:43
84 Jos Van Emden (Ned) Team Jumbo – Visma 0:04:43
85 Erick Rowsell (GBr) Madison Genesis 0:05:00
86 Jack Bauer (NZl) Mitchelton – Scott 0:05:10
87 Dries De Bondt (Bel) Corendon – Circus 0:05:15
88 Bernhard Eisel (AUT) Team Dimension Data 0:05:25
89 Jens Debusschere (Bel) Team Katusha Alpecin 0:05:26
90 Mark Renshaw (Aus) Team Dimension Data 0:05:28
91 Lasse Norman Hansen (Den) Corendon – Circus 0:05:58
92 Jacob Scott (GBr) SwiftCarbon Pro Cycling 0:06:28
93 James Fouche (NZl) Team Wiggins LeCol 0:07:56
94 Peter Williams (GBr) SwiftCarbon Pro Cycling 0:08:04
95 Samuel Jenner (Aus) Team Wiggins LeCol 0:08:06
96 Juri Hollmann (GER) Team Katusha Alpecin 0:08:08
97 Frederik Frison (Bel) Lotto Soudal 0:08:23
98 Thomas Stewart (GBr) Canyon – dhb p/b Bloor Homes 0:08:25
99 Ben Hardy (GBr) SwiftCarbon Pro Cycling 0:08:36
100 Edoardo Affini (Ita) Mitchelton – Scott 0:08:52
101 Pascal Eenkhoorn (Ned) Team Jumbo – Visma 0:08:52
102 Joey Walker (GBr) Madison Genesis 0:09:31
103 Omer Goldstein (Isr) Israel Cycling Academy 0:09:37
104 Sacha Modolo (Ita) EF Education First 0:09:39
105 Michael Cuming (GBr) Madison Genesis 0:09:52
106 Benjamin Perry (Can) Israel Cycling Academy 0:10:13
107 Gediminas Bagdonas (Ltu) AG2R La Mondiale 0:10:42
108 Jonathan Dibben (GBr) Madison Genesis 0:12:28
109 Rasmus Byriel Iversen (Den) Lotto Soudal 0:12:36
110 Rémy Mertz (Bel) Lotto Soudal 0:13:08
111 Benjamin Declercq (Bel) Sport Vlaanderen – Baloise 0:13:37
112 Andrew Tennant (GBr) Canyon – dhb p/b Bloor Homes 0:13:43
113 Jonathan McEvoy (GBr) Madison Genesis 0:13:51
114 Andreas Nielsen (Den) Riwal Readynez Cycling Team 0:15:27
115 Torkil Veyhe (Den) Riwal Readynez Cycling Team 0:16:46
116 Tristan Robbins (GBr) SwiftCarbon Pro Cycling 0:18:57
117 Koen Bouwman (Ned) Team Jumbo – Visma 0:19:58