Zwycięstwem Nicka Schultza (Mitchelton – Scott) zakończył się królewski etap Herald Sun Tour. Liderem imprezy został Dylan van Baarle (Sky).
Czwarty etap australijskiej imprezy był odcinkiem królewskim. Kolarze mieli do pokonania 128 kilometrów, pięciokrotnie pokonując doskonale wszystkim znany podjazd pod Arthurs Seat, gdzie usytuowana była meta.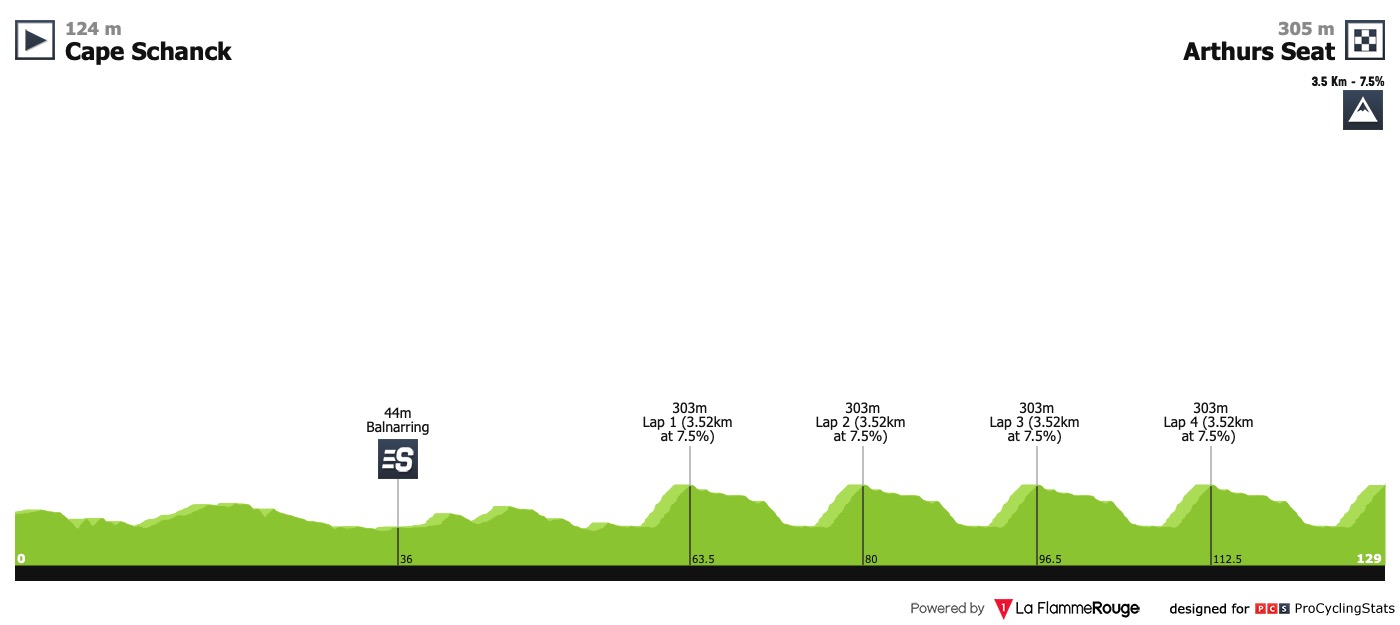 Co ciekawe, zupełnie inaczej niż się spodziewano, niedługo po starcie od peletonu oderwała się bardzo mocna ucieczka, która z urzędu rozdawała karty. Znaleźli się w niej Christian Kness, Luke Rowe, Dylan van Baarle (Sky), Nathan Elliot (Korda Mentha), Will Clarke (Trek – Segafredo), Alistair Donohoe (Sunshine C), Nick Schultz (Mitchelton – Scott) oraz Hayden McCormick (BridgeLane). Bardzo mocny zespół harcowników szybko wyrobił sobie 3 minuty przewagi, które pozwalały myśleć nawet o końcowym zwycięstwie.
Jak można było się spodziewać, sytuację w peletonie cały czas kontrolowała ekipa EF Education First, która była jednak w bardzo trudnej sytuacji. Brakowało jej bowiem kompana, który także chciałby za wszelką cenę dojść silny odjazd.
Kiedy do mety zostawało już zaledwie 30 kilometrów, peleton tracił niespełna 2 minuty i liczył około 30 kolarzy. Jednocześnie ucieczka mocno się szatkowała, a na czele zostawali już najmocniejsi z najmocniejszych.
Ostatecznie o zwycięstwie etapowym zadecydowała walka duetu z ucieczki. Po triumf sięgnął bowiem Nick Schultz (Mitchelton – Scott), dla którego było to premierowe zwycięstwo w nowych barwach. Drugi metę przekroczył Dylan van Baarle (Sky), który został nowym liderem wyścigu. Trzecie miejsce zajął za to Chris Harper (BridgeLane), który "na solo" starał się dojść do czołówki. Dotychczasowy lider Michael Woods (EF Education First), wraz z innymi liderami, stracił do zwycięzcy ponad 2 minuty.
Wyniki:
1 Nicholas Schultz (Aus) Mitchelton – Scott 02:45:42
2 Dylan Van Baarle (Ned) Team Sky 00:00:00
3 Chris Harper (Aus) Team BridgeLane 00:01:45
4 Alistair Donohoe (Aus) Pro Racing Sunshine Coast 00:02:14
5 Kenny Elissonde (Fra) Team Sky 00:02:14
6 Michael Woods (Can) EF Education First 00:02:14
7 Lucas Hamilton (Aus) Mitchelton – Scott 00:02:14
8 Richie Porte (Aus) Trek – Segafredo 00:02:27
9 Dylan Sunderland (Aus) Team BridgeLane 00:02:39
10 Pavel Sivakov (Rus) Team Sky 00:02:39
11 Benjamin Dyball (Aus) Team Sapura Cycling 00:03:00
12 Daniel Whitehouse (GBr) EvoPro Racing 00:03:02
13 Samuel Jenner (Aus) Nationalmannschaft Australien 00:03:21
14 Jason Lea (Aus) Team BridgeLane 00:03:35
15 Nicholas White (Aus) Team BridgeLane 00:03:35
16 Damien Howson (Aus) Mitchelton – Scott 00:04:09
17 Dion Smith (NZl) Mitchelton – Scott 00:04:46
18 Peter Stetina (USA) Trek – Segafredo 00:05:25
19 Christian Knees (GER) Team Sky 00:05:57
20 Hayden McCormick (NZl) Team BridgeLane 00:06:36
21 Jarlinson Pantano Gomez (Col) Trek – Segafredo 00:07:27
22 Jesse Featonby (Aus) Oliver's Real Food Racing 00:08:15
23 Thomas Hubbard (NZl) St George Continental Cycling Team 00:08:24
24 Jesse Ewart (Aus) Team Sapura Cycling 00:08:25
25 Marcus Culey (Aus) Team Sapura Cycling 00:08:26
26 Sebastian Presley (Aus) Oliver's Real Food Racing 00:08:28
27 Oliver Martin (Aus) Drapac – Cannondale Holistic Development Team 00:09:14
28 James Whelan (Aus) EF Education First 00:09:48
29 Callum Scotson (Aus) Mitchelton – Scott 00:09:54
30 Nathan Elliott (Aus) Nationalmannschaft Australien 00:10:42
31 Owain Doull (GBr) Team Sky 00:11:04
32 Angus Lyons (Aus) Oliver's Real Food Racing 00:12:58
33 William Clarke (Aus) Trek – Segafredo 00:12:58
34 Dylan Newbery (Aus) Futuro – Maxxis Pro Cycling 00:14:07
35 Timothy Cameron (Aus) St George Continental Cycling Team 00:14:07
36 Brenton Jones (Aus) Nationalmannschaft Australien 00:14:55
37 Michael Vink (NZl) St George Continental Cycling Team 00:14:55
38 Aaron Gate (NZl) EvoPro Racing 00:14:55
39 Zachary Johnson (Aus) Drapac – Cannondale Holistic Development Team 00:14:55
40 Corbin Strong (NZl) St George Continental Cycling Team 00:14:55
41 Michael Potter (Aus) Pro Racing Sunshine Coast 00:14:58
42 Conor Murtagh (Aus) Oliver's Real Food Racing 00:14:58
43 Jonathon Noble (Aus) Pro Racing Sunshine Coast 00:14:58
44 Freddy Ovett (Aus) Pro Racing Sunshine Coast 00:14:58
45 Luke Rowe (GBr) Team Sky 00:14:58
46 Muhammad Zawawi Azman (Mas) Team Sapura Cycling 00:14:58
47 Muhamad Nur Aiman Mohd Zariff (Mas) Team Sapura Cycling 00:14:58
48 Liam White (Aus) Drapac – Cannondale Holistic Development Team 00:15:16
49 David Williams (Aus) Nationalmannschaft Australien 00:15:16
50 Cyrus Monk (Aus) EvoPro Racing 00:15:16
51 Benjamin Andrews (Aus) Oliver's Real Food Racing 00:15:16
52 Koen De Kort (Ned) Trek – Segafredo 00:15:16
53 Ryan Mullen (Irl) Trek – Segafredo 00:15:16
54 Kristoffer Halvorsen (Nor) Team Sky 00:15:16
55 Theodore Yates (Aus) Drapac – Cannondale Holistic Development Team 00:15:16
56 Harrison Sweeny (Aus) EvoPro Racing 00:15:16
57 Robert Stannard (Aus) Mitchelton – Scott 00:15:16
58 Mitchell Docker (Aus) EF Education First 00:15:16
59 Patrick Burt (Aus) Drapac – Cannondale Holistic Development Team 00:15:16
60 Ayden Toovey (Aus) Team BridgeLane 00:15:16
61 Liam Magennis (Aus) Drapac – Cannondale Holistic Development Team 00:15:16
62 Luke Mudgway (NZl) EvoPro Racing 00:15:53
63 Tom Scully (NZl) EF Education First 00:16:27
64 Neil Van Der Ploeg (Aus) Team BridgeLane 00:17:14
65 Ryan Cavanagh (Aus) St George Continental Cycling Team 00:17:15
66 Shane Archbold (NZl) EvoPro Racing 00:17:37
67 Sam Bewley (NZl) Mitchelton – Scott 00:17:56
68 Muhsin Al Redha Misbah (Mas) Team Sapura Cycling 00:21:13
69 Wouter Wippert (Ned) EvoPro Racing 00:22:05
70 Alex Frame (NZl) Trek – Segafredo 00:22:05
71 Daniel McLay (GBr) EF Education First 00:22:05
72 Craig Wiggins (Aus) St George Continental Cycling Team 00:22:33
73 Thomas McFarlane (Aus) Nationalmannschaft Australien 00:22:49
dnf Lachlan Morton (Aus) EF Education First
dnf Karl Michelin-Beard (Aus) Oliver's Real Food Racing
dnf Ashley Mackay (Aus) Pro Racing Sunshine Coast
dnf Tom Kaesler (Aus) Drapac – Cannondale Holistic Development Team
Klasyfikacja generalna:
1 Dylan Van Baarle (Ned) Team Sky 11:28:42
2 Nicholas Schultz (Aus) Mitchelton – Scott 00:00:24
3 Michael Woods (Can) EF Education First 00:01:52
4 Richie Porte (Aus) Trek – Segafredo 00:02:09
5 Chris Harper (Aus) Team BridgeLane 00:02:13
6 Kenny Elissonde (Fra) Team Sky 00:02:19
7 Lucas Hamilton (Aus) Mitchelton – Scott 00:02:21
8 Pavel Sivakov (Rus) Team Sky 00:03:10
9 Dylan Sunderland (Aus) Team BridgeLane 00:04:25
10 Damien Howson (Aus) Mitchelton – Scott 00:04:44
11 Samuel Jenner (Aus) Nationalmannschaft Australien 00:05:07
12 Daniel Whitehouse (GBr) EvoPro Racing 00:05:16
13 Benjamin Dyball (Aus) Team Sapura Cycling 00:05:22
14 Nicholas White (Aus) Team BridgeLane 00:05:49
15 Alistair Donohoe (Aus) Pro Racing Sunshine Coast 00:06:02
16 Peter Stetina (USA) Trek – Segafredo 00:07:11
17 Dion Smith (NZl) Mitchelton – Scott 00:09:01
18 Jarlinson Pantano Gomez (Col) Trek – Segafredo 00:09:13
19 Christian Knees (GER) Team Sky 00:13:24
20 Marcus Culey (Aus) Team Sapura Cycling 00:13:49
21 Jason Lea (Aus) Team BridgeLane 00:14:01
22 Hayden McCormick (NZl) Team BridgeLane 00:14:09
23 Jesse Featonby (Aus) Oliver's Real Food Racing 00:14:11
24 Jesse Ewart (Aus) Team Sapura Cycling 00:16:08
25 Robert Stannard (Aus) Mitchelton – Scott 00:16:58
26 Owain Doull (GBr) Team Sky 00:17:06
27 James Whelan (Aus) EF Education First 00:17:43
28 Freddy Ovett (Aus) Pro Racing Sunshine Coast 00:18:46
29 Sebastian Presley (Aus) Oliver's Real Food Racing 00:19:33
30 Oliver Martin (Aus) Drapac – Cannondale Holistic Development Team 00:19:48
31 Cyrus Monk (Aus) EvoPro Racing 00:19:53
32 Nathan Elliott (Aus) Nationalmannschaft Australien 00:20:39
33 Luke Rowe (GBr) Team Sky 00:21:08
34 Liam White (Aus) Drapac – Cannondale Holistic Development Team 00:22:01
35 Brenton Jones (Aus) Nationalmannschaft Australien 00:22:30
36 Ayden Toovey (Aus) Team BridgeLane 00:22:39
37 Callum Scotson (Aus) Mitchelton – Scott 00:22:39
38 Kristoffer Halvorsen (Nor) Team Sky 00:22:41
39 Muhammad Zawawi Azman (Mas) Team Sapura Cycling 00:22:41
40 Muhamad Nur Aiman Mohd Zariff (Mas) Team Sapura Cycling 00:22:41
41 William Clarke (Aus) Trek – Segafredo 00:22:52
42 Koen De Kort (Ned) Trek – Segafredo 00:22:59
43 Ryan Mullen (Irl) Trek – Segafredo 00:23:17
44 Benjamin Andrews (Aus) Oliver's Real Food Racing 00:23:37
45 Theodore Yates (Aus) Drapac – Cannondale Holistic Development Team 00:24:41
46 Thomas Hubbard (NZl) St George Continental Cycling Team 00:24:46
47 Conor Murtagh (Aus) Oliver's Real Food Racing 00:24:48
48 Mitchell Docker (Aus) EF Education First 00:24:55
49 Dylan Newbery (Aus) Futuro – Maxxis Pro Cycling 00:25:17
50 Michael Vink (NZl) St George Continental Cycling Team 00:25:21
51 Michael Potter (Aus) Pro Racing Sunshine Coast 00:25:32
52 Liam Magennis (Aus) Drapac – Cannondale Holistic Development Team 00:26:18
53 Luke Mudgway (NZl) EvoPro Racing 00:27:04
54 Neil Van Der Ploeg (Aus) Team BridgeLane 00:27:05
55 Ryan Cavanagh (Aus) St George Continental Cycling Team 00:27:06
56 Harrison Sweeny (Aus) EvoPro Racing 00:27:12
57 Aaron Gate (NZl) EvoPro Racing 00:27:33
58 Tom Scully (NZl) EF Education First 00:27:48
59 Jonathon Noble (Aus) Pro Racing Sunshine Coast 00:28:02
60 Muhsin Al Redha Misbah (Mas) Team Sapura Cycling 00:29:56
61 Corbin Strong (NZl) St George Continental Cycling Team 00:29:58
62 Patrick Burt (Aus) Drapac – Cannondale Holistic Development Team 00:32:55
63 Craig Wiggins (Aus) St George Continental Cycling Team 00:32:59
64 Thomas McFarlane (Aus) Nationalmannschaft Australien 00:33:15
65 Sam Bewley (NZl) Mitchelton – Scott 00:33:47
66 David Williams (Aus) Nationalmannschaft Australien 00:34:26
67 Angus Lyons (Aus) Oliver's Real Food Racing 00:34:59
68 Daniel McLay (GBr) EF Education First 00:36:41
69 Alex Frame (NZl) Trek – Segafredo 00:42:14
70 Timothy Cameron (Aus) St George Continental Cycling Team 00:42:30
71 Wouter Wippert (Ned) EvoPro Racing 00:42:39
72 Zachary Johnson (Aus) Drapac – Cannondale Holistic Development Team 00:52:12
73 Shane Archbold (NZl) EvoPro Racing 00:55:58