Pascal Ackermann wygrywa ostatni etap Vuelta a Espana 2020. O włos pokonał Sama Bennetta.
Ostatni akt tegorocznej Vuelty był jednocześnie zakończeniem szosowego sezonu 2020. Mimo to nie było się co nastawiać na to, że kolarze przygotują dla nas z tej okazji jakieś szczególne fajerwerki. Podobnie jak w poprzednich kilku latach ostatni etap kończył się w Madrycie, a to oznaczało, że emocje będziemy mieć jedynie na finiszu.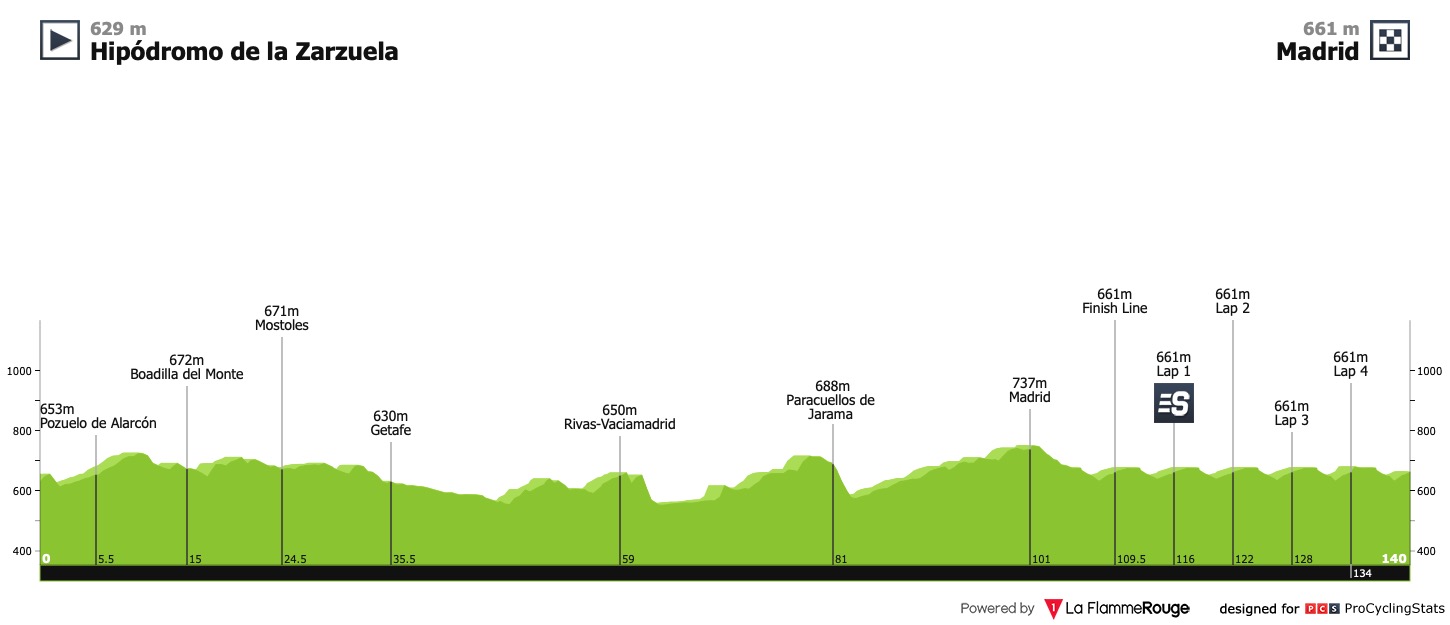 Wcześniej mieliśmy głównie celebrację i pamiątkowe zdjęcia. Tak było wtedy, gdy chwilę przed startem Chris Froome dostał nagrodę za wygranie Vuelty z 2011 roku (awansował na pierwsze miejsce, ponieważ tytuł odebrano Juanowi Jose Cobo)…
Thank you to @lavuelta for giving me the opportunity to celebrate my 2011 win today. I first learnt about it while in ICU in June last year not knowing if I'd ever be able to compete again. pic.twitter.com/3Bamcg3q41

— Chris Froome (@chrisfroome) November 8, 2020
A także już po starcie, gdy faworytów, po raz pierwszy w tym wyścigu, można było zobaczyć nie walczących ze sobą, a obejmujących się i ustawiających się do wspólnych fotografii.
💚🤍❤️🔵Los colores de la serpiente / The jerseys!

🚴‍♂️🚴‍♂️ 😊
🇪🇨 @RichardCarapazM
🇪🇸 @EnricMasNicolau
🇸🇮 @rogla
🇫🇷 @GuilmMartin

👉https://t.co/zqaO4Bw62K pic.twitter.com/qC5WTxe5V3

— La Vuelta (@lavuelta) November 8, 2020
Czysto sportowych emocji mieliśmy za to jak na lekarstwo. Jak to często na etapach przyjaźni bywa, od peletonu nie oderwała się żadna typowa ucieczka dnia – przez większą część wyścigu wszyscy kolarze jechali jedną, zwartą grupą.
Dopiero na około 25 kilometrów przed metą, a więc tuż przed lotną premią, w peletonie rozpoczął się większy ruch. Od głównej grupy najpierw oderwali się Tim Wellens i Willie Smit, a późnej dołączyli do nich Dmitry Gruzdev i Gonzalo Serrano. Ostatecznie po bonifikatę sięgnął Belg, ale na tym współpraca kolarzy wcale się nie zakończyła.
Przez jakiś czas ich przewaga oscylowała w okolicach kilkunastu sekund, by na 15 kilometry przed metą dojść do blisko pół minuty. W końcu jednak doszło do tego, czego wszyscy się spodziewali. Na 6 kilometrów przed metą czwórka znów znalazła się w peletonie.
Oczywiście pociągi już wtedy były przygotowane do ostatniej sceny sezonu. Najlepiej wyglądał Deceuninck-Quick Step, napędzany przez bardzo aktywnego w tym wyścigu Remiego Cavagnę. W bardzo dobrej sytuacji był więc Sam Bennett, podobnie zresztą jak Jasper Philipsen z UAE Team. Jednak w końcówce stracili swoją świetną pozycję na rzecz kolarzy Bory pracujących dla Pascala Ackermanna.
Niemiec wykorzystał swoją świetną pozycję wyjściową i choć do końca próbował walczyć z nim wspomniany Bennett, który w końcówce zdołał wyjść z trudnej sytuacji, to jednak właśnie on sięgnął po ostatni skalp w tym roku.
Wyniki 18. etapu Vuelta a Espana:
1
 

ACKERMANN

 Pascal
BORA – hansgrohe
100
80

3:28:13

2
 

BENNETT

 Sam
Deceuninck – Quick Step
40
50

,,

3
 

KANTER

 Max
Team Sunweb
20
35

,,

4
 

PHILIPSEN

 Jasper
UAE-Team Emirates
12
25

,,

5
 

SÜTTERLIN

 Jasha
Team Sunweb
4
18

,,

6
 

MORIN

 Emmanuel
Cofidis, Solutions Crédits
15

,,

7
 

JANSE VAN RENSBURG

 Reinardt
NTT Pro Cycling
12

,,

8
 

MANZIN

 Lorrenzo
Team Total Direct Energie
10

,,

9
 

STANNARD

 Robert
Mitchelton-Scott
8

,,

10
 

ABERASTURI

 Jon
Caja Rural – Seguros RGA
6

,,

11
 

RÄIM

 Mihkel
Israel Start-Up Nation
5

,,

12
 

LIEPIŅŠ

 Emīls
Trek – Segafredo
4

,,

13
 

WRIGHT

 Alfred
Bahrain – McLaren
3

,,

14
 

VAN DER SANDE

 Tosh
Lotto Soudal
2

,,

15
 

ROJAS

 José Joaquín
Movistar Team
1

,,

16
 

OLIVEIRA

 Ivo
UAE-Team Emirates

,,

17
 

ŠTYBAR

 Zdeněk
Deceuninck – Quick Step

,,

18
 

OLIVEIRA

 Rui
UAE-Team Emirates

,,

19
 

WIŚNIOWSKI

 Łukasz
CCC Team

,,

20
 

CORT

 Magnus
EF Pro Cycling

,,

21
 

ROUX

 Anthony
Groupama – FDJ

,,

22
 

VINGEGAARD

 Jonas
Team Jumbo-Visma

,,

23
 

SIMON

 Julien
Team Total Direct Energie

,,

24
 

PALUTA

 Michał
CCC Team

,,

25
 

POELS

 Wout
Bahrain – McLaren

,,

26
 

BOL

 Jetse
Burgos-BH

,,

27
 

MOLENAAR

 Alex
Burgos-BH

,,

28
 

VALVERDE

 Alejandro
Movistar Team

,,

29
 

VLASOV

 Aleksandr
Astana Pro Team

,,

30
 

EZQUERRA

 Jesús
Burgos-BH

,,

31
 

GROSSSCHARTNE

 Felix
BORA – hansgrohe

,,

32
 

CARAPAZ

 Richard
INEOS Grenadiers

,,

33
 

HOFSTEDE

 Lennard
Team Jumbo-Visma

,,

34
 

GODON

 Dorian
AG2R La Mondiale

,,

35
 

MARTIN

 Guillaume
Cofidis, Solutions Crédits

,,

36
 

GAUDU

 David
Groupama – FDJ

,,

37
 

BAGÜES

 Aritz
Caja Rural – Seguros RGA

,,

38
 

MAS

 Enric
Movistar Team

,,

39
 

ROGLIČ

 Primož
Team Jumbo-Visma

,,

40
 

BENNETT

 George
Team Jumbo-Visma

,,

41
 

KUSS

 Sepp
Team Jumbo-Visma

,,

42
 

IZAGIRRE

 Gorka
Astana Pro Team

,,

43
 

SCHWARZMANN

 Michael
BORA – hansgrohe

,,

44
 

ARMIRAIL

 Bruno
Groupama – FDJ

,,

45
 

DE LA CRUZ

 David
UAE-Team Emirates

,,

46
 

OSORIO

 Juan Felipe
Burgos-BH

,,

47
 

ERVITI

 Imanol
Movistar Team

,,

48
 

GOLDSTEIN

 Omer
Israel Start-Up Nation

,,

49
 

NIEVE

 Mikel
Mitchelton-Scott

,,

50
 

MADRAZO

 Ángel
Burgos-BH

,,

51
 

SMIT

 Willie
Burgos-BH

,,

52
 

CHAMPOUSSIN

 Clément
AG2R La Mondiale

,,

53
 

MATÉ

 Luis Ángel
Cofidis, Solutions Crédits

,,

54
 

DEWULF

 Stan
Lotto Soudal

,,

55
 

HOLLENSTEIN

 Reto
Israel Start-Up Nation

,,

56
 

MARTIN

 Dan
Israel Start-Up Nation

,,

57
 

HENAO

 Sergio
UAE-Team Emirates

,,

58
 

PETERS

 Nans
AG2R La Mondiale

,,

59
 

GESINK

 Robert
Team Jumbo-Visma

,,

60
 

CHAVES

 Esteban
Mitchelton-Scott

,,

61
 

BARBERO

 Carlos
NTT Pro Cycling

,,

62
 

MÄDER

 Gino
NTT Pro Cycling

,,

63
 

OLIVEIRA

 Nelson
Movistar Team

,,

64
 

MERTZ

 Rémy
Lotto Soudal

,,

65
 

GOOSSENS

 Kobe
Lotto Soudal

,,

66
 

EG

 Niklas
Trek – Segafredo

,,

67
 

LAAS

 Martin
BORA – hansgrohe

,,

68
 

KUDUS

 Merhawi
Astana Pro Team

,,

69
 

SOLER

 Marc
Movistar Team

,,

70
 

GARCÍA

 Jhojan
Caja Rural – Seguros RGA

,,

71
 

AMADOR

 Andrey
INEOS Grenadiers

,,

72
 

VILELA

 Ricardo
Burgos-BH

,,

73
 

VAN MOER

 Brent
Lotto Soudal

,,

74
 

DELAGE

 Mickaël
Groupama – FDJ

,,

75
 

LASTRA

 Jonathan
Caja Rural – Seguros RGA

,,

76
 

AMEZQUETA

 Julen
Caja Rural – Seguros RGA

,,

77
 

ARCAS

 Jorge
Movistar Team

,,

78
 

SCHULTZ

 Nick
Mitchelton-Scott

,,

79
 

BUITRAGO

 Santiago
Bahrain – McLaren

,,

80
 

VAN BAARLE

 Dylan
INEOS Grenadiers

,,

81
 

MØRKØV

 Michael
Deceuninck – Quick Step

,,

82
 

VAN GARDEREN

 Tejay
EF Pro Cycling

0:28

83
 

CARTHY

 Hugh
EF Pro Cycling

,,

84
 

LE GAC

 Olivier
Groupama – FDJ

,,

85
 

SMITH

 Dion
Mitchelton-Scott

0:32

86
 

PÉRICHON

 Pierre-Luc
Cofidis, Solutions Crédits

,,

87
 

ZIMMERMANN

 Georg
CCC Team

0:36

88
 

DAVIES

 Scott
Bahrain – McLaren

,,

89
 

OURSELIN

 Paul
Team Total Direct Energie

,,

90
 

CATTANEO

 Mattia
Deceuninck – Quick Step

,,

91
 

SERRANO

 Gonzalo
Caja Rural – Seguros RGA

,,

92
 

CEPEDA

 Jefferson Alveiro
Caja Rural – Seguros RGA

,,

93
 

GRMAY

 Tsgabu
Mitchelton-Scott

,,

94
 

FERRON

 Valentin
Team Total Direct Energie

,,

95
 

SICARD

 Romain
Team Total Direct Energie

,,

96
 

HIVERT

 Jonathan
Team Total Direct Energie

,,

97
 

BADILATTI

 Matteo
Israel Start-Up Nation

,,

98
 

CABEDO

 Óscar
Burgos-BH

,,

99
 

SOSA

 Iván Ramiro
INEOS Grenadiers

,,

100
 

EDMONDSON

 Alex
Mitchelton-Scott

,,

101
 

HERRADA

 José
Cofidis, Solutions Crédits

,,

102
 

VERONA

 Carlos
Movistar Team

,,

103
 

WURF

 Cameron
INEOS Grenadiers

,,

104
 

FROOME

 Chris
INEOS Grenadiers

,,

105
 

LÓPEZ

 Juan Pedro
Trek – Segafredo

,,

106
 

FRAILE

 Omar
Astana Pro Team

,,

107
 

BARTA

 Will
CCC Team

,,

108
 

ARENSMAN

 Thymen
Team Sunweb

,,

109
 

RIES

 Michel
Trek – Segafredo

,,

110
 

VAN DEN BERG

 Julius
EF Pro Cycling

,,

111
 

SCOTSON

 Callum
Mitchelton-Scott

0:44

112
 

SCHILLINGER

 Andreas
BORA – hansgrohe

0:48

113
 

DE KORT

 Koen
Trek – Segafredo

0:53

114
 

INKELAAR

 Kevin
Bahrain – McLaren

,,

115
 

DE BOD

 Stefan
NTT Pro Cycling

,,

116
 

DYBALL

 Benjamin
NTT Pro Cycling

,,

117
 

LAFAY

 Victor
Cofidis, Solutions Crédits

,,

118
 

VALGREN

 Michael
NTT Pro Cycling

,,

119
 

WELLENS

 Tim
Lotto Soudal

,,

120
 

MARCZYŃSKI

 Tomasz
Lotto Soudal

,,

121
 

GASPAROTTO

 Enrico
NTT Pro Cycling

0:57

122
 

DONOVAN

 Mark
Team Sunweb

,,

123
 

ARANBURU

 Alex
Astana Pro Team

,,

124
 

RIABUSHENKO

 Alexandr
UAE-Team Emirates

,,

125
 

HIRT

 Jan
CCC Team

,,

126
 

WOODS

 Michael
EF Pro Cycling

1:08

127
 

OWEN

 Logan
EF Pro Cycling

,,

128
 

MARTENS

 Paul
Team Jumbo-Visma

,,

129
 

DOCKER

 Mitchell
EF Pro Cycling

,,

130
 

IZAGIRRE

 Ion
Astana Pro Team

1:20

131
 

GRUZDEV

 Dmitriy
Astana Pro Team

,,

132
 

STORER

 Michael
Team Sunweb

1:24

133
 

POWER

 Robert
Team Sunweb

,,

134
 

SCHELLING

 Ide
BORA – hansgrohe

1:48

135
 

SELIG

 Rüdiger
BORA – hansgrohe

,,

136
 

COSTA

 Rui
UAE-Team Emirates

,,

137
 

TERPSTRA

 Niki
Team Total Direct Energie

1:55

138
 

CAVAGNA

 Rémi
Deceuninck – Quick Step

1:57

139
 

GARRISON

 Ian
Deceuninck – Quick Step

2:12

140
 

STEIMLE

 Jannik
Deceuninck – Quick Step

,,

141
 

SUTHERLAND

 Rory
Israel Start-Up Nation

,,

142
 

PICCOLI

 James
Israel Start-Up Nation

,,

DNS
 

FORMOLO

 Davide
UAE-Team Emirates

–
Klasyfikacja generalna:
1
 

ROGLIČ

 Primož
Team Jumbo-Visma
850
400

72:46:12

2
 

CARAPAZ

 Richard
INEOS Grenadiers
680
290

0:24

3
 

CARTHY

 Hugh
EF Pro Cycling
575
240

1:15

4
 

MARTIN

 Dan
Israel Start-Up Nation
460
220

2:43

5
 

MAS

 Enric
Movistar Team
380
200

3:36

6
 

POELS

 Wout
Bahrain – McLaren
320
190

7:16

7
 

DE LA CRUZ

 David
UAE-Team Emirates
260
180

7:35

8
 

GAUDU

 David
Groupama – FDJ
220
170

7:45

9
 

GROSSSCHARTNE

 Felix
BORA – hansgrohe
180
160

8:15

10
 

VALVERDE

 Alejandro
Movistar Team
140
150

9:34

11
 

VLASOV

 Aleksandr
Astana Pro Team
120
140

9:36

12
 

BENNETT

 George
Team Jumbo-Visma
100
130

14:04

13
 

NIEVE

 Mikel
Mitchelton-Scott
84
120

14:47

14
 

MARTIN

 Guillaume
Cofidis, Solutions Crédits
68
110

15:07

15
 

HENAO

 Sergio
UAE-Team Emirates
60
100

15:36

16
 

KUSS

 Sepp
Team Jumbo-Visma
56
90

16:26

17
 

CATTANEO

 Mattia
Deceuninck – Quick Step
52
85

17:45

18
 

SOLER

 Marc
Movistar Team
48
80

21:01

19
 

IZAGIRRE

 Gorka
Astana Pro Team
44
75

21:46

20
 

MÄDER

 Gino
NTT Pro Cycling
40
70

43:39

21
 

ZIMMERMANN

 Georg
CCC Team
32
65

45:40

22
 

BARTA

 Will
CCC Team
32
60

50:04

23
 

MATÉ

 Luis Ángel
Cofidis, Solutions Crédits
32
55

55:06

24
 

GOOSSENS

 Kobe
Lotto Soudal
32
50

1:02:57

25
 

SCHULTZ

 Nick
Mitchelton-Scott
32
45

1:03:46

26
 

HERRADA

 José
Cofidis, Solutions Crédits
24
40

1:05:17

27
 

CHAVES

 Esteban
Mitchelton-Scott
24
35

1:09:51

28
 

ARMIRAIL

 Bruno
Groupama – FDJ
24
30

1:10:22

29
 

IZAGIRRE

 Ion
Astana Pro Team
24
25

1:12:12

30
 

VERONA

 Carlos
Movistar Team
24
20

1:13:22

31
 

CHAMPOUSSIN

 Clément
AG2R La Mondiale
20
20

1:21:20

32
 

ROJAS

 José Joaquín
Movistar Team
20
20

1:22:36

33
 

VALGREN

 Michael
NTT Pro Cycling
20
20

1:29:17

34
 

WOODS

 Michael
EF Pro Cycling
20
20

1:29:26

35
 

GESINK

 Robert
Team Jumbo-Visma
20
20

1:30:31

36
 

PETERS

 Nans
AG2R La Mondiale
20
20

1:30:35

37
 

POWER

 Robert
Team Sunweb
20
20

1:33:58

38
 

GODON

 Dorian
AG2R La Mondiale
20
20

1:42:00

39
 

OLIVEIRA

 Nelson
Movistar Team
20
20

1:42:02

40
 

STORER

 Michael
Team Sunweb
20
20

1:43:56

41
 

ARENSMAN

 Thymen
Team Sunweb
16
20

1:49:10

42
 

LÓPEZ

 Juan Pedro
Trek – Segafredo
16
20

1:51:00

43
 

MADRAZO

 Ángel
Burgos-BH
16
20

1:54:24

44
 

COSTA

 Rui
UAE-Team Emirates
16
20

1:54:48

45
 

SICARD

 Romain
Team Total Direct Energie
16
20

1:55:44

46
 

VINGEGAARD

 Jonas
Team Jumbo-Visma
16
20

1:57:00

47
 

ERVITI

 Imanol
Movistar Team
16
20

1:57:22

48
 

DONOVAN

 Mark
Team Sunweb
16
20

1:58:52

49
 

VAN BAARLE

 Dylan
INEOS Grenadiers
16
20

1:59:36

50
 

AMEZQUETA

 Julen
Caja Rural – Seguros RGA
16
20

1:59:58

51
 

HOFSTEDE

 Lennard
Team Jumbo-Visma
12
20

1:59:59

52
 

AMADOR

 Andrey
INEOS Grenadiers
12
20

2:10:34

53
 

BUITRAGO

 Santiago
Bahrain – McLaren
12
20

2:14:34

54
 

GRMAY

 Tsgabu
Mitchelton-Scott
12
20

2:15:16

55
 

SÜTTERLIN

 Jasha
Team Sunweb
12
20

2:16:38

56
 

HIRT

 Jan
CCC Team
8
20

2:20:00

57
 

SERRANO

 Gonzalo
Caja Rural – Seguros RGA
8
20

2:20:05

58
 

KUDUS

 Merhawi
Astana Pro Team
8
20

2:20:11

59
 

EG

 Niklas
Trek – Segafredo
8
20

2:24:36

60
 

RIES

 Michel
Trek – Segafredo
8
20

2:25:50

61
 

LASTRA

 Jonathan
Caja Rural – Seguros RGA
20

2:29:21

62
 

SOSA

 Iván Ramiro
INEOS Grenadiers
20

2:30:01

63
 

CABEDO

 Óscar
Burgos-BH
20

2:30:26

64
 

FRAILE

 Omar
Astana Pro Team
20

2:33:31

65
 

SIMON

 Julien
Team Total Direct Energie
20

2:35:29

66
 

ROUX

 Anthony
Groupama – FDJ
20

2:36:06

67
 

CORT

 Magnus
EF Pro Cycling
20

2:38:21

68
 

LE GAC

 Olivier
Groupama – FDJ
20

2:41:22

69
 

SCHELLING

 Ide
BORA – hansgrohe
20

2:46:53

70
 

DEWULF

 Stan
Lotto Soudal
20

2:48:18

71
 

GARCÍA

 Jhojan
Caja Rural – Seguros RGA
20

2:48:52

72
 

HOLLENSTEIN

 Reto
Israel Start-Up Nation
20

2:51:56

73
 

SMIT

 Willie
Burgos-BH
20

2:52:11

74
 

SMITH

 Dion
Mitchelton-Scott
20

2:54:19

75
 

ARANBURU

 Alex
Astana Pro Team
20

2:54:43

76
 

STANNARD

 Robert
Mitchelton-Scott
20

2:56:02

77
 

ARCAS

 Jorge
Movistar Team
20

2:58:22

78
 

WELLENS

 Tim
Lotto Soudal
20

3:05:52

79
 

OURSELIN

 Paul
Team Total Direct Energie
20

3:06:13

80
 

BOL

 Jetse
Burgos-BH
20

3:13:59

81
 

LAFAY

 Victor
Cofidis, Solutions Crédits
20

3:18:11

82
 

DE KORT

 Koen
Trek – Segafredo
20

3:18:29

83
 

STEIMLE

 Jannik
Deceuninck – Quick Step
20

3:18:31

84
 

CAVAGNA

 Rémi
Deceuninck – Quick Step
20

3:18:33

85
 

PHILIPSEN

 Jasper
UAE-Team Emirates
20

3:21:10

86
 

HIVERT

 Jonathan
Team Total Direct Energie
20

3:22:59

87
 

FERRON

 Valentin
Team Total Direct Energie
20

3:24:10

88
 

SCOTSON

 Callum
Mitchelton-Scott
20

3:24:18

89
 

EZQUERRA

 Jesús
Burgos-BH
20

3:25:04

90
 

RIABUSHENKO

 Alexandr
UAE-Team Emirates
20

3:26:12

91
 

WRIGHT

 Alfred
Bahrain – McLaren
20

3:27:20

92
 

BAGÜES

 Aritz
Caja Rural – Seguros RGA
20

3:29:48

93
 

GRUZDEV

 Dmitriy
Astana Pro Team
20

3:30:29

94
 

DE BOD

 Stefan
NTT Pro Cycling
20

3:30:39

95
 

WURF

 Cameron
INEOS Grenadiers
20

3:31:14

96
 

VAN DER SANDE

 Tosh
Lotto Soudal
20

3:31:47

97
 

PÉRICHON

 Pierre-Luc
Cofidis, Solutions Crédits
20

3:32:01

98
 

FROOME

 Chris
INEOS Grenadiers
20

3:32:14

99
 

VILELA

 Ricardo
Burgos-BH
20

3:32:34

100
 

VAN MOER

 Brent
Lotto Soudal
20

3:33:40

101
 

OLIVEIRA

 Ivo
UAE-Team Emirates
20

3:38:14

102
 

ŠTYBAR

 Zdeněk
Deceuninck – Quick Step
20

3:43:45

103
 

JANSE VAN RENSBURG

 Reinardt
NTT Pro Cycling
20

3:43:49

104
 

MERTZ

 Rémy
Lotto Soudal
20

3:44:39

105
 

OWEN

 Logan
EF Pro Cycling
20

3:45:14

106
 

GOLDSTEIN

 Omer
Israel Start-Up Nation
20

3:45:59

107
 

BARBERO

 Carlos
NTT Pro Cycling
20

3:46:30

108
 

MARCZYŃSKI

 Tomasz
Lotto Soudal
20

3:48:30

109
 

MARTENS

 Paul
Team Jumbo-Visma
20

3:48:59

110
 

BADILATTI

 Matteo
Israel Start-Up Nation
20

3:49:49

111
 

DAVIES

 Scott
Bahrain – McLaren
20

3:52:18

112
 

KANTER

 Max
Team Sunweb
20

3:53:44

113
 

VAN GARDEREN

 Tejay
EF Pro Cycling
20

3:56:19

114
 

OSORIO

 Juan Felipe
Burgos-BH
20

3:56:27

115
 

WIŚNIOWSKI

 Łukasz
CCC Team
20

3:57:14

116
 

CEPEDA

 Jefferson Alveiro
Caja Rural – Seguros RGA
20

3:57:46

117
 

ABERASTURI

 Jon
Caja Rural – Seguros RGA
20

3:59:53

118
 

PALUTA

 Michał
CCC Team
20

4:02:49

119
 

OLIVEIRA

 Rui
UAE-Team Emirates
20

4:03:39

120
 

GASPAROTTO

 Enrico
NTT Pro Cycling
20

4:05:45

121
 

MØRKØV

 Michael
Deceuninck – Quick Step
20

4:06:02

122
 

SCHWARZMANN

 Michael
BORA – hansgrohe
20

4:06:11

123
 

SCHILLINGER

 Andreas
BORA – hansgrohe
20

4:06:15

124
 

LIEPIŅŠ

 Emīls
Trek – Segafredo
20

4:07:22

125
 

PICCOLI

 James
Israel Start-Up Nation
20

4:08:40

126
 

VAN DEN BERG

 Julius
EF Pro Cycling
20

4:09:53

127
 

GARRISON

 Ian
Deceuninck – Quick Step
20

4:10:26

128
 

MOLENAAR

 Alex
Burgos-BH
20

4:12:35

129
 

SUTHERLAND

 Rory
Israel Start-Up Nation
20

4:14:17

130
 

DYBALL

 Benjamin
NTT Pro Cycling
20

4:16:20

131
 

ACKERMANN

 Pascal
BORA – hansgrohe
20

4:16:49

132
 

DOCKER

 Mitchell
EF Pro Cycling
20

4:17:56

133
 

MANZIN

 Lorrenzo
Team Total Direct Energie
20

4:19:58

134
 

MORIN

 Emmanuel
Cofidis, Solutions Crédits
20

4:20:39

135
 

EDMONDSON

 Alex
Mitchelton-Scott
20

4:23:51

136
 

TERPSTRA

 Niki
Team Total Direct Energie
20

4:36:59

137
 

BENNETT

 Sam
Deceuninck – Quick Step
20

4:39:06

138
 

INKELAAR

 Kevin
Bahrain – McLaren
20

4:39:48

139
 

RÄIM

 Mihkel
Israel Start-Up Nation
20

4:46:31

140
 

LAAS

 Martin
BORA – hansgrohe
20

4:55:40

141
 

SELIG

 Rüdiger
BORA – hansgrohe
20

5:00:37

142
 

DELAGE

 Mickaël
Groupama – FDJ
20

5:04:17