Australijka Chloe Hosking (Trek-Segafredo Women) wygrała czwarty etap wyścigu Ladies Tour of Norway. Triumf w klasyfikacji generalnej norweskiej imprezy przypieczętowała Annemiek van Vleuten (Movistar Team).
Czwarty, a zarazem ostatni odcinek wyścigu "dookoła Norwegii" liczył sobie 142-kilometry. Na trasie z Drøbak do Halden, w środkowej fazie rywalizacji znalazły się dwa krótkie, kategoryzowane podjazdy. Dalsza część etapu była w większości płaska, a na rundach w Halden znalazło się, także niewielkie wzniesienie.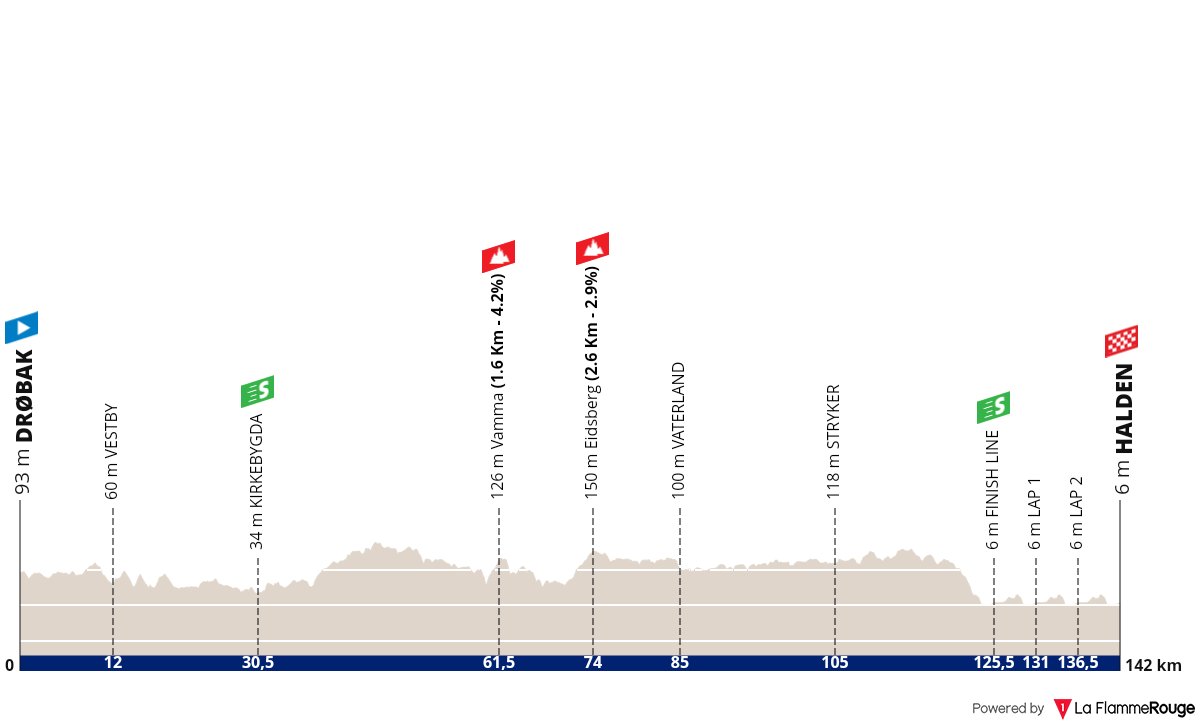 Po starcie ostrym ucieczkę dnia stworzyły: Rossella Ratto (Bingoal Casino – Chevalmeire Cycling Team) i Julie Van de Velde (Jumbo-Visma Women). 95-kilometrów przed finiszem dwie wspomniane zawodniczki miały już ponad sześć minut przewagi nad peletonem. Z biegiem rywalizacji różnica między grupą zasadniczą, a Włoszką i Belgijką zaczęła się zmniejszać. 56-kilometrów przed ostatecznymi rozstrzygnięciami było to już tylko trzy i pół minuty.
30-kilometrów przed metą Rossella Ratto znacznie osłabła i Julie Van de Velde zdecydowała się samotnie pomknąć w stronę mety. Zawodniczka zespołu Jumbo-Visma Women w tamtym momencie rywalizacji miała nieco ponad minutę przewagi nad grupą zasadniczą prowadzoną przez ekipy zainteresowane masowym sprintem z peletonu. Ostatecznie, także kolarka rodem z Belgii została doścignięta przez peleton, a miało to miejsce 21-kilometrów przed końcowym finiszem.
Zgodnie z przewidywaniami o losach zwycięstwa etapowego zadecydował masowy sprint. Najlepszym finiszem na końcowych metrach popisała się Australijka Chloe Hosking (Trek-Segafredo). Na drugiej lokacie uplasowała się Amerykanka Coryn Rivera (Team DSM). Natomiast na trzecim miejscu czwarty etap zakończyła Włoszka Chiara Consonni (Valcar – Travel & Service). Dotychczasowa liderka klasyfikacji generalnej Annemiek van Vleuten (Movistar Team) zakończyła dzisiejszą rywalizację na siedemnastym miejscu z tym samym czasem, co zwyciężczyni. Tym samym Holenderka przypieczętowała swoje zwycięstwo w klasyfikacji generalnej.
0
PROVISIONAL stage result
🥇@chloe_hosking
🥈@CorynRivera
🥉@consonni_chiara #UCIWWT #lton21 pic.twitter.com/5caV0eWotW

— UCI_WWT (@UCI_WWT) August 15, 2021
Wyniki czwartego etapu Ladies Tour of Norway 2021:
1
Chloe Hosking (Aus) Trek-Segafredo
3:36:06
2
Coryn Rivera (USA) Team DSM
3
Chiara Consonni (Ita) Valcar-Travel & Service
4
Christine Majerus (Lux) Team SD Worx
5
Sarah Roy (Aus) Team BikeExchange
6
Elise Chabbey (Swi) Canyon-SRAM Racing
7
Elena Cecchini (Ita) Team SD Worx
8
Alison Jackson (Can) Liv Racing
9
Eugénie Duval (Fra) FDJ Nouvelle-Aquitaine Futuroscope
10
Emilie Moberg (Nor) Drops-le Col Supported by Tempur
11
Juliette Labous (Fra) Team DSM
12
Marlen Reusser (Swi) Ale' BTC Ljubljana
13
Ingvild Gåskjenn (Nor) Team Coop Hitec Products
14
Cecilie Uttrup Ludwig (Den) FDJ Nouvelle-Aquitaine Futuroscope
15
Mie Bjørndal Ottestad (Nor) Norway National Team
16
Annemiek van Vleuten (Ned) Movistar Team Women
17
Ilaria Sanguineti (Ita) Valcar-Travel & Service
18
Ashleigh Moolman-Pasio (RSA) Team SD Worx
19
Femke Markus (Ned) Parkhotel Valkenburg
20
Susanne Andersen (Nor) Team DSM
21
Eleonora Camilla Gasparrini (Ita) Valcar-Travel & Service
22
Nancy van der Berg (Ned) Jumbo-Visma Women Team
23
Alice Maria Arzuffi (Ita) Valcar-Travel & Service
24
Anouska Koster (Ned) Jumbo-Visma Women Team
25
Annemarie Worst (Ned) Plantur-Pura
26
Anne Dorthe Ysland (Nor) Team Coop Hitec Products
27
Birgitte Andersen Nilssen (Nor) Norway National Team
28
Silvia Persico (Ita) Valcar-Travel & Service
29
Wilma Olausson (Swe) Team DSM
30
Brodie Chapman (Aus) FDJ Nouvelle-Aquitaine Futuroscope
31
Amalie Lutro (Nor) Team Coop Hitec Products
32
Sofia Bertizzolo (Ita) Liv Racing
33
Tatiana Guderzo (Ita) Ale' BTC Ljubljana
34
Stine Borgli (Nor) FDJ Nouvelle-Aquitaine Futuroscope
35
Vita Heine (Nor) Norway National Team
36
Liane Lippert (Ger) Team DSM
37
Yara Kastelijn (Ned) Plantur-Pura
38
Leah Thomas (USA) Movistar Team Women
39
Anna Shackley (GBr) Team SD Worx
40
Hannah Barnes (GBr) Canyon-SRAM Racing
41
Lucinda Brand (Ned) Trek-Segafredo
42
Kristen Faulkner (USA) Team Tibco-Silicon Valley Bank
43
Alice Barnes (GBr) Canyon-SRAM Racing
44
Riejanne Markus (Ned) Jumbo-Visma Women Team
45
Rachel Neylan (Aus) Parkhotel Valkenburg
46
Mikayla Harvey (NZl) Canyon-SRAM Racing
47
Janneke Ensing (Ned) Team BikeExchange
0:00:16
48
Mischa Bredewold (Ned) Parkhotel Valkenburg
49
Ella Harris (NZl) Canyon-SRAM Racing
50
Roxane Fournier (Fra) Team SD Worx
51
Floortje Mackaij (Ned) Team DSM
52
Joscelin Lowden (GBr) Drops-le Col Supported by Tempur
53
Niamh Fisher-Black (NZl) Team SD Worx
54
Natalie van Gogh (Ned) Bingoal Casino-Chevalmeire
55
Amber Kraak (Ned) Jumbo-Visma Women Team
56
Aude Biannic (Fra) Movistar Team Women
57
Nina Kessler (Ned) Team Tibco-Silicon Valley Bank
0:00:22
58
Nina Buijsman (Ned) Parkhotel Valkenburg
59
Shirin van Anrooij (Ned) Trek-Segafredo
0:00:25
60
Sara Penton (Swe) Drops-le Col Supported by Tempur
0:00:59
61
Sheyla Gutierrez Ruiz (Spa) Movistar Team Women
62
Mari Hole Mohr (Nor) Team Coop Hitec Products
0:01:40
63
Tiril Jørgensen (Nor) Norway National Team
64
Tanja Erath (Ger) Team Tibco-Silicon Valley Bank
65
Inge van der Heijden (Ned) Plantur-Pura
66
Magdalene Lind (Nor) Norway National Team
67
Justine Ghekiere (Bel) Bingoal Casino-Chevalmeire
68
Caroline Andersson (Swe) Team Coop Hitec Products
69
Sanne Cant (Bel) Plantur-Pura
70
Elise Marie Olsen (Nor) Drops-le Col Supported by Tempur
0:01:43
71
Manon Bakker (Ned) Plantur-Pura
72
Ingrid Lorvik (Nor) Norway National Team
73
Evy Kuijpers (Ned) Liv Racing
74
Mavi Garcia (Spa) Ale' BTC Ljubljana
75
Urska Pintar (Slo) Ale' BTC Ljubljana
76
Sabrina Stultiens (Ned) Liv Racing
77
Audrey Cordon Ragot (Fra) Trek-Segafredo
78
Trixi Worrack (Ger) Trek-Segafredo
79
Barbara Guarischi (Ita) Movistar Team Women
80
Gloria Rodriguez Sanchez (Spa) Movistar Team Women
81
Eugenia Bujak (Slo) Ale' BTC Ljubljana
0:02:22
82
Femke Gerritse (Ned) Parkhotel Valkenburg
0:02:44
83
Jessica Allen (Aus) Team BikeExchange
0:04:05
84
Eri Yonamine (Jpn) Team Tibco-Silicon Valley Bank
85
Sophie Wright (GBr) Ale' BTC Ljubljana
0:04:20
86
Pien Limpens (Ned) Parkhotel Valkenburg
87
Rossella Ratto (Ita) Bingoal Casino-Chevalmeire
88
Elynor Backstedt (GBr) Trek-Segafredo
89
Silvia Pollicini (Ita) Valcar-Travel & Service
90
Ann Helen Olsen (Nor) Team Coop Hitec Products
91
Lucy Kennedy (Aus) Team BikeExchange
92
Anna Christian (GBr) Drops-le Col Supported by Tempur
93
Julie Van De Velde (Bel) Jumbo-Visma Women Team
94
Urska Zigart (Slo) Team BikeExchange
95
Julie De Wilde (Bel) Plantur-Pura
0:07:24
DNF
Alexis Ryan (USA) Canyon-SRAM Racing
DNF
Diana Carolina Peñuela Martinez (Col) Team Tibco-Silicon Valley Bank
DNS
Rotem Gafinovitz (Isr) Bingoal Casino-Chevalmeire
Klasyfikacja generalna:
| | | |
| --- | --- | --- |
| 1 | Annemiek van Vleuten (Ned) Movistar Team Women | 14:46:31 |
| 2 | Ashleigh Moolman-Pasio (RSA) Team SD Worx | 0:00:39 |
| 3 | Kristen Faulkner (USA) Team Tibco-Silicon Valley Bank | 0:00:50 |
| 4 | Marlen Reusser (Swi) Ale' BTC Ljubljana | 0:00:54 |
| 5 | Cecilie Uttrup Ludwig (Den) FDJ Nouvelle-Aquitaine Futuroscope | 0:00:58 |
| 6 | Rachel Neylan (Aus) Parkhotel Valkenburg | 0:01:00 |
| 7 | Riejanne Markus (Ned) Jumbo-Visma Women Team | 0:01:13 |
| 8 | Juliette Labous (Fra) Team DSM | 0:01:22 |
| 9 | Lucinda Brand (Ned) Trek-Segafredo | |
| 10 | Yara Kastelijn (Ned) Plantur-Pura | 0:01:24 |
| 11 | Elise Chabbey (Swi) Canyon-SRAM Racing | 0:01:25 |
| 12 | Niamh Fisher-Black (NZl) Team SD Worx | 0:01:27 |
| 13 | Anna Shackley (GBr) Team SD Worx | 0:01:40 |
| 14 | Tatiana Guderzo (Ita) Ale' BTC Ljubljana | |
| 15 | Mikayla Harvey (NZl) Canyon-SRAM Racing | 0:01:49 |
| 16 | Alice Maria Arzuffi (Ita) Valcar-Travel & Service | 0:01:51 |
| 17 | Joscelin Lowden (GBr) Drops-le Col Supported by Tempur | 0:01:56 |
| 18 | Janneke Ensing (Ned) Team BikeExchange | |
| 19 | Mavi Garcia (Spa) Ale' BTC Ljubljana | 0:02:30 |
| 20 | Ella Harris (NZl) Canyon-SRAM Racing | 0:02:53 |
| 21 | Leah Thomas (USA) Movistar Team Women | 0:03:09 |
| 22 | Ingvild Gåskjenn (Nor) Team Coop Hitec Products | 0:03:18 |
| 23 | Shirin van Anrooij (Ned) Trek-Segafredo | 0:03:23 |
| 24 | Floortje Mackaij (Ned) Team DSM | 0:03:34 |
| 25 | Mischa Bredewold (Ned) Parkhotel Valkenburg | |
| 26 | Urska Pintar (Slo) Ale' BTC Ljubljana | 0:04:06 |
| 27 | Anouska Koster (Ned) Jumbo-Visma Women Team | 0:04:21 |
| 28 | Vita Heine (Nor) Norway National Team | |
| 29 | Eleonora Camilla Gasparrini (Ita) Valcar-Travel & Service | 0:05:03 |
| 30 | Anne Dorthe Ysland (Nor) Team Coop Hitec Products | 0:05:15 |
| 31 | Liane Lippert (Ger) Team DSM | 0:05:23 |
| 32 | Annemarie Worst (Ned) Plantur-Pura | 0:06:26 |
| 33 | Sabrina Stultiens (Ned) Liv Racing | 0:06:30 |
| 34 | Eugénie Duval (Fra) FDJ Nouvelle-Aquitaine Futuroscope | 0:06:43 |
| 35 | Mie Bjørndal Ottestad (Nor) Norway National Team | |
| 36 | Nancy van der Berg (Ned) Jumbo-Visma Women Team | |
| 37 | Hannah Barnes (GBr) Canyon-SRAM Racing | 0:06:46 |
| 38 | Sanne Cant (Bel) Plantur-Pura | 0:06:55 |
| 39 | Lucy Kennedy (Aus) Team BikeExchange | 0:07:02 |
| 40 | Christine Majerus (Lux) Team SD Worx | 0:07:52 |
| 41 | Coryn Rivera (USA) Team DSM | 0:08:15 |
| 42 | Amber Kraak (Ned) Jumbo-Visma Women Team | 0:08:17 |
| 43 | Eugenia Bujak (Slo) Ale' BTC Ljubljana | 0:09:08 |
| 44 | Urska Zigart (Slo) Team BikeExchange | 0:09:34 |
| 45 | Wilma Olausson (Swe) Team DSM | 0:10:03 |
| 46 | Sarah Roy (Aus) Team BikeExchange | 0:10:08 |
| 47 | Stine Borgli (Nor) FDJ Nouvelle-Aquitaine Futuroscope | |
| 48 | Brodie Chapman (Aus) FDJ Nouvelle-Aquitaine Futuroscope | |
| 49 | Susanne Andersen (Nor) Team DSM | 0:10:36 |
| 50 | Silvia Persico (Ita) Valcar-Travel & Service | 0:10:56 |
| 51 | Ingrid Lorvik (Nor) Norway National Team | 0:11:09 |
| 52 | Femke Markus (Ned) Parkhotel Valkenburg | 0:11:12 |
| 53 | Nina Buijsman (Ned) Parkhotel Valkenburg | 0:11:14 |
| 54 | Inge van der Heijden (Ned) Plantur-Pura | 0:11:50 |
| 55 | Ilaria Sanguineti (Ita) Valcar-Travel & Service | 0:11:57 |
| 56 | Roxane Fournier (Fra) Team SD Worx | 0:12:07 |
| 57 | Femke Gerritse (Ned) Parkhotel Valkenburg | 0:12:35 |
| 58 | Amalie Lutro (Nor) Team Coop Hitec Products | 0:14:22 |
| 59 | Julie De Wilde (Bel) Plantur-Pura | 0:14:48 |
| 60 | Tiril Jørgensen (Nor) Norway National Team | 0:14:58 |
| 61 | Alison Jackson (Can) Liv Racing | 0:15:39 |
| 62 | Sofia Bertizzolo (Ita) Liv Racing | 0:15:50 |
| 63 | Birgitte Andersen Nilssen (Nor) Norway National Team | 0:16:26 |
| 64 | Julie Van De Velde (Bel) Jumbo-Visma Women Team | 0:16:46 |
| 65 | Elena Cecchini (Ita) Team SD Worx | 0:16:52 |
| 66 | Alice Barnes (GBr) Canyon-SRAM Racing | 0:16:57 |
| 67 | Chiara Consonni (Ita) Valcar-Travel & Service | 0:17:07 |
| 68 | Emilie Moberg (Nor) Drops-le Col Supported by Tempur | 0:17:11 |
| 69 | Sheyla Gutierrez Ruiz (Spa) Movistar Team Women | 0:17:22 |
| 70 | Barbara Guarischi (Ita) Movistar Team Women | 0:18:13 |
| 71 | Eri Yonamine (Jpn) Team Tibco-Silicon Valley Bank | 0:18:21 |
| 72 | Chloe Hosking (Aus) Trek-Segafredo | 0:18:59 |
| 73 | Justine Ghekiere (Bel) Bingoal Casino-Chevalmeire | 0:21:21 |
| 74 | Sophie Wright (GBr) Ale' BTC Ljubljana | 0:21:30 |
| 75 | Aude Biannic (Fra) Movistar Team Women | 0:21:38 |
| 76 | Mari Hole Mohr (Nor) Team Coop Hitec Products | 0:21:49 |
| 77 | Magdalene Lind (Nor) Norway National Team | 0:21:52 |
| 78 | Audrey Cordon Ragot (Fra) Trek-Segafredo | 0:21:58 |
| 79 | Pien Limpens (Ned) Parkhotel Valkenburg | 0:22:01 |
| 80 | Rossella Ratto (Ita) Bingoal Casino-Chevalmeire | 0:22:21 |
| 81 | Caroline Andersson (Swe) Team Coop Hitec Products | 0:23:13 |
| 82 | Jessica Allen (Aus) Team BikeExchange | 0:24:10 |
| 83 | Tanja Erath (Ger) Team Tibco-Silicon Valley Bank | 0:25:09 |
| 84 | Natalie van Gogh (Ned) Bingoal Casino-Chevalmeire | 0:25:52 |
| 85 | Elise Marie Olsen (Nor) Drops-le Col Supported by Tempur | 0:26:36 |
| 86 | Nina Kessler (Ned) Team Tibco-Silicon Valley Bank | 0:27:41 |
| 87 | Trixi Worrack (Ger) Trek-Segafredo | 0:27:44 |
| 88 | Gloria Rodriguez Sanchez (Spa) Movistar Team Women | 0:28:19 |
| 89 | Sara Penton (Swe) Drops-le Col Supported by Tempur | 0:28:27 |
| 90 | Manon Bakker (Ned) Plantur-Pura | 0:29:27 |
| 91 | Evy Kuijpers (Ned) Liv Racing | |
| 92 | Silvia Pollicini (Ita) Valcar-Travel & Service | 0:30:12 |
| 93 | Anna Christian (GBr) Drops-le Col Supported by Tempur | 0:30:24 |
| 94 | Ann Helen Olsen (Nor) Team Coop Hitec Products | 0:32:16 |
| 95 | Elynor Backstedt (GBr) Trek-Segafredo | 0:35:15 |