Lorena Wiebes wygrała Dwars door de Westhoek. Aktywnie jechała jedyna Polka na trasie – Anna Plichta.
Trasa dzisiejszego klasyku rozpoczynała się i kończyła się w belgijskim Boezinge. W pierwszej części trasy znalazło się kilka krótkich podjazdów – najdłuższym z nich był Rodenberg (1 km; 4%), który kolarki miały przejeżdżać cztery razy. Druga część, po powrocie do położonej nieopodal Ypres miejscowości i wjeździe na 12-kilometrowe rundy prowadziła po dość łatwej, płaskiej trasie. Wszystko wskazywało więc na to, że o zwycięstwie w wyścigu, w którym jechała m.in. Anna Plichta (Lotto Soudal) powinien zadecydować sprint z dużej grupy.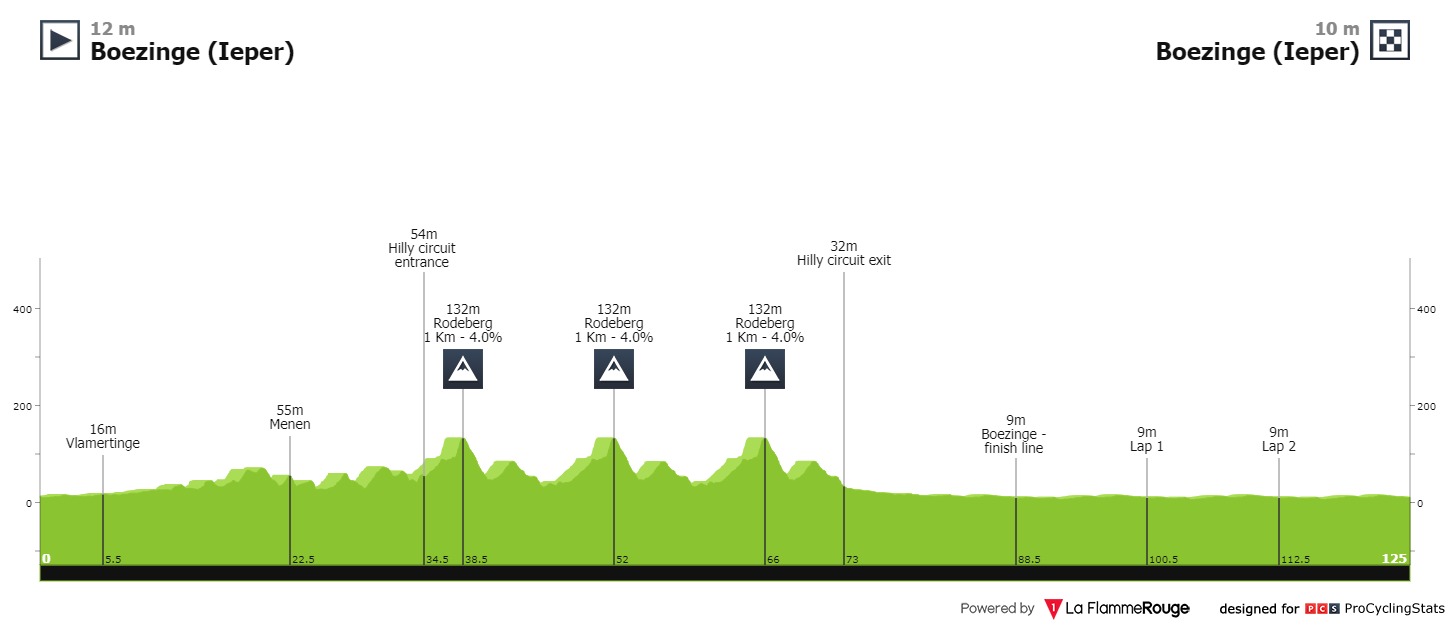 Początek wyścigu przeniósł, jak zwykle, spore zamieszanie. Oznaczało to nie tylko emocje dla śledzących zmagania kibiców, ale także kilka kraks. Niestety w jednej z nich ucierpiała Plichta, co bardzo utrudniło jej znalezienie się w ucieczce dnia, która wyklarowała się niedługo później. W jej składzie znalazły się:  Christine Majerus (Team SD Worx), Jelena Eric (Movistar Team Women), Nicole Steinenga (Doltcini-Van Eyck Sport-Proximus), Léa Curinier (Team Arkéa), Annemarie Worst (Plantur-Pura Cycling Team) oraz Karlijn Swinkels (Jumbo-Visma Women Team).
Polka nie zamierzała jednak składać broni i po kilkunastu kilometrach zdecydowała się na kontratak. Niestety nie udało jej się dojść do czołówki i kilka minut później była już z powrotem w peletonie. Odjazd jechał więc dalej w niezmienionym składzie i choć przez większość czasu jego przewaga była stosunkowo niewielka, to długo utrzymywał się przed peletonem.
Główna grupa dogoniła go dopiero na pięć kilometrów przed metą. Oczy wszystkich zwróciły się więc na najszybsze zawodniczki. Najlepszą z nich okazała się Lorena Wiebes, która na mecie pokonała kolejno Jolien D'hoore i Barbarę Guarischi.
Wyniki:
1 WIEBES Lorena Team DSM 2:49:32
2 D'HOORE Jolien SD Worx  ,,
3 GUARISCHI Barbara Movistar Team  ,,
4 FIDANZA Arianna Team BikeExchange  ,,
5 VAN DEN BOS Jip Team Jumbo-Visma Women  ,,
6 PIETERS Amy SD Worx  0:02
7 BALSAMO Elisa Valcar – Travel & Service  ,,
8 JOUNIER Lucie Team Arkéa ,,
9 DEMEY Valerie Belgium  ,,
10 KASPER Romy Team Jumbo-Visma Women  ,,
11 MARKUS Femke Parkhotel Valkenburg  ,,
12 ALESSIO Camilla Bepink  ,,
13 SCHWEINBERGER Kathrin Doltcini – Van Eyck Sport  ,,
14 CANT Sanne Plantur-Pura  ,,
15 PRUISSCHER Arianna S Bikes Doltcini  ,,
16 VAN DER HULST Amber Parkhotel Valkenburg  ,,
17 VERHULST Gladys Team Arkéa  ,,
18 BERTEAU Victoire Doltcini – Van Eyck Sport  ,,
19 GASKJENN Ingvild Team Coop – Hitec Products  ,,
20 VAN HAAFTEN Kirstie Parkhotel Valkenburg  ,,
21 GEORGI Pfeiffer Team DSM ,,
22 VANDENBULCKE Jesse Lotto Soudal Ladies ,,
23 ZANARDI Silvia Bepink ,,
24 SMULDERS Silke Lotto Soudal Ladies  ,,
25 SOLOVEI Ganna Lviv Cycling Team women  ,,
26 CASTRIQUE Alana Lotto Soudal Ladies ,,
27 CONSONNI Chiara Valcar – Travel & Service ,,
28 ANDERSEN Susanne Team DSM ,,
29 DE ROECK Naomi Lviv Cycling Team women ,,
30 NELSON Josie Isorex No-Aqua Ladies Cycling Team ,,
31 VAN HOUTUM Céline Multum Accountants Ladies Cycling Team ,,
32 SZABÓ Zsófia Andy Schleck – CP NVST – Immo Losch ,,
33 VAN DEN STEEN Kelly Bingoal Casino – Chevalmeire Cycling Team ,,
34 BOSSUYT Shari Belgium ,,
35 BAKKER Manon Plantur-Pura ,,
36 KOCH Franziska Team DSM ,,
37 DOCX Mieke Doltcini – Van Eyck Sport ,,
38 VAN EYNDE Fien Doltcini – Van Eyck Sport ,,
39 DELBAERE Fien Multum Accountants Ladies Cycling Team ,,
40 WATERREUS Kylie Multum Accountants Ladies Cycling Team ,,
41 MCMULLEN Rylee Andy Schleck – CP NVST – Immo Losch ,,
42 FOUQUENET Amandine Team Arkéa ,,
43 NOOIJEN Lieke Parkhotel Valkenburg ,,
44 SCHIFF Carolin Andy Schleck – CP NVST – Immo Losch ,,
45 LE DEUNFF Marie-Morgane Team Arkéa ,,
46 BRAAM Danique Lotto Soudal Ladies ,,
47 VAN DER HEIJDEN Inge Plantur-Pura 0:13
48 MACKAIJ Floortje Team DSM ,,
49 DE WILDE Julie Plantur-Pura 0:14
50 MAJERUS Christine SD Worx ,,
51 BREDEWOLD Mischa Parkhotel Valkenburg ,,
52 SANGUINETI Ilaria Valcar – Travel & Service ,,
53 ANDERSSON Caroline Team Coop – Hitec Products ,,
54 PLICHTA Anna Lotto Soudal Ladies ,,
55 MAGRI Silvia Valcar – Travel & Service ,,
56 BETZ Svenja Team Rupelcleaning ,,
57 NAHIRNA Anna Lviv Cycling Team women ,,
58 MERTENS Fiona Bingoal-WB Ladies ,,
59 TRUYEN Marthe Plantur-Pura ,,
60 LANSSENS Lien Bingoal-WB Ladies ,,
61 WISEMAN Eleanor Bingoal-WB Ladies ,,
62 GONZÁLEZ Alicia Movistar Team ,,
63 VAN ALPHEN Aniek Plantur-Pura ,,
64 SCHWEINBERGER Christina Doltcini – Van Eyck Sport ,,
65 CURINIER Lea Team Arkéa ,,
66 POLLICINI Silvia Valcar – Travel & Service ,,
67 VAN DEN BROEK-BLAAK Chantal SD Worx ,,
68 BECKER Charlotte Team Arkéa ,,
69 DE SMEDT Marijke Multum Accountants Ladies Cycling Team ,,
70 UNEKEN Lonneke SD Worx ,,
71 CAMPBELL Teniel Team BikeExchange ,,
72 ALLIN Pauline Team Arkéa ,,
73 MAYRHOFER Lucy Team Rupelcleaning ,,
74 TENNIGLO Moniek Team BikeExchange ,,
75 VAN DE VEL Sara Team Rupelcleaning ,,
76 NIGHTINGALE Stella Andy Schleck – CP NVST – Immo Losch ,,
77 SCHOKKAERT Febe S Bikes Doltcini 0:21
78 HOLMSGAARD Trine Isorex No-Aqua Ladies Cycling Team ,,
79 VAN ROOIJEN Sofie Parkhotel Valkenburg ,,
80 STEIGENGA Nicole Doltcini – Van Eyck Sport 0:24
81 TERUEL Alba Movistar Team ,,
82 PEPERKAMP Esmée Team DSM ,,
83 SOEK Julia Team DSM ,,
84 DRUMMOND Michaela Bepink ,,
85 SWINKELS Karlijn Team Jumbo-Visma Women ,,
86 WORST Annemarie Plantur-Pura ,,
87 ENEVER Sophie Lviv Cycling Team women 0:29
88 BIANNIC Aude Movistar Team 0:30
89 VAN DER WOLF Rosalie Multum Accountants Ladies Cycling Team ,,
90 OYARBIDE Lourdes Movistar Team 0:33
91 ERIĆ Jelena Movistar Team 3:01
92 VALSECCHI Silvia Bepink 3:11
DNF LÓPEZ Marga Lviv Cycling Team women –
DNF VROMANNE Justine Bingoal-WB Ladies –
DNF LESCRAUWAET Justine Keukens Redant Cycling Team –
DNF RIFFEL Christa Team Coop – Hitec Products –
DNF NORBERT RIBEROLLE Marion Team Rupelcleaning –
DNF HERMANS Anka Hoop Op Zegen Beveren –
DNF GEOGHEGAN Michelle Isorex No-Aqua Ladies Cycling Team –
DNF CHRISTIE Henrietta Bepink –
DNF JONGERIUS Claudia Bingoal Casino – Chevalmeire Cycling Team –
DNF DE CLERCQ Katrijn Belgium –
DNF KNAEPS Kim De Sprinters Malderen –
DNF VANDENBROUCKE Saartje S Bikes Doltcini –
DNF PERSICO Silvia Valcar – Travel & Service –
DNF MÜLLENBERG Lisa Andy Schleck – CP NVST – Immo Losch –
DNF ZAVA Allison Bingoal-WB Ladies –
DNF DHONT Glacia Keukens Redant Cycling Team –
DNF FELDMANN Pernille Team Coop – Hitec Products –
DNF GRÖNDAHL Antonia Team Rupelcleaning –
DNF APERS Nicky Hoop Op Zegen Beveren –
DNF THEYS Hanna Isorex No-Aqua Ladies Cycling Team –
DNF VITILLO Matilde Bepink –
DNF COMMISSARIS Caren Bingoal Casino – Chevalmeire Cycling Team –
DNF FEYTENS Ellen Belgium –
DNF TEN HARTOG Sarah De Sprinters Malderen –
DNF VAN DIJKE Demi S Bikes Doltcini –
DNF GUAZZINI Vittoria Valcar – Travel & Service –
DNF PARKINSON Abby-Mae Lotto Soudal Ladies –
DNF MARIEN Lynn De Sprinters Malderen –
DNF ROELEN Evy Keukens Redant Cycling Team –
DNF TVEIT Nora Team Coop – Hitec Products –
DNF BECKERS Isabelle Team Rupelcleaning –
DNF ACKE Daphne Hoop Op Zegen Beveren –
DNF COTTER Imogen Keukens Redant Cycling Team –
DNF BOS Leonie Parkhotel Valkenburg –
DNF DRUYTS Kelly Bingoal Casino – Chevalmeire Cycling Team –
DNF VEEN-BACKHUIJS Tessa Hoop Op Zegen Beveren –
DNF BOURGUIGNON Margot Isorex No-Aqua Ladies Cycling Team –
DNF ALLEN Jessica Team BikeExchange –
DNF HENDERSON Anna Team Jumbo-Visma Women –
DNF DEFOUR Lara Multum Accountants Ladies Cycling Team –
DNF ROES Maxime De Sprinters Malderen –
DNF VAN DER GUCHTE Quinty Keukens Redant Cycling Team –
DNF CREAMER Lauren Lviv Cycling Team women –
DNF DEBOCK Julie Bingoal-WB Ladies –
DNF DEBBOUDT Lensy Keukens Redant Cycling Team –
DNF BOOGAARD Emma Team Coop – Hitec Products –
DNF AERNOUTS Amber Doltcini – Van Eyck Sport –
DNF VAN HOOSTE Malou Hoop Op Zegen Beveren –
DNF D' HONDT Silke Isorex No-Aqua Ladies Cycling Team –
DNF ŽIGART Urška Team BikeExchange –
DNF SOET Aafke Team Jumbo-Visma Women –
DNF DE WISPELAERE Fien Multum Accountants Ladies Cycling Team –
DNF BELMANS Fien De Sprinters Malderen –
DNF LIEGEOIS Desiree S Bikes Doltcini –
DNF MACGREGOR Bronwyn Lviv Cycling Team women –
DNF DECALUWE Kelly Bingoal-WB Ladies –
DNF DEBBOUDT Evelien Keukens Redant Cycling Team –
DNF MOHR Mari Hole Team Coop – Hitec Products –
DNF KAY Anna Team Rupelcleaning –
DNF DELANOTE Bonnie Hoop Op Zegen Beveren –
DNF CASSIERS Cato Isorex No-Aqua Ladies Cycling Team –
DNF FOURNIER Roxane SD Worx –
DNF DE JONG Thalita Bingoal Casino – Chevalmeire Cycling Team –
DNF DE BAAT Kim Belgium –
DNF VAN DEN BORN Eva De Sprinters Malderen –
DNF VAINIONPÄÄ Laura S Bikes Doltcini –