Holenderka z grupy CCC-Liv wygrała drugi etap Ladies Tour of Norway. Dzięki temu 32-latka została nową liderką wyścigu.
Dziś zawodniczki miały do przejechania prawie 134 kilometry. Trasa prowadziła z Misen do Askin i była niemal bliźniaczo podobna do tej wczorajszej. Dlatego znów można było spodziewać sprintu z nieco okrojonej grupy.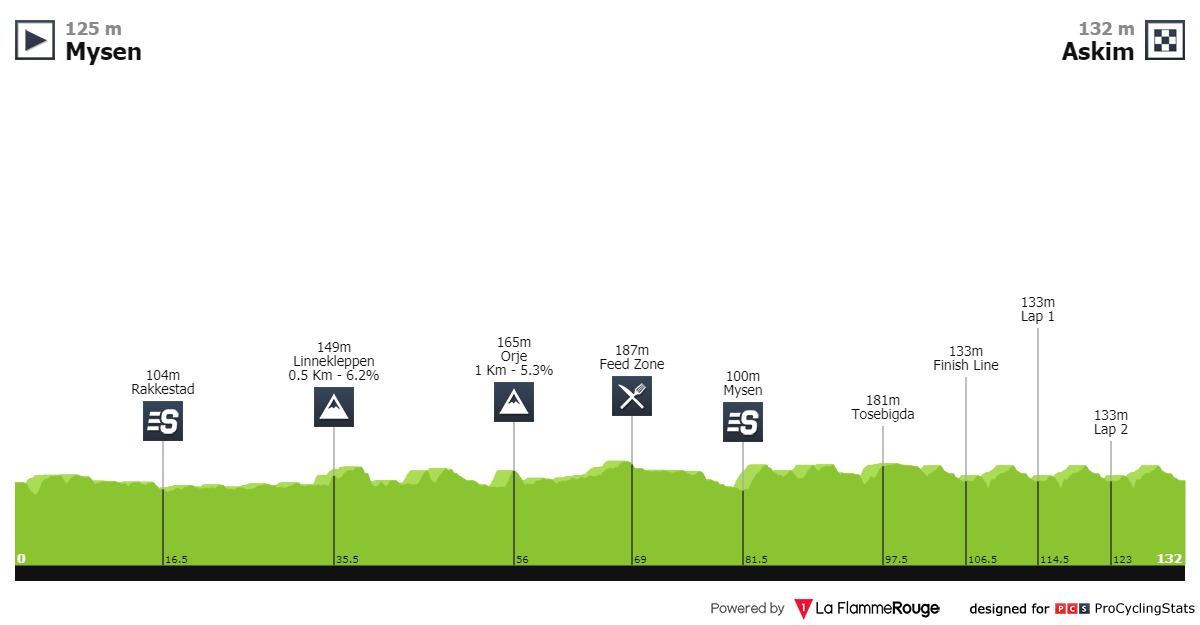 Pierwsza część wyścigu obfitowała w ataki. Jednak były to zazwyczaj akcje pojedynczych kolarek, więc większość z nich trwała kilka, czasem kilkanaście kilometrów. Poważniejszej akcji doczekaliśmy się dopiero na 22 kilometrów przed metą. Jej uczestniczkami były Barbara Guarischi, Ruth Winder, Christine Majerus, Jeanne Korevaar, Floorje Mackaij, Grace Brown, a także nasza Katarzyna Niewiadoma.
Niestety siódemka tym razem nie okazała się szczęśliwa i grupka już po trzech kilometrach została doścignięta przez rozpędzający się peleton. Później mieliśmy kolejne ataki. Najskuteczniejszy okazał się ten Marianne Vos, która zaatakowała 6 kilometrów przed metą i przekroczyła kreskę tuż przed peletonem.
Holenderka odebrała koszulkę Lorenie Wiebes, której również należą się słowa uznania. Dotychczasowa liderka na 15 kilometrów przed metą leżała w kraksie, jednak udało jej się pozbierać i zająć wysokie 7. miejsce. Dwie lokaty za nią uplasowała się Eugenia Bujak. Pozostałe Polki zajęły dalsze lokaty.
Wyniki 2. etapu:
1 Marianne Vos (Ned) CCC – Liv 3:19:33
2 Alice Barnes (GBr) Canyon//SRAM Racing 0:00:00
3 Marta Bastianelli (Ita) Team Virtu Cycling 0:00:00
4 Coryn Rivera (USA) Team Sunweb 0:00:00
5 Letizia Paternoster (Ita) Trek – Segafredo 0:00:00
6 Chloe Hosking (Aus) Alé Cipollini 0:00:00
7 Lorena Wiebes (Ned) Parkhotel Valkenburg 0:00:00
8 Aude Biannic (Fra) Movistar Women's Team 0:00:00
9 Eugenia Bujak (Slo) BTC City Ljubljana 0:00:00
10 Ilaria Sanguineti (Ita) Valcar Cylance Cycling 0:00:00
11 Amalie Dideriksen (Den) Boels Dolmans Cycling Team 0:00:00
12 Floortje Mackaij (Ned) Team Sunweb 0:00:00
13 Romy Kasper (GER) Alé Cipollini 0:00:00
14 Severine Eraud (Fra) Doltcini – Van Eyck Sport 0:00:00
15 Leah Kirchmann (Can) Team Sunweb 0:00:00
16 Moniek Tenniglo (Ned) Mitchelton – Scott 0:00:00
17 Abby-Mae Parkinson (GBr) Drops 0:00:00
18 Eugénie Duval (Fra) FDJ – Nouvelle-Aquitaine – Futuroscope 0:00:00
19 Sheyla Gutierrez Ruiz (Esp) Movistar Women's Team 0:00:00
20 Jeanne Korevaar (Ned) CCC – Liv 0:00:00
21 Juliette Labous (Fra) Team Sunweb 0:00:00
22 Christine Majerus (Lux) Boels Dolmans Cycling Team 0:00:00
23 Susanne Andersen (Nor) Team Sunweb 0:00:00
24 Elena Pirrone (Ita) Valcar Cylance Cycling 0:00:00
25 Grace Brown (Aus) Mitchelton – Scott 0:00:00
26 Eva Buurman (Ned) Boels Dolmans Cycling Team 0:00:00
27 Greta Richioud (Fra) FDJ – Nouvelle-Aquitaine – Futuroscope 0:00:00
28 Katarzyna Niewiadoma (Pol) Canyon//SRAM Racing 0:00:00
29 Stine Borgli (Nor) FDJ – Nouvelle-Aquitaine – Futuroscope 0:00:00
30 Audrey Cordon-Ragot (Fra) Trek – Segafredo 0:00:00
31 Ruth Winder (USA) Trek – Segafredo 0:00:00
32 Elizabeth Holden (GBr) Drops 0:00:00
33 Marta Lach (Pol) CCC – Liv 0:00:00
34 Sarah Roy (Aus) Mitchelton – Scott 0:00:00
35 Valerie Demey (Bel) CCC – Liv 0:00:00
36 Hanna Nilsson (Swe) BTC City Ljubljana 0:00:00
37 Vita Heine (Nor) Hitec Products – Birk Sport 0:00:00
38 Agnieszka Skalniak (Pol) CCC – Liv 0:00:00
39 Anastasiia Chursina (Rus) BTC City Ljubljana 0:00:00
40 Riejanne Markus (Ned) CCC – Liv 0:00:00
41 Katrine Aalerud (Nor) Team Virtu Cycling 0:00:00
42 Joscelin Lowden (GBr) Drops 0:00:00
43 Lisa Klein (GER) Canyon//SRAM Racing 0:00:00
44 Urska Pintar (Slo) BTC City Ljubljana 0:00:00
45 Rossella Ratto (Ita) BTC City Ljubljana 0:00:00
46 Tayler Wiles (USA) Trek – Segafredo 0:00:11
47 Vibeke Lystad (Nor) Nationalmannschaft Norwegen 0:00:13
48 Elena Cecchini (Ita) Canyon//SRAM Racing 0:00:13
49 Margarita Victo Garcia Cañellas (Esp) Movistar Women's Team 0:00:13
50 Alena Amialiusik (Blr) Canyon//SRAM Racing 0:00:13
51 Karol-Ann Canuel (Can) Boels Dolmans Cycling Team 0:00:30
52 Lucy Kennedy (Aus) Mitchelton – Scott 0:00:53
53 Franziska Koch (GER) Team Sunweb 0:00:53
54 Demi Vollering (Ned) Parkhotel Valkenburg 0:00:53
55 Soraya Paladin (Ita) Alé Cipollini 0:00:53
56 Hannah Barnes (GBr) Canyon//SRAM Racing 0:00:53
57 Anna Henderson (GBr) Team TIBCO – Silicon Valley Bank 0:01:17
58 Emelie Røe Utvik (Nor) Nationalmannschaft Norwegen 0:01:17
59 Ingvild Gåskjenn (Nor) Hitec Products – Birk Sport 0:01:17
60 Charlotte Becker (GER) FDJ – Nouvelle-Aquitaine – Futuroscope 0:01:17
61 Rebecca Durrell (GBr) Team TIBCO – Silicon Valley Bank 0:02:47
62 Silvia Persico (Ita) Valcar Cylance Cycling 0:02:47
63 Alexandra Manly (Aus) Mitchelton – Scott 0:02:47
64 Silvia Magri (Ita) BePink 0:03:52
65 Barbara Guarischi (Ita) Team Virtu Cycling 0:03:56
66 Paula Andrea Patiño Bedoya (Col) Movistar Women's Team 0:03:59
67 Emilie Moberg (Nor) Team Virtu Cycling 0:05:01
68 Louise Hansen (Den) Team Virtu Cycling 0:05:01
69 Marit Raaijmakers (Ned) Parkhotel Valkenburg 0:05:01
70 Lauretta Hanson (Aus) Trek – Segafredo 0:05:01
71 Nina Buijsman (Ned) Parkhotel Valkenburg 0:05:01
72 Roxane Knetemann (Ned) Parkhotel Valkenburg 0:05:01
73 Saartje Vandenbroucke (Bel) Doltcini – Van Eyck Sport 0:05:01
74 Jesse Vandenbulcke (Bel) Doltcini – Van Eyck Sport 0:05:28
75 Eri Yonamine (Jpn) Alé Cipollini 0:05:28
76 Katherine Maine (Can) Rally UHC Cycling 0:05:28
77 Shannon Malseed (Aus) Team TIBCO – Silicon Valley Bank 0:05:28
78 Ingrid Lorvik (Nor) Hitec Products – Birk Sport 0:05:28
79 Victorie Guilman (Fra) FDJ – Nouvelle-Aquitaine – Futuroscope 0:05:28
80 Francesca Pattaro (Ita) BePink 0:05:28
81 Silvia Pollicini (Ita) Valcar Cylance Cycling 0:05:28
82 Dalia Muccioli (Ita) Valcar Cylance Cycling 0:05:28
83 Jip Van Den Bos (Ned) Boels Dolmans Cycling Team 0:05:28
84 Lauren Kitchen (Aus) FDJ – Nouvelle-Aquitaine – Futuroscope 0:05:28
85 Alessia Vigilia (Ita) Valcar Cylance Cycling 0:05:28
86 Skylar Schneider (USA) Boels Dolmans Cycling Team 0:05:28
87 Hayley Simmonds (GBr) BTC City Ljubljana 0:07:11
88 Melissa Van Neck (Cze) BePink 0:07:11
89 Amalie Lutro (Nor) Hitec Products – Birk Sport 0:07:11
90 Julie Solvang (Nor) Hitec Products – Birk Sport 0:07:11
91 Mieke Docx (Bel) Doltcini – Van Eyck Sport 0:07:11
92 Diana Carolina Peñuela Martinez (Col) Alé Cipollini 0:07:11
93 Birgitte Ravndal (Nor) Nationalmannschaft Norwegen 0:07:11
94 Anna Plichta (Pol) Trek – Segafredo 0:07:11
95 Nicole Steigenga (Ned) BePink 0:07:11
96 Mie Bjørndal Ottestad (Nor) Nationalmannschaft Norwegen 0:07:11
97 Christina Malling Siggaard (Den) Team Virtu Cycling 0:07:11
98 Lourdes Oyarbide Jimenez (Esp) Movistar Women's Team 0:07:11
99 Alicia Gonzalez Blanco (Esp) Movistar Women's Team 0:07:11
100 Heidi Franz (USA) Rally UHC Cycling 0:07:11
101 Femke Markus (Ned) Parkhotel Valkenburg 0:07:11
102 Jessica Allen (Aus) Mitchelton – Scott 0:07:11
103 Gillian Ellsay (Can) Rally UHC Cycling 0:07:11
104 Manon Lloyd (GBr) Drops 0:07:11
105 Anna Christian (GBr) Drops 0:07:11
106 Karlijn Swinkels (Ned) Alé Cipollini 0:07:11
107 Natalie Redmond (Aus) Drops 0:16:12
DNF Hedda Skogesal Samsing (Nor) Nationalmannschaft Norwegen
DNF Bryony Van Velzen (Ned) Doltcini – Van Eyck Sport
Klasyfikacja generalna:
1 Marianne Vos (Ned) CCC – Liv 6:35:50
2 Lorena Wiebes (Ned) Parkhotel Valkenburg 0:00:00
3 Chloe Hosking (Aus) Alé Cipollini 0:00:04
4 Marta Bastianelli (Ita) Team Virtu Cycling 0:00:06
5 Amalie Dideriksen (Den) Boels Dolmans Cycling Team 0:00:06
6 Letizia Paternoster (Ita) Trek – Segafredo 0:00:10
7 Aude Biannic (Fra) Movistar Women's Team 0:00:10
8 Eugenia Bujak (Slo) BTC City Ljubljana 0:00:10
9 Floortje Mackaij (Ned) Team Sunweb 0:00:10
10 Sheyla Gutierrez Ruiz (Esp) Movistar Women's Team 0:00:10
11 Eugénie Duval (Fra) FDJ – Nouvelle-Aquitaine – Futuroscope 0:00:10
12 Susanne Andersen (Nor) Team Sunweb 0:00:10
13 Leah Kirchmann (Can) Team Sunweb 0:00:10
14 Coryn Rivera (USA) Team Sunweb 0:00:10
15 Romy Kasper (GER) Alé Cipollini 0:00:10
16 Moniek Tenniglo (Ned) Mitchelton – Scott 0:00:10
17 Ilaria Sanguineti (Ita) Valcar Cylance Cycling 0:00:10
18 Abby-Mae Parkinson (GBr) Drops 0:00:10
19 Katarzyna Niewiadoma (Pol) Canyon//SRAM Racing 0:00:10
20 Elena Pirrone (Ita) Valcar Cylance Cycling 0:00:10
21 Sarah Roy (Aus) Mitchelton – Scott 0:00:10
22 Christine Majerus (Lux) Boels Dolmans Cycling Team 0:00:10
23 Ruth Winder (USA) Trek – Segafredo 0:00:10
24 Audrey Cordon-Ragot (Fra) Trek – Segafredo 0:00:10
25 Grace Brown (Aus) Mitchelton – Scott 0:00:10
26 Marta Lach (Pol) CCC – Liv 0:00:10
27 Valerie Demey (Bel) CCC – Liv 0:00:10
28 Juliette Labous (Fra) Team Sunweb 0:00:10
29 Riejanne Markus (Ned) CCC – Liv 0:00:10
30 Hanna Nilsson (Swe) BTC City Ljubljana 0:00:10
31 Lisa Klein (GER) Canyon//SRAM Racing 0:00:10
32 Hannah Barnes (GBr) Canyon//SRAM Racing 0:01:03
33 Franziska Koch (GER) Team Sunweb 0:01:03
34 Anna Henderson (GBr) Team TIBCO – Silicon Valley Bank 0:01:27
35 Vita Heine (Nor) Hitec Products – Birk Sport 0:02:31
36 Joscelin Lowden (GBr) Drops 0:02:39
37 Anastasiia Chursina (Rus) BTC City Ljubljana 0:02:54
38 Silvia Persico (Ita) Valcar Cylance Cycling 0:02:57
39 Alice Barnes (GBr) Canyon//SRAM Racing 0:04:02
40 Severine Eraud (Fra) Doltcini – Van Eyck Sport 0:04:08
41 Stine Borgli (Nor) FDJ – Nouvelle-Aquitaine – Futuroscope 0:04:08
42 Greta Richioud (Fra) FDJ – Nouvelle-Aquitaine – Futuroscope 0:04:08
43 Elizabeth Holden (GBr) Drops 0:04:08
44 Agnieszka Skalniak (Pol) CCC – Liv 0:04:08
45 Eva Buurman (Ned) Boels Dolmans Cycling Team 0:04:08
46 Jeanne Korevaar (Ned) CCC – Liv 0:04:08
47 Katrine Aalerud (Nor) Team Virtu Cycling 0:04:08
48 Urska Pintar (Slo) BTC City Ljubljana 0:04:08
49 Rossella Ratto (Ita) BTC City Ljubljana 0:04:08
50 Tayler Wiles (USA) Trek – Segafredo 0:04:19
51 Vibeke Lystad (Nor) Nationalmannschaft Norwegen 0:04:21
52 Margarita Victo Garcia Cañellas (Esp) Movistar Women's Team 0:04:21
53 Alena Amialiusik (Blr) Canyon//SRAM Racing 0:04:21
54 Elena Cecchini (Ita) Canyon//SRAM Racing 0:04:21
55 Karol-Ann Canuel (Can) Boels Dolmans Cycling Team 0:04:38
56 Soraya Paladin (Ita) Alé Cipollini 0:05:01
57 Lucy Kennedy (Aus) Mitchelton – Scott 0:05:01
58 Lauretta Hanson (Aus) Trek – Segafredo 0:05:11
59 Ingvild Gåskjenn (Nor) Hitec Products – Birk Sport 0:05:25
60 Emelie Røe Utvik (Nor) Nationalmannschaft Norwegen 0:05:25
61 Charlotte Becker (GER) FDJ – Nouvelle-Aquitaine – Futuroscope 0:05:25
62 Jip Van Den Bos (Ned) Boels Dolmans Cycling Team 0:05:38
63 Alessia Vigilia (Ita) Valcar Cylance Cycling 0:05:38
64 Alexandra Manly (Aus) Mitchelton – Scott 0:06:55
65 Birgitte Ravndal (Nor) Nationalmannschaft Norwegen 0:07:21
66 Amalie Lutro (Nor) Hitec Products – Birk Sport 0:07:21
67 Femke Markus (Ned) Parkhotel Valkenburg 0:07:21
68 Silvia Magri (Ita) BePink 0:08:00
69 Barbara Guarischi (Ita) Team Virtu Cycling 0:08:04
70 Paula Andrea Patiño Bedoya (Col) Movistar Women's Team 0:08:07
71 Demi Vollering (Ned) Parkhotel Valkenburg 0:08:17
72 Marit Raaijmakers (Ned) Parkhotel Valkenburg 0:09:09
73 Emilie Moberg (Nor) Team Virtu Cycling 0:09:09
74 Saartje Vandenbroucke (Bel) Doltcini – Van Eyck Sport 0:09:09
75 Nina Buijsman (Ned) Parkhotel Valkenburg 0:09:09
76 Roxane Knetemann (Ned) Parkhotel Valkenburg 0:09:09
77 Jesse Vandenbulcke (Bel) Doltcini – Van Eyck Sport 0:09:36
78 Ingrid Lorvik (Nor) Hitec Products – Birk Sport 0:09:36
79 Victorie Guilman (Fra) FDJ – Nouvelle-Aquitaine – Futuroscope 0:09:36
80 Shannon Malseed (Aus) Team TIBCO – Silicon Valley Bank 0:09:36
81 Silvia Pollicini (Ita) Valcar Cylance Cycling 0:09:36
82 Eri Yonamine (Jpn) Alé Cipollini 0:09:36
83 Francesca Pattaro (Ita) BePink 0:09:36
84 Dalia Muccioli (Ita) Valcar Cylance Cycling 0:09:36
85 Lauren Kitchen (Aus) FDJ – Nouvelle-Aquitaine – Futuroscope 0:09:36
86 Katherine Maine (Can) Rally UHC Cycling 0:09:36
87 Skylar Schneider (USA) Boels Dolmans Cycling Team 0:09:36
88 Heidi Franz (USA) Rally UHC Cycling 0:10:35
89 Julie Solvang (Nor) Hitec Products – Birk Sport 0:11:19
90 Mie Bjørndal Ottestad (Nor) Nationalmannschaft Norwegen 0:11:19
91 Nicole Steigenga (Ned) BePink 0:11:19
92 Anna Plichta (Pol) Trek – Segafredo 0:11:19
93 Manon Lloyd (GBr) Drops 0:11:19
94 Diana Carolina Peñuela Martinez (Col) Alé Cipollini 0:11:19
95 Anna Christian (GBr) Drops 0:11:19
96 Karlijn Swinkels (Ned) Alé Cipollini 0:11:19
97 Mieke Docx (Bel) Doltcini – Van Eyck Sport 0:11:19
98 Alicia Gonzalez Blanco (Esp) Movistar Women's Team 0:11:19
99 Lourdes Oyarbide Jimenez (Esp) Movistar Women's Team 0:11:19
100 Hayley Simmonds (GBr) BTC City Ljubljana 0:11:19
101 Christina Malling Siggaard (Den) Team Virtu Cycling 0:11:19
102 Jessica Allen (Aus) Mitchelton – Scott 0:11:19
103 Gillian Ellsay (Can) Rally UHC Cycling 0:11:19
104 Louise Hansen (Den) Team Virtu Cycling 0:12:19
105 Melissa Van Neck (Cze) BePink 0:14:29
106 Rebecca Durrell (GBr) Team TIBCO – Silicon Valley Bank 0:18:45
107 Natalie Redmond (Aus) Drops 0:32:10